An attractive dividend yield combined with a stable, to positive earnings outlook have meant CBA's incursions into the oversold zone usually don't last long. The stock is oversold now and it's hit a potential chart turning point. This is a situation that could get interesting for bargain hunters.
Long term chart behaviour
The first chart above plots CBA's whole post GFC rally from 2009. Two things grab my attention:
The slow stochastic has not stayed in the oversold zone below 20% for long (see box below chart). This is consistent with a strong, ongoing uptrend where moves lower are corrections as opposed to major reversals. CBA's dividend yield, combined with the prospect of at least some earnings growth, has consistently attracted buying on dips. The stock is currently over sold and trading on a dividend yield of 5.8%( 8.2% after franking)
A rally from current levels would confirm the long term trend line which has been rising at a sustainable angle of about 45 degrees
Potential turning point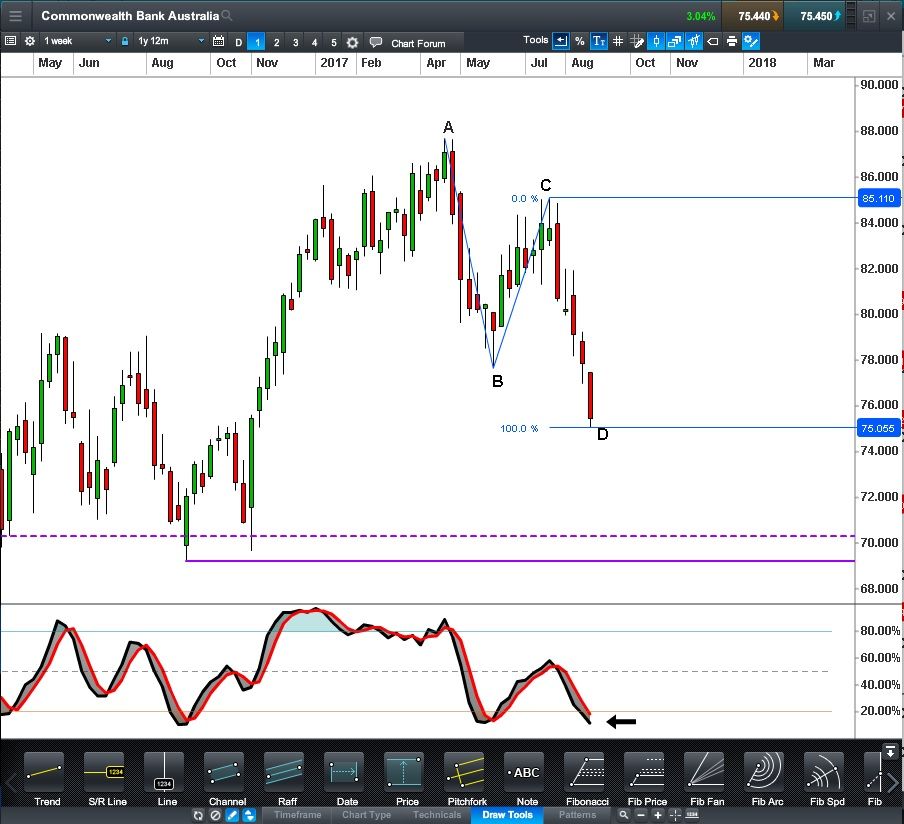 Zooming in on the weekly chart, you can see that CBA bottomed neatly at a swing equivalent point today. This is where the CD swing is the same size as the AB swing. It's a common turning point for markets
What about the regulatory problems?
CBA has is down 8.5% from its 27 July peak excluding the value of its dividend. That compares to an average decline of 3.3% by the other 3 majors over that time.
That represents a regulation discount of about $7bn in the value of CBA. This compares to last year's underlying earnings of $9.9bn. The market has already built a big safety margin in for future regulatory costs. In forward PE terms, CBA has come right back towards the pack. It's now valued at 13 times forward earnings compared to 12.7 for Westpac and 12.3 for NAB and ANZ.
Conclusion
I don't like to buy stocks just because they've reached an ABCD level. My strategies are based on waiting for signs they are rejecting potential turning points. So if the stock just keeps falling through this point, I'll be wating for lower support levels. 
However, if CBA does start to reject this level with the daily candles making higher lows and higher highs then the regulatory discount already priced into the stock would make me a comfortable buyer at this turning point on a yield of 5.8%.