B

y Hao Sun

Every now and then, traders ask me "How do I scan the market efficiently and identify potential trading opportunities as there are so many products to choose from?"

My routine of looking for trending charts always starts with the daily timeframe. Here I separate the wheat from the chaff by filtering out only the strong daily trends. If a market is trending, I will do further analysis to identify any potential trade setup based on my trading strategy. If not, then I simply discard it. Now, let's focus on the agricultural commodities as I see some interesting trends setting up in this sector.

The first market is Soybean Oil.  It is currently trending downwards on the daily chart with the moving averages fanning down which can be a good indication of downward momentum. Price has pulled back into the daily moving average sell zone which is the zone around the 10 and 20 period moving average. One key element that is missing for a potential daily trade setup is a small bearish candle. Therefore, I will be watching it closely today. If price prints a small bearish daily candle, I will consider taking action and setting up a short trade.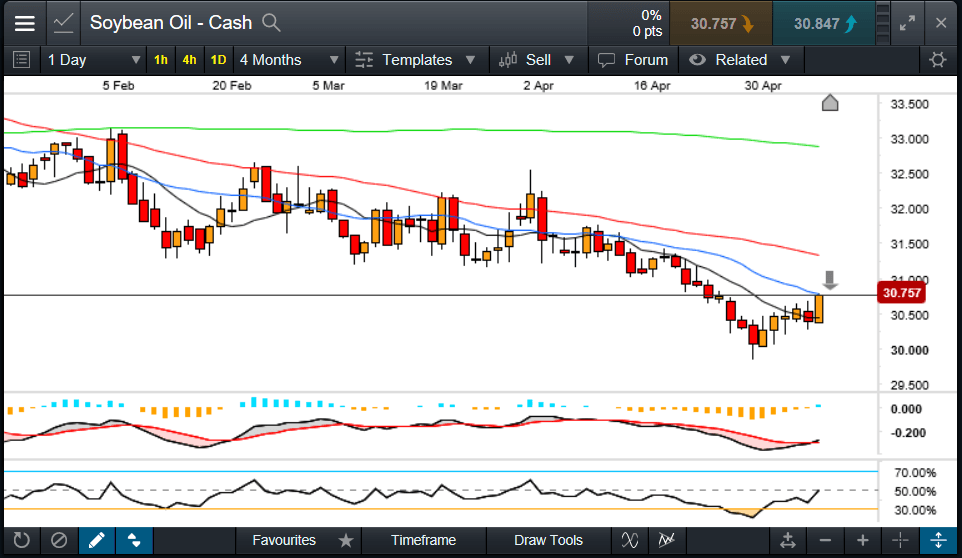 The second market is Wheat. Price has reversed into an uptrend on the daily chart with the bullish momentum being confirmed by the fanning moving averages. As price has pulled back into the daily moving average buy zone, if today's price action forms a small bullish candle, then it could be a candidate for a long trade.  My potential target would be around 550, which could be an area of resistance on the daily chart. This would mean a good potential reward for my risk.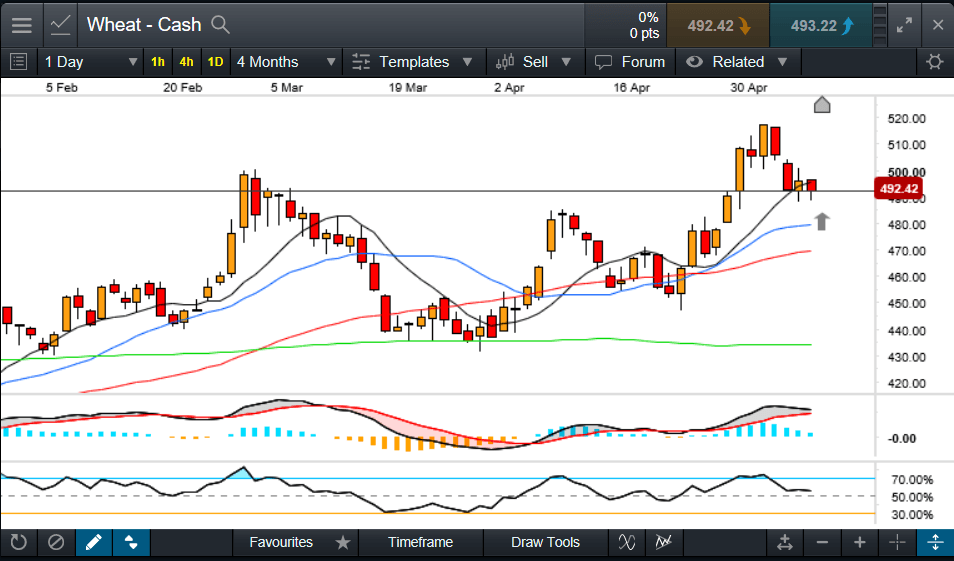 Last but not least is Corn. Price has broken out of a 1-month trading range on the daily chart and has done so with good momentum. The top of the trading range around 386 is the level I am stalking closely for a potential long trade setup as it could act as a potential support level if it is retested. It is also inside the daily moving average buy zone on the daily chart and it is also coincides with the 50% Fibonacci retracement level. Therefore, if price confirms support at 386 and forms a small bullish candle, then I will look to setup my long trade order.