By Chloe Edwards, Trade With Precision
In this piece I'll be looking at two very different commodities - Cotton and Cocoa -both of which are dear to my heart for two very different reasons.
Cotton
One of my favourite storybooks as a child was based on cotton farming in 1930s rural Mississippi, and it so happens that when I started trading in 2010 there were a couple of years of strong price trends in cotton that yielded some excellent trading opportunities.
The trends haven't been quite so strong since then, but Cotton is a commodity that I watch keenly and it still presents opportunities.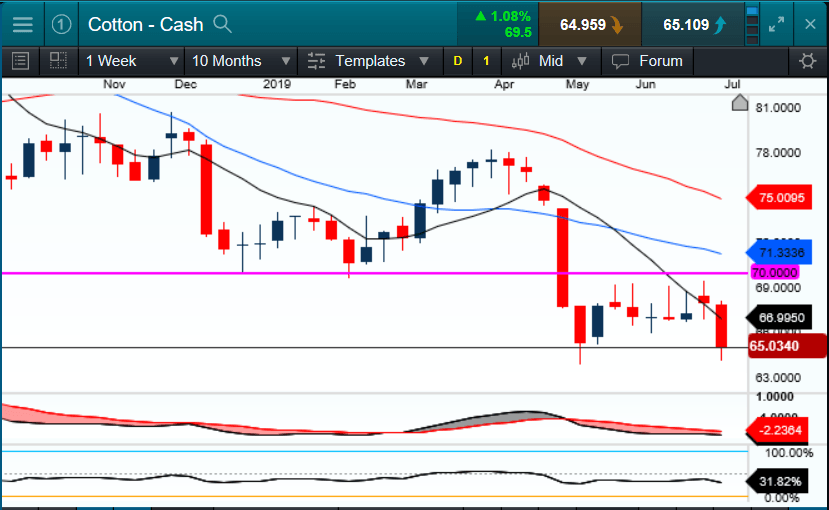 Let's start off by taking a look at Cotton on the weekly chart, where we can see that price broke down through the 70 cents level in early May, and after a modest retracement has again started to head lower.
I can see bearish price action, with lower highs and lower lows forming, and bearish moving average (MA) geometry. The MACD and RSI indicators are showing bearish momentum and giving me further confidence that the downtrend is strong. This means that I am looking for further selling opportunities on the lower timeframes.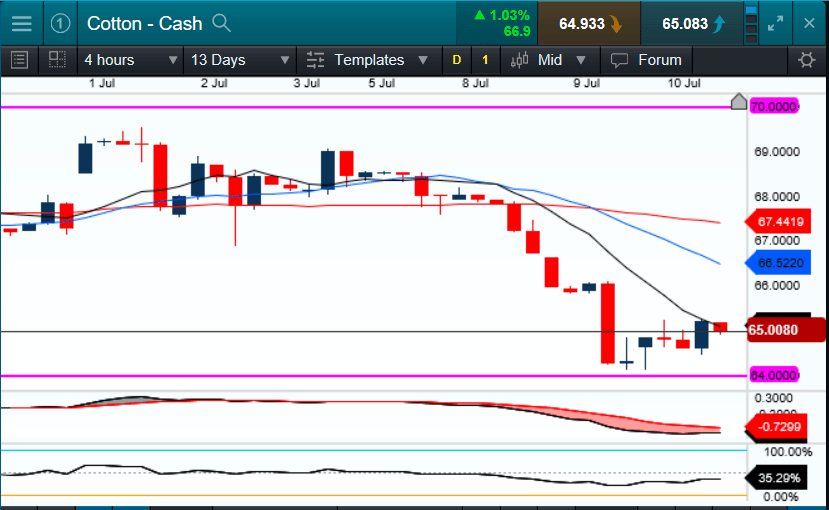 The timeframe I am currently most interested in is the four-hourly timeframe. I can see a downtrend in place, with price action forming lower lows and lower highs, and the 10, 20 and 50 MAs lined up nicely and showing good bearish geometry
Both the MACD and the RSI indicators are trending lower in a bearish fashion, which could confirm the trend momentum to the downside. The combination of this price action and the indicators suggests to me the potential for possible short swing trading opportunities, and I am currently seeing a pullback into the MAs on this timeframe.
I am now looking for a small bearish bar to form around this area, and if this happens I will use this as the basis for my short entry. There is a minor level of support just below the current price, at 64 cents, but if this is broken I will be looking for a potential move down to the next major level at 60 cents. This could potentially be a fairly high reward to risk trade.
Cocoa
The other commodity of interest is cocoa, for obvious delicious reasons.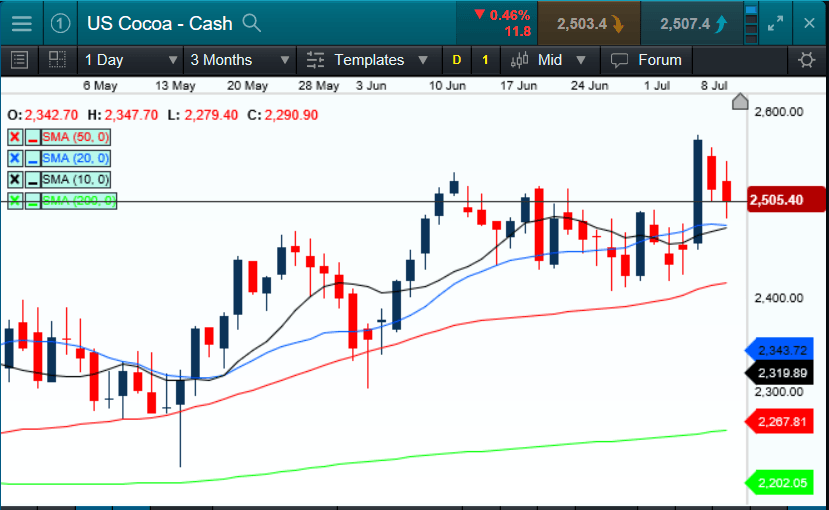 On the daily timeframe, I can see an uptrend, with higher highs and higher lows in price, and the EMAs pointing upwards and showing good bullish geometry.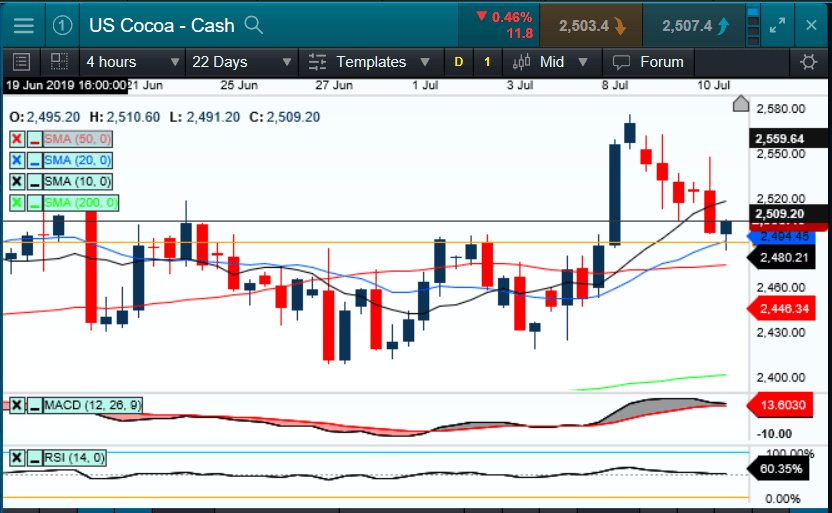 Again, it is the 4-hour chart that currently shows promise, as we begin to see the return of higher highs and higher lows and bullish geometry of all four MAs. MACD and RSI are also showing bullish momentum. Price has pulled back into the MAs, and I am looking for a small-sized bullish candle to print in this buy zone.
In terms of the potential move, if price makes it back up past the 2575 level, I will be trailing my stop loss and aiming for the next major resistance level at around 2700.