Possible Oil and Platinum prospects
By Adam Harris, Trade With Precision
Having lived in London for a decade, I've become accustomed to shorter, cooler Summers, and longer, much colder Winters. To my surprise, 2018 was one of the longest, most even-tempered Summers I've experienced and, even better, it appears this Winter might be milder than usual. Aside from a few chilly days here and there, it certainly isn't nail-bitingly bitterly cold.
My London experience can't be applied on a global scale. But certain commodities exhibit seasonal trends, and some analysts have said that Oils and Gases can increase in value if a colder Winter is expected.
For a couple of months now, Oils have been declining in price, and today I have added Crude Oil to my watchlist. Other Oil commodities are displaying similar potential selling opportunities, but I will focus on my trading plan for Brent today.
Crude Oil Brent
The weekly chart has been heading down for six consecutive candles so far, including this week. Price has also broken through historical levels of support and resistance at just above the 70.00 level.
Price has just touched the 65.00 level and has the potential, if it breaks this price, to drop down to 62.00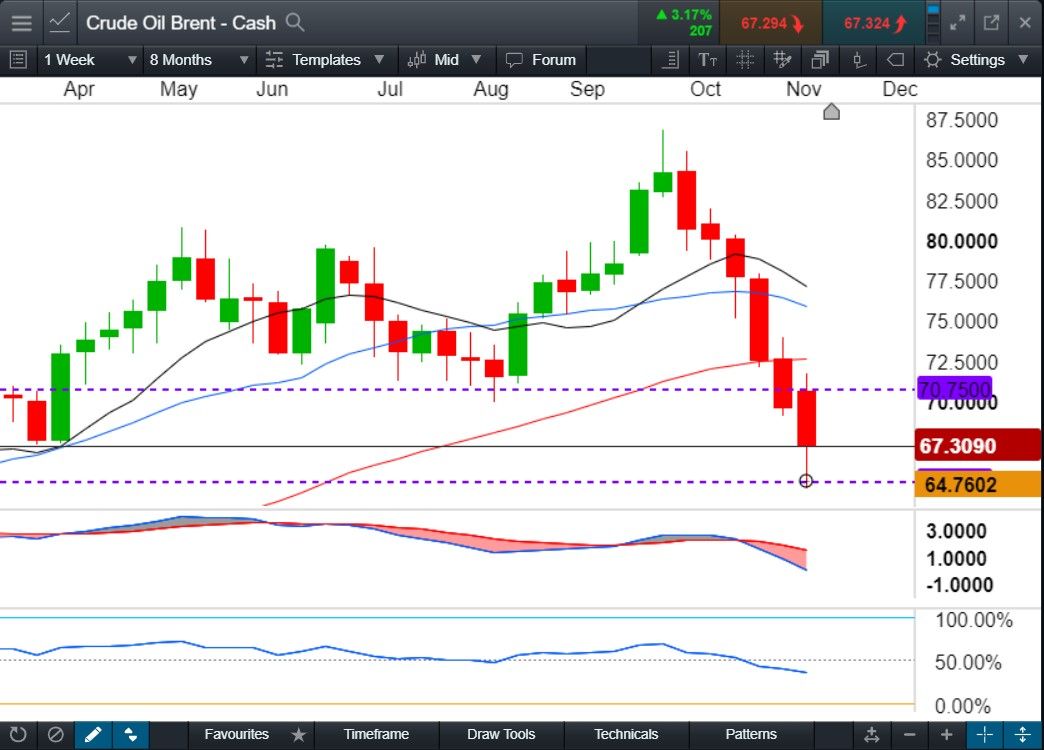 The daily chart has a smooth, near optimal flow of price action in a downtrend, of lower-highs and lower-lows.
I will be stalking price for a possible retracement back up to test the area around 70.00 for resistance and would be looking for a small bearish candle as my entry opportunity. This could overlap with the 10 and 20 moving averages (MAs) as a point of equilibrium. Should price break the low of this candle, I would ideally be taken into the next extended move to the downside.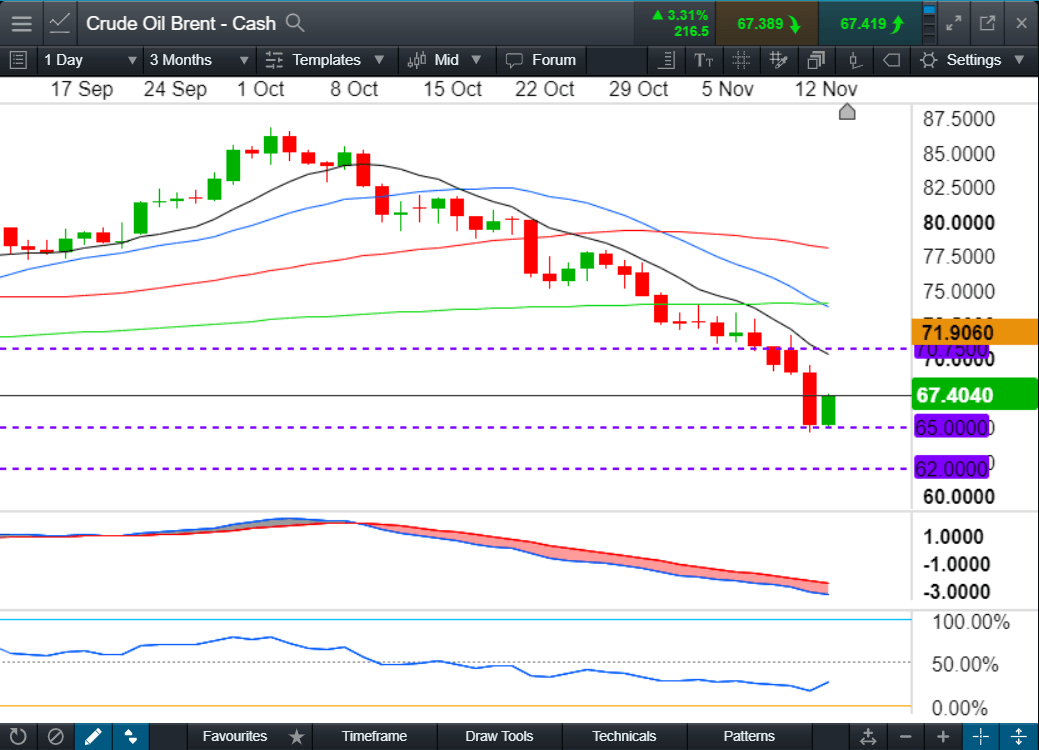 I would then plan to take partial profits just above 65.00 and if price continues through 65.00, I would aim to take any potential remaining profits just above the 62.00 level.
I will be stalking the other Oils for a similar potential setup.
Platinum
Aside from the above charts, I also like the look of Platinum on the daily timeframe.
The weekly chart is in an uptrend with higher-highs and higher-lows. Price is currently retracing back down to a level of historical support and resistance. Price is also close to the 10 and 20 MAs point of equilibrium.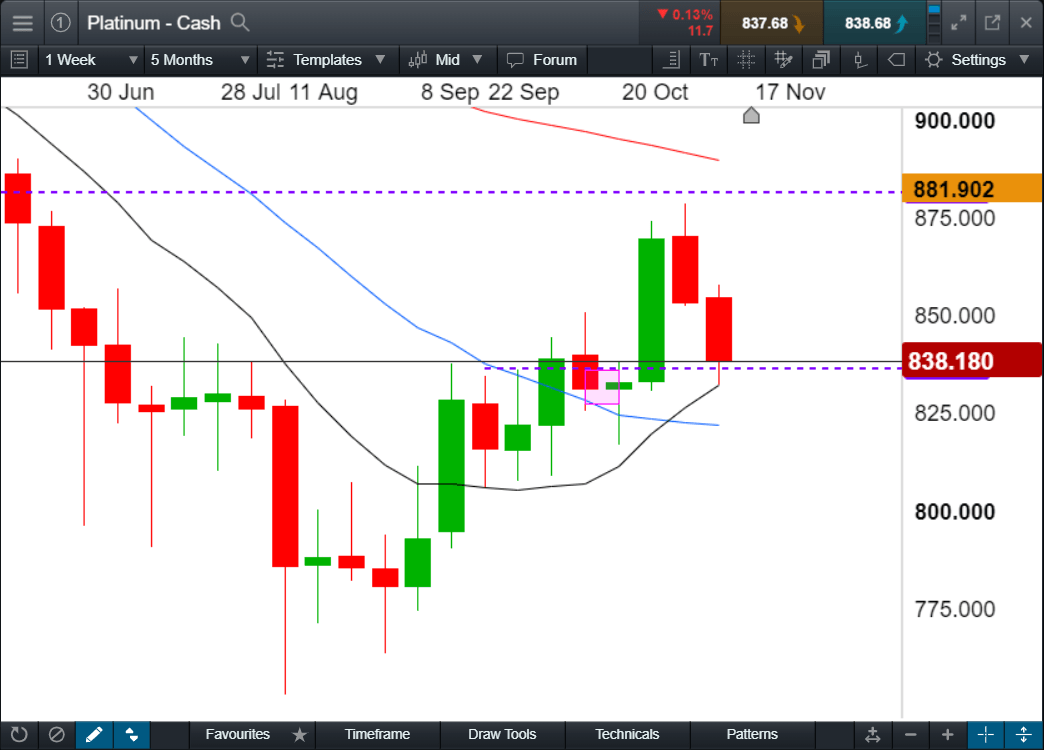 The daily chart is also in an uptrend and has just retraced to just below the 10 and 20 period Buy Zone.  It also clusters/overlaps with a 61.8 percent Fibonacci retracement level at 835.00. I'm waiting for a bullish candle to form where price action is right now, and potentially offer me an entry should price resume the uptrend from this area.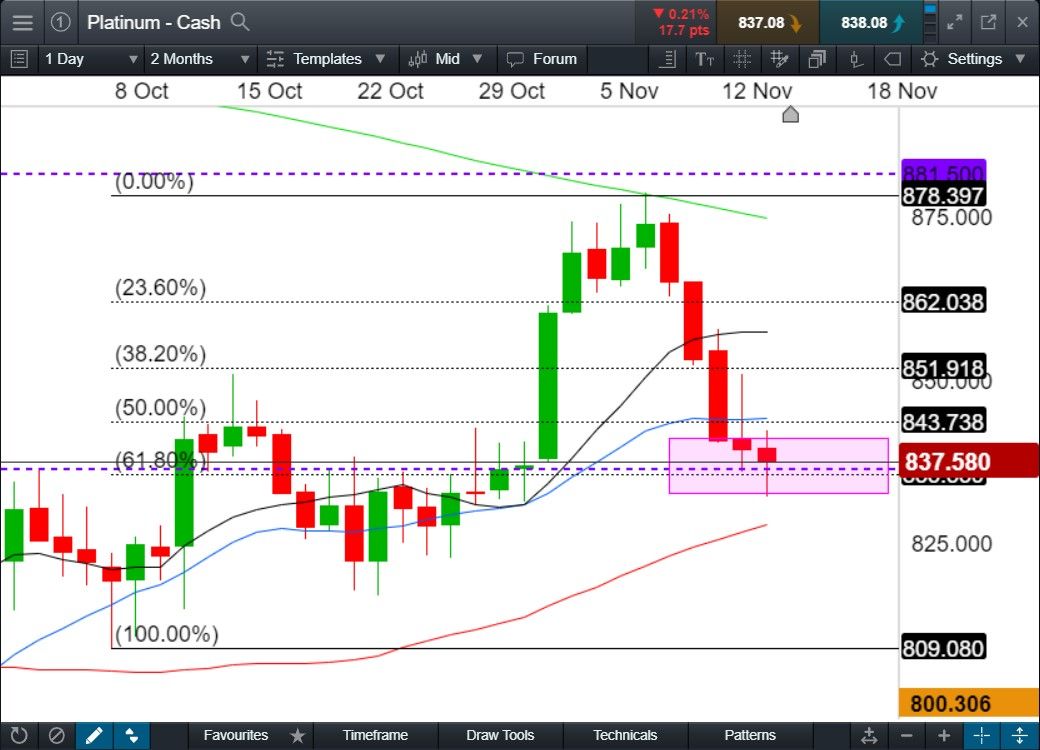 In that situation, I would place my entry above the high of the bullish candle, with my stop-loss below the low, which may receive additional technical protection from the S/R and 61.8 percent levels.
My order management approach is to split my buy-stop orders into two 0.5 percent allotted amounts, one with a 1:1 reward to risk partial take-profit target order, and the other with a trailing stop, which I would only move if the 1:1 target was reached and the first order closed out.
Finally, I will keep an eye out for any significant news that might be related to and could impact my open positions.
Happy trading.