Long suffering Fairfax Media (FXJ) shareholders took another hit on Monday following the withdrawal of a highly conditional takeover bid from private equity group TPG. The shares slumped by more than 17% during trading, although they recovered to finish down around 11%. This means FXJ shares are now lower than before the TPG led consortium first launched an offer for all of FXJ.
FXJ shareholders who did not take advantage of elevated trading may now kick themselves.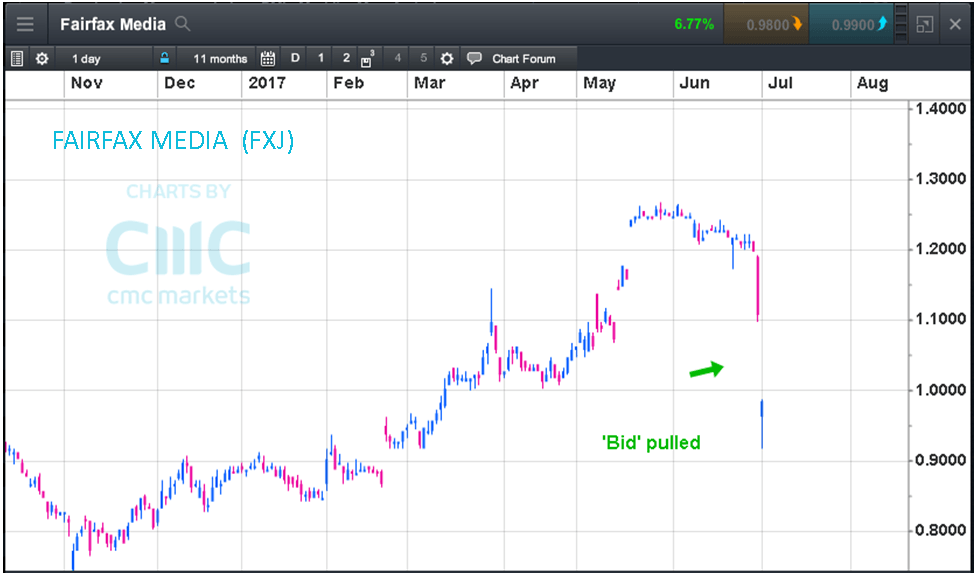 Given all the conditions attached to the bid and the resultant damage when the bid was pulled it is appropriate to ask if the private equity groups should have ever received access to FXJ's data room. The problem for shareholders is that a professional investor group have accessed all the latest information about FXJ and declined to launch a full bid. This judgement will hang over the stock, and could severely limit upside potential.
Typically the bid that gives access to a target's internal numbers is highly conditional. Some of the "outs" often included go well beyond a standard "material change in conditions". They can include a recommendation from the target board in favour of the takeover proposal, a requirement that appropriate financing is available and that all regulatory hurdles are cleared.
Pre-GFC these risks stayed with the bidder. In the capital starved post GFC period the few bidders pushed the conditional takeover bid to extremes. Given the damage done to FXJ's share price, boards in the future may start refusing highly conditional takeover "bids".
A number of traders pointed out that a vehicle holding Seek, RSVP, Carsales, Domain and TradeMe would be an attractive addition to the local investment landscape, especially in light of a small Australian listed IT sector. All of these businesses were once FXJ owned. The announcement that FXJ will now proceed with a Domain spin-off suggests that FXJ strategy is unchanged despite new names on the doors.