By Chloe Edwards
The first quarter of 2019 hasn't yielded me many currency trading opportunities, which possibly reflects the general uncertainty in global markets. However, one opportunity I have been stalking for a week or so is on CAD/CHF, and it looks possible that this could set up in the coming days.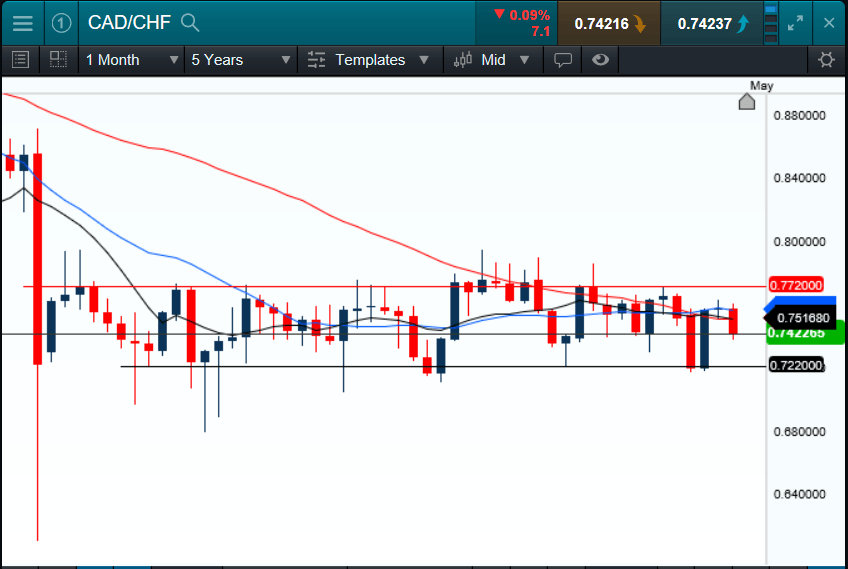 Looking at the monthly chart above, we can see that price has been trapped within a range between 0.7720 and 0.7220 since the Swiss Franc was unpegged from the Euro in 2015. However, we have been seeing lower highs, and this month (March) has been bearish, with price currently sitting in the middle of the range. This could mean there is potential for price to move lower and make another attempt at those lows of 7220.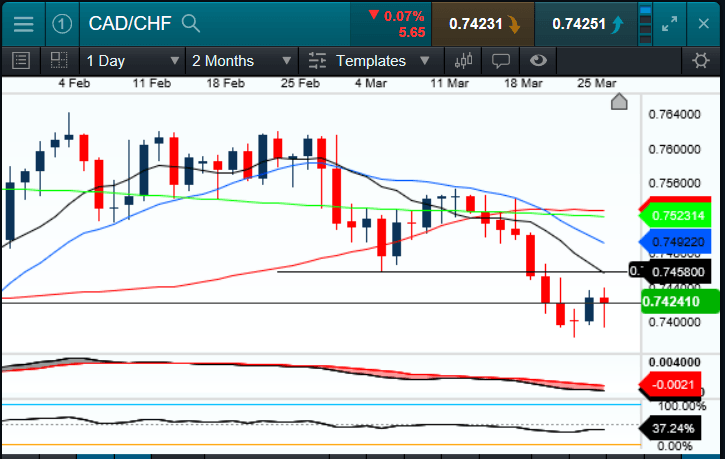 Looking now at the daily timeframe above, we can see the start of a downtrend with a lower high and price having recently broken down below the previous low at 0.7460. We can also see that the 10, 20 and 50 moving averages (MAs) are beginning to come into alignment (once the 50MA breaks down through the 200MA I would consider this alignment optimal for my strategy).
Both the MACD and the RSI indicators are trending lower in a bearish fashion, which could confirm the trend momentum of price. I read price action and the indicators as suggesting the potential for possible short swing trading opportunities, so I will be awaiting a pullback into the sell zone around the 10 and 20 MAs on the daily timeframe.
Ideally, I would like to see the previous low level at 0.7460 tested before a return to the downside. This would coincide with those MAs and provide greater protection to my stop loss, which would be placed above the swing at this level. If price does reach this level, I will be looking for a small bearish reversal candle to form in order to take a swing trading position to the downside. In terms of the potential move, I will ultimately be aiming for the next major support level at the bottom of the range, around 0.7220, so there could be the possibility of a high reward-to-risk trade.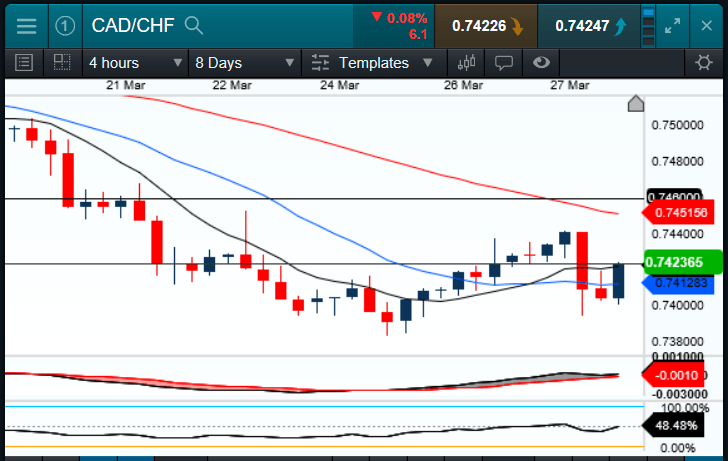 I am also going to look for valid trade setups on a lower timeframe; however the four hour chart above isn't currently showing good trend structure, with a higher low forming on this timeframe. We are also seeing bullish divergence on both the MACD and RSI indicators, lending support to the possibility of price moving up towards the aforementioned 0.7460 level.
I will exercise some patience and await the potential setup on the daily timeframe for now, but I will continue looking for setups on the lower timeframes if the downtrend resumes.