Oil had some much needed good news in the form of falling inventories and a weaker US dollar recently.  This has put upward pressure on prices. Now the prospect of increased shale oil production and chart resistance loom, creating potential selling opportunities.
Inventories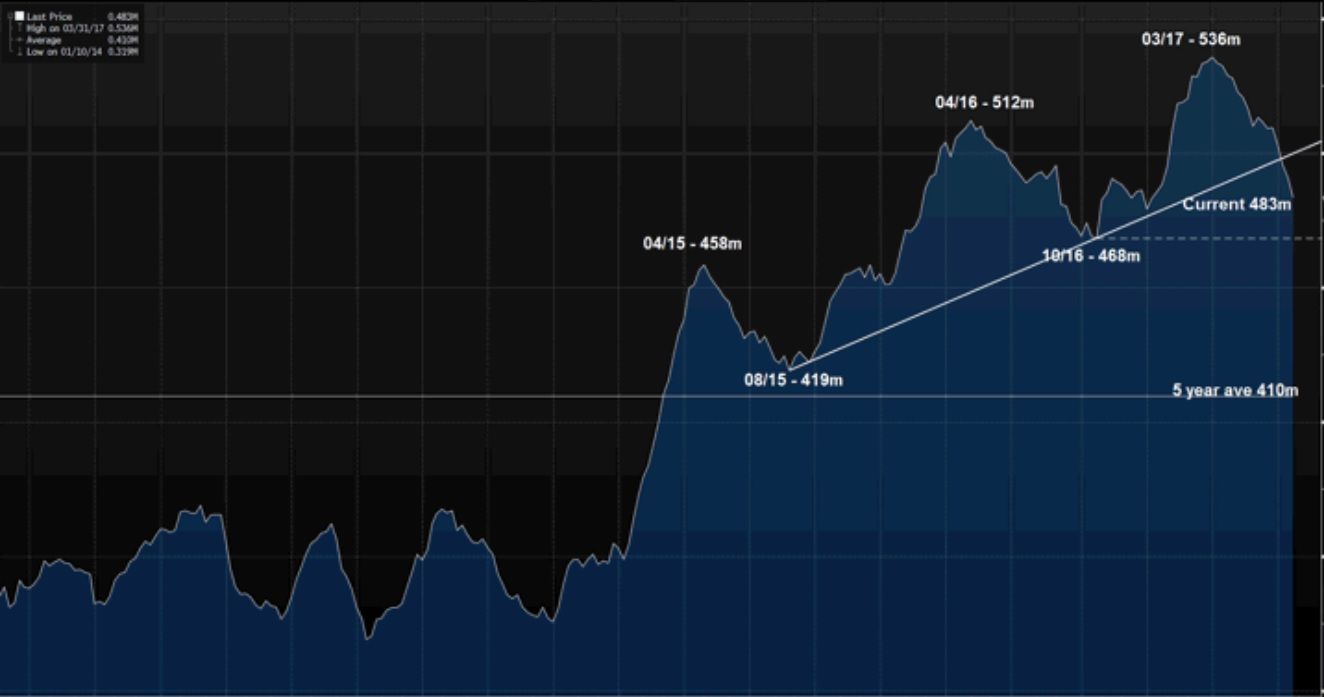 Source: Bloomberg
First - a look at the good news. The seasonal decline in US oil inventories is well under way. This is a relief and has taken the wind out of the bears' sails for now.
The chart above shows US crude oil inventories. It's been a sorry tale over the past 3 years.  The spring peak has been higher each year in a clear sign that supply growth has outstripped demand. Similarly, the autumn inventory trough has been higher over the past 2 years.
There is now a glimmer of hope. In 2015 and 2016 the peak to trough inventory decline over the summer driving season was about 8.5%. This year has already done better. Inventory is 10% below the peak and is likely to keep falling for a while yet. This year's inventory trough might yet be below last year's. This would be a healthy development for those looking for the market to return to balance next year.
Price and production
While, more good news on inventory could help put a base under the oil price and stop it falling too far, the problem is that the US oil price is closing on the $50-55 range where confidence grows and shale oil producer's start thinking about ramping up production.  This has stopped oil getting above this price zone for 2 years. Traders will again be very conscious of this. Unless there is a major change in the outlook, profit takers and short sellers will be seeing the latest rally as another opportunity
Oil chart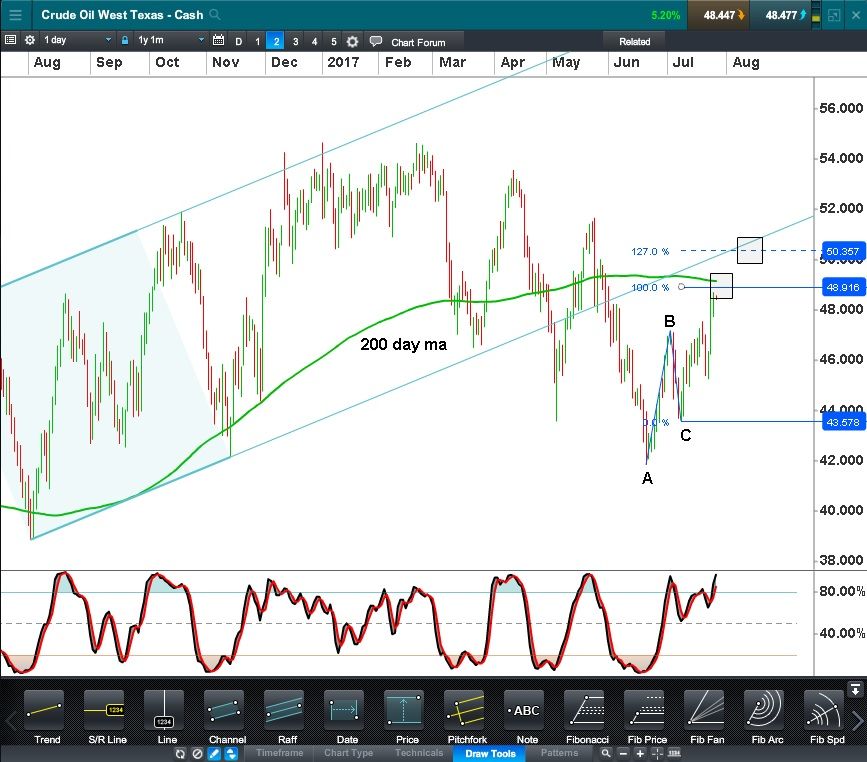 To begin with, I am looking at 2 levels as possible turning points for sell set ups.  The first is around $49. This includes an AB=CD level and the 200 day moving average. Last night's high of $48.70 got into the zone of this resistance area.
The second is around $50.25/$50.75.  This is the extended ABCD level where AB x 1.27 = CD. It also picks up an old support line which might become new resistance
My strategy would be to wait for signs of price stalling or peaking around these levels before selling with a close stop loss. If price just keeps rallying through these levels, I will be looking for resistance points deeper into the $50-55 range.