In a typical case of one step back followed by one forward, Australia's notoriously volatile building approvals data has beaten expectations by a wide margin.
Monthly approvals were up 10.9% compared to an expected gain of 1%. The year on year decline was only 2.3% compared to an expected 11%.
The market's lack of reaction to this data probably reflects two things.
First, markets expect volatility in monthly building approvals and are reluctant to act on a single month's numbers
Second the volatility is largely due to high rise dwellings. They were up 20% on last month. The consensus view is likely to remain for the trend in apartment construction to weaken as developers react to a forecast over supply in some cities. Despite the massive turnaround in June, apartment approvals remain 6.6% below last year
However, today's strong result does make next month's building approvals data one to watch. If we saw a second strong month, markets may have to revise their moderately bearish outlook for dwelling construction. That would be positive for Aussie Dollar as it would cast doubt over one of the key concerns people have about Australian GDP growth.
AUDJPY chart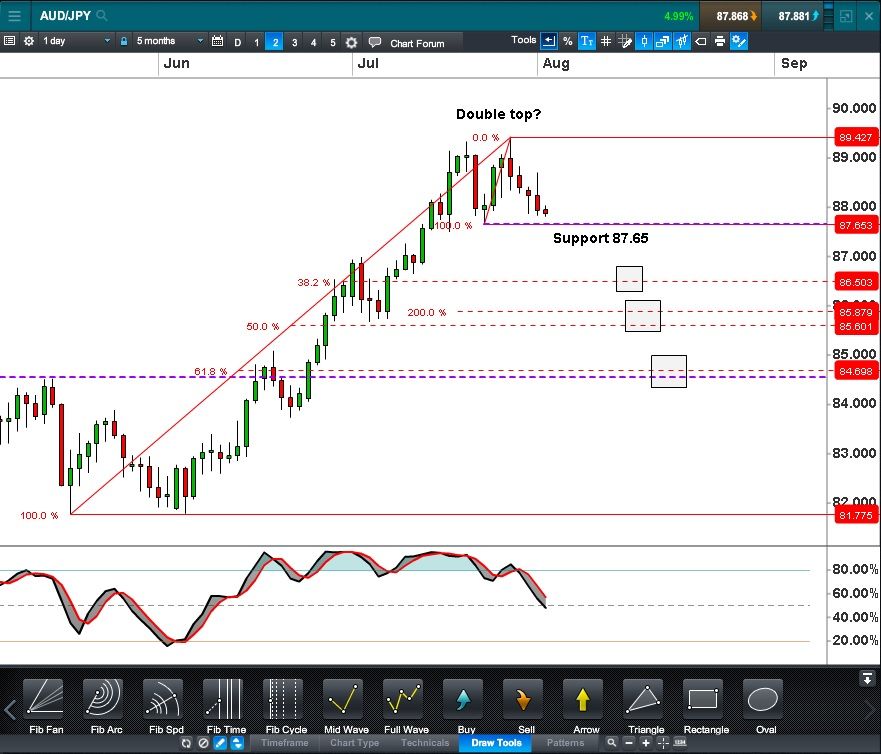 The Aussie Dollar's lack of reaction to the building approval news is demonstrated by AUDJPY which continues to drift towards the support below a double top pattern
A break of this support could see a move to deeper retracement levels of the last rally
The middle one of these also picks up a projection of the double top pattern height from its support line. This is often used as an objective for double tops