This morning's gains morphed into 2018's first losing day as the share market staged a turnaround with substantial volume of $5.8bn. Here are some thoughts on the potential for a shallow pull back and a buying opportunity to follow.
Background
The daily candle on the Australia 200 will not close until tomorrow morning. We are yet to see what the US markets will do so a bit of caution is warranted
However, the chances are that a relatively large and high volume sell off like todays, will attract some follow through. If not the market may at least stay nervous for a day or two.
Traders are aware that stock markets tend not to go more than 6-9 days without some sort of pull back. Profit takers demonstrated they were trigger-happy today, as US markets have now rallied for 6 days.
Share traders may prefer to see what happens to the bond market after last night's sell – off before they hit the buy button again
But the trend is your friend
Despite these concerns, the medium term trend is up. The consensus view is also for the upcoming US profit-reporting season to be strong and ours to be solid.
This scenario might produce a relatively minor pull back and a buying opportunity to join the medium term trend
Australia 200 chart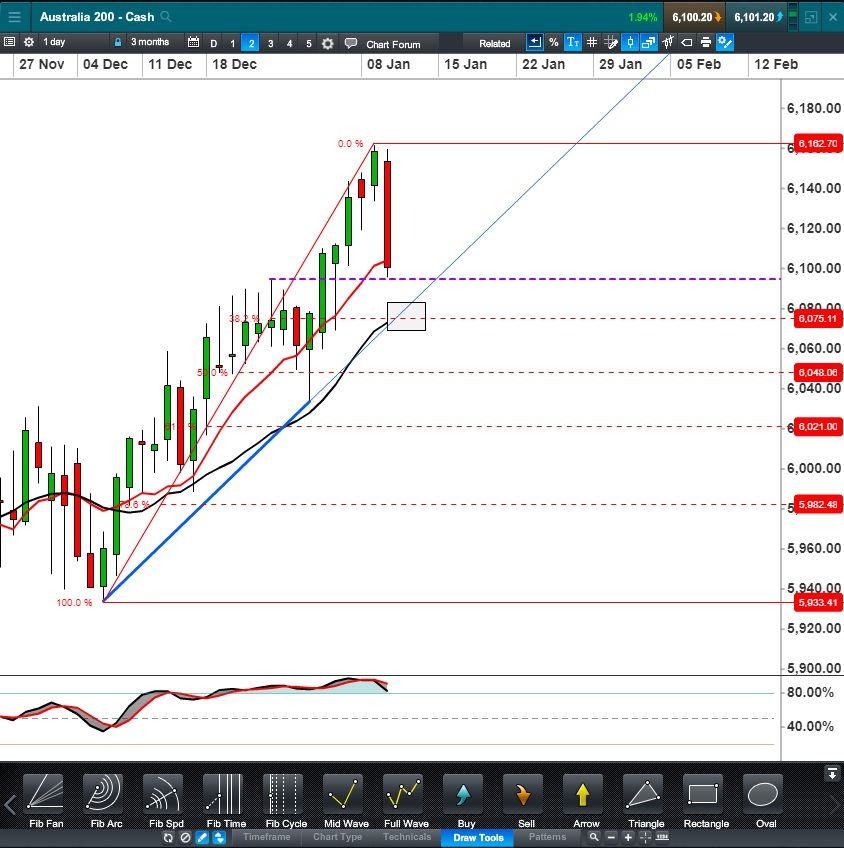 Australia 200 has already pulled back to the 10-day moving average as well as the possible support of the last minor peak. However, today's large move suggests it may break these levels
That makes the next area on my watch list around 6075. This finds the 20-day moving average, trend line support and the 38.2% Fibonacci retracement.
I am not a believer in trying to catch falling knives. So if the index just keeps falling through this area, I'll be looking for lower levels. However, if the market starts to stabilise around this level with perhaps a small bullish candle or a clear reversal off this support, it may present an opportunity to re-join this trend.