Invocare enjoyed a bout of market exuberance last year. However, concerted selling since late November now sees the funeral operator's share price returning to trend.
Background
Invocare is the largest funeral, cemetery and crematorium operator in Australia, New Zealand and Singapore. Its market share of funeral markets is around 25%.
The company has been one of the success stories amongst "defensive' stocks in the ASX 200 index. Its dominant market share means it is well placed to achieve organic growth with the population rising and ageing. In many respects, Invocare benefits from the same themes as healthcare stocks like private hospitals but without the risk exposure to government policy.   
There are some risks of course. One relates to the company's dominant market position. As the leading incumbent, Invocare is vulnerable to competition. In H1 2017, its funeral market share fell 1.3%.
The company has instituted a "Protect and Grow" strategy to defend market share over the next 4 years. This will include refurbishing facilities and better positioning to meet the increasingly popular specialised event management focus of funeral ceremonies.
However, there is a risk that defending market share through improved services and more competitive pricing will put pressure on future profit margins.
Valuations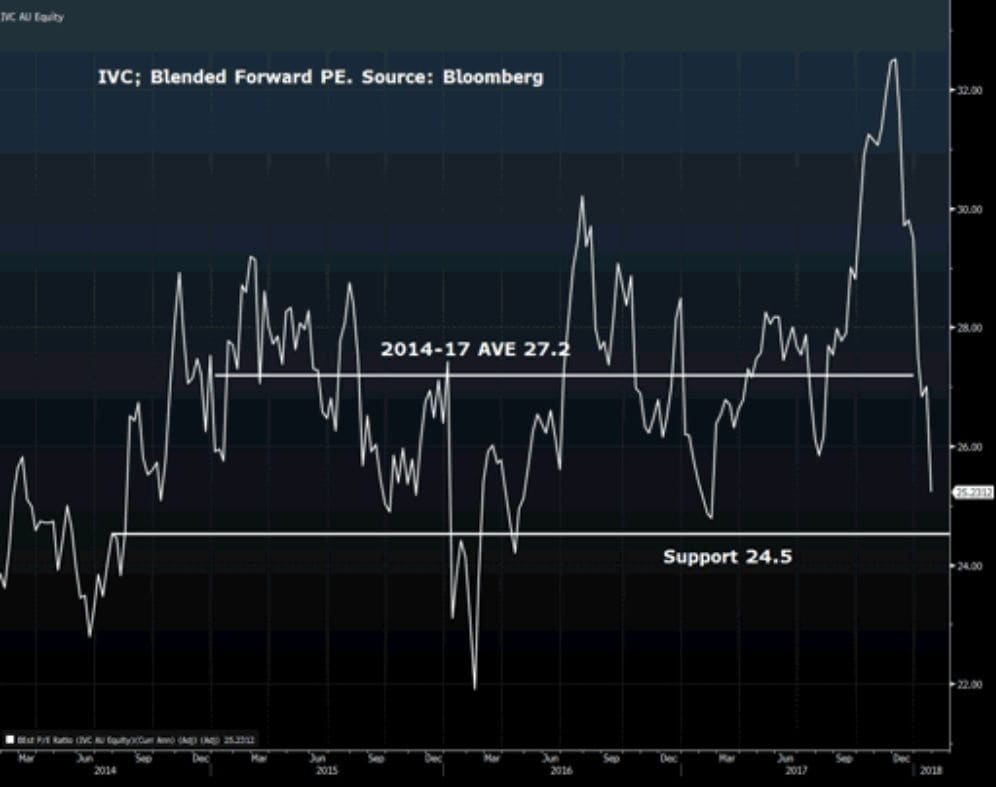 As the chart above shows. Invocare's forward Price: Earnings valuation peaked at around 32.5 times in November. That does seem "exuberant" for a relatively defensive stock, which achieved revenue growth of 1.7% last year.  Admittedly, lower expenses meant that operating EBITDA grew 9.9% but this is not a high growth Info Tech stock
Gravity has now applied and Invocare has come back to a forward PE of 25.2. This is not cheap but it is below the average over the three years, 2014-17 and is approaching a zone of support around 24.5.
Assuming no major overall market correction, Invocare may now be getting into the sort of valuation zone that will start to attract investors in the current climate of relatively shallow corrections.
Invocare Chart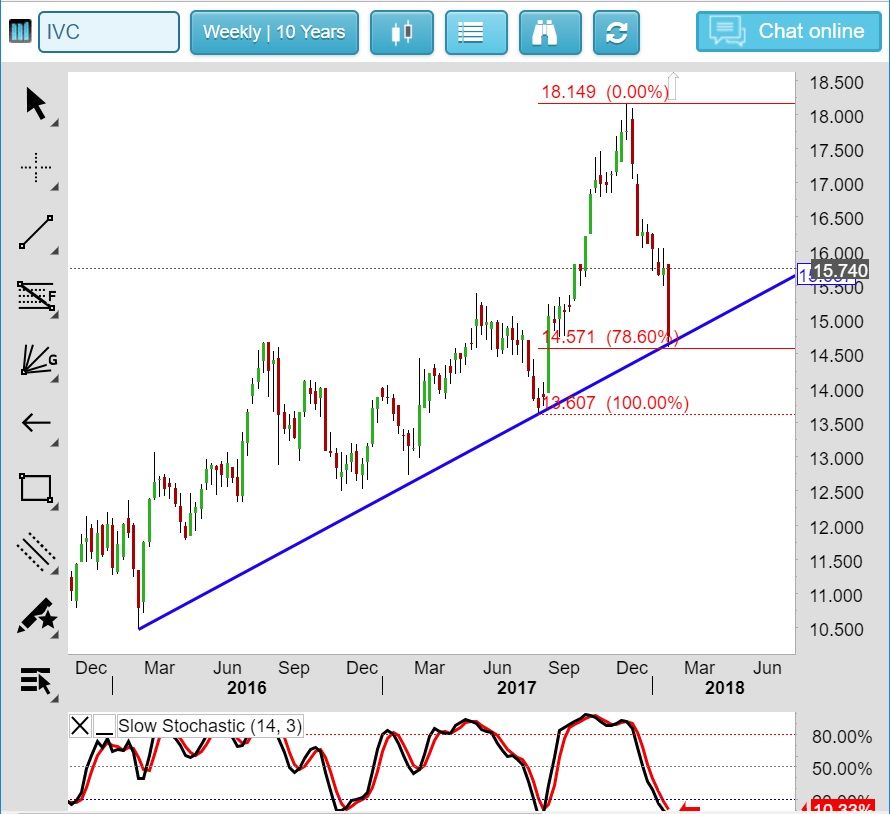 The chart is what prompted this post. Invocare is now testing established trend line support and the 78.6% Fibonacci retracement level. The weekly, slow stochastic is well in the oversold zone like it was last time Invocare bounced off this trend line
If the trend line does not hold next week, the support around the previous low at $13.60 may become a level worth watching.