Share market index volatilities are at or near century lows. This could mean that individual stocks are also quieter OR it could mean that individual stocks are swinging more wildly, but the swings are offset by stocks moving in the opposite direction. For an example of the latter, look to nickel sulphide miner Western Areas Ltd (WSA).
Classic Historical Volatility measures the change in share price from one day to the next. Both 90 and 180 day volatility in WSA are close to 60%. In contrast, the same readings for the Australia 200 index are 9.2% and 11.2%. WSA is far more volatile than the market average. There are good reasons for these larger daily fluctuations.
Not only is WSA in the volatile commodities space, it's a nickel miner. Nickel is of course a major component in stainless steel production, and the largest consumer of seaborne nickel is China. This makes WSA somewhat of a proxy for Chinese steel consumption, and broader China sentiment. Given often vehemently opposing views on the outlook, it's no surprise that WSA is highly volatile.
Readers of refined sensibilities and lower risk appetites should look away now. Because there's broad agreement the near and medium term outlook for nickel is constrained. Nickel spot prices are off more than 10% from 2016 highs, and China bears abound despite being horribly wrong about a "hard landing" for at least five years.
Now have a look at the WSA chart: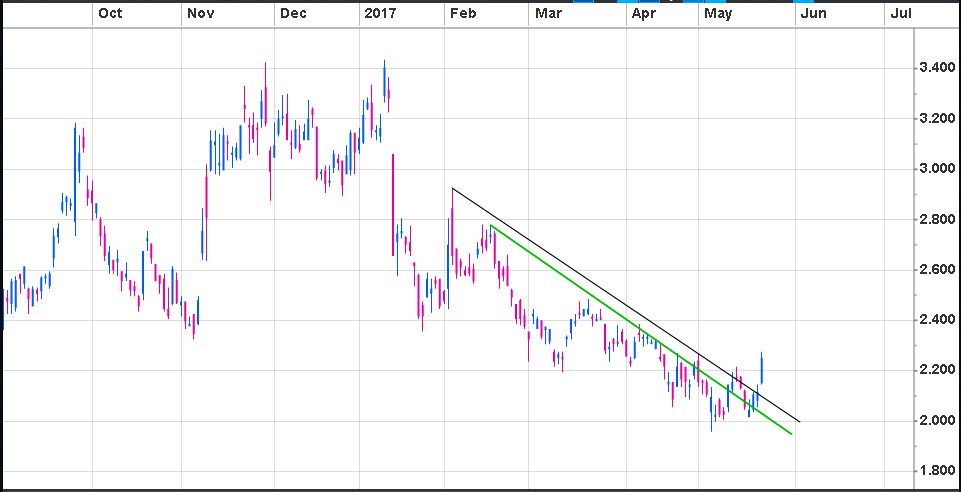 First, note the share price is down around 40% on 2016 highs. Secondly, no matter how I draw the down trend line the price is clearly breaking up through it. The price action is unambiguously bullish. Thirdly, WSA is the second most shorted stock on the ASX, with a whopping 17.5% of all shares sold short.
Despite the current pessimism the WSA share price is signalling upward, and the large short position creates the potential for a melt up in price if momentum catches. This could be important news for both longer term investors and short term traders.