It looks as though Germany might be governed by an unwieldy three party coalition. This could make for difficult and uncertain government.  Market reaction this morning has been limited but Germany 30 is looking toppy near potential resistance and could set up a shorting opportunity
Election result
Angela Merkel has won a 4th term as German Chancellor but it looks as though her CDU party is going to have to form a coalition with both the free market FDP party and the Greens to govern
The Christian Democrat Union (CDU) is centre right or liberal/conservative party
The Free Democratic Party (FDP) part has often been a junior coalition party to the CDU. It's also a centre right party but leans to freedom of the individual; civil liberties and market liberalism. It opposes further European integration; is against appointment of a European Union Finance Minister and wants to see a reduction of European debt
The Greens are of course primarily about environmental protection but are in the opposite corner to the FDP when it comes to economic/market liberalism.  They are about welfare and public investment. The Greens also want to assist the weaker states in Europe. They want a new deal to end European austerity.
This looks like one of those arrangements where whatever policy does get passed is going to be a very watered down compromise. More kicking of the can down the road could be on the cards. If markets are going to react to this election result it seems more likely to be negative than positive.
Germany 30 -  Daily chart.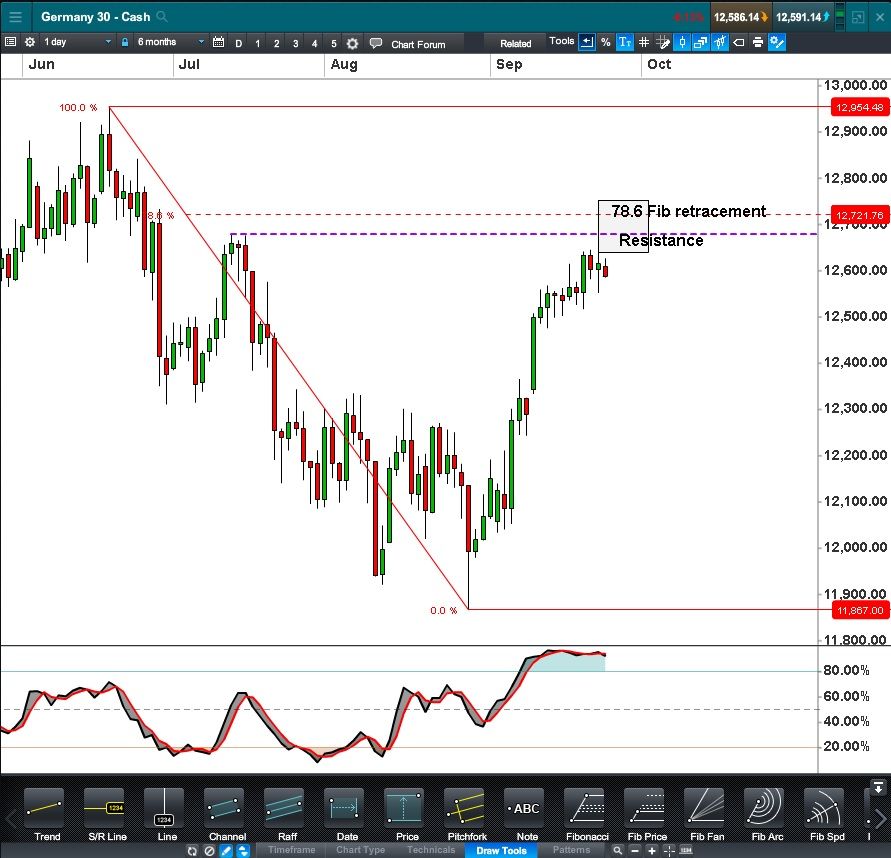 Germany 30 is sitting just below 12678 resistance and the 78.6% Fibonacci retracement level at 12722. If the index pushes up to this price zone and then rejects it that could indicate potential for a move lower. Strategically, it would also represent a chance to sell with a close stop above any peak in this zone
Germany 30 - 4 hour chart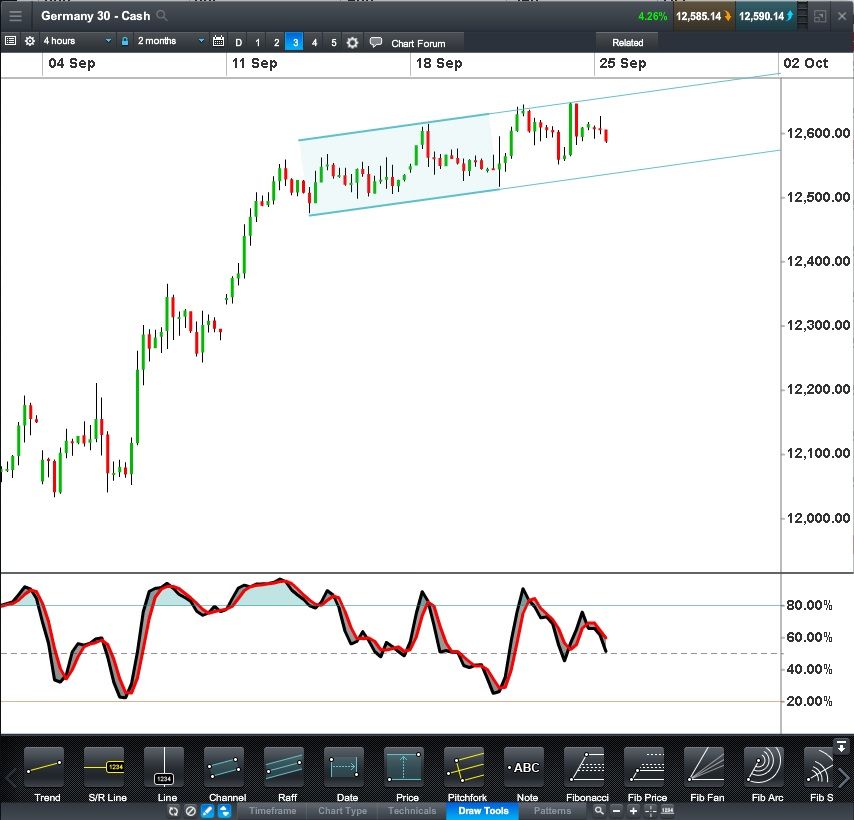 Of course, Germany 30 may not make it up to the 12678/12722 zone.
If that happens the upward sloping channel or distribution pattern on the 4 hour chart might be useful. If price stays in this channel but then breaks support it could signal a larger downward correction
Strategies here could include selling with a close stop on any rejection of the channel resistance or selling a clear break of the channel support