One of the great aspects of working in financial markets is the opportunity to meet and learn from terrific people. Peter Switzer is a former university lecturer, media personality and highly successful businessman. I write regular for the Switzer Report and occasionally appear on his TV show on Monday nights at 730 on Sky Business, Channel 602. The article below was prompted by Peter and his team, and first appeared on Switzer.com.au
Two stocks with long term potential
Austal Ltd
One criterion in looking for shares for the long term is higher barriers to entry. A company with a clear lead in product, technology or process that is difficult to replicate may enjoy many years of higher margins. Ship builder Austal (ASB) fits the category.
ASB manufactures combat and transport ships for the US Navy and the Royal Navy of Oman. It makes patrol vessels for the Australian Border Force. It also makes an assortment of auxiliary vessels. It has ship building operations in the USA, Western Australia and the Philippines, and enjoys a strong reputation for high quality delivery.
The company also supplies and installs weapons and other systems, and provides training and other support services. In short it is involved at every stage of vessel supply from design to post delivery. This vertical integration and close relationships with customers means ASB is not often threatened or pressured by competition. Combined with the long term nature of its contracts, this may give investors assurance about the future for ASB.
At its recent half year result announcement ASB released an improved bottom line and a guidance towards a steady earnings this year. Additionally ASB is one of the few stocks likely to benefit if geo-politics heats up. Long term earnings, high barriers to entry and a beneficiary of increased military activity makes ASB a stock worth considering for defensive earnings.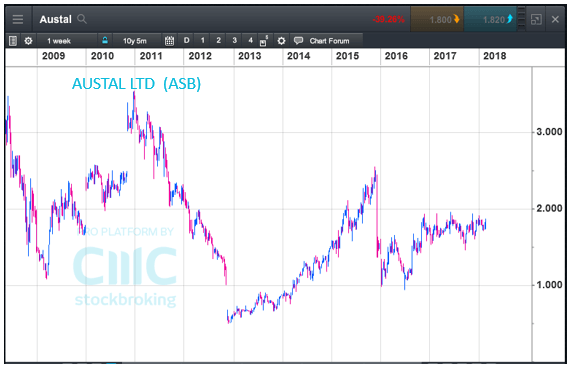 This long term chart shows Austal is trading at historically lower levels and is bubbling up towards a potential break through $2.00 per share.
Woodside Petroleum
Balancing ASB's long term defensive profile is the growth exposed Woodside Petroleum (WPL). Currently suffering some indigestion after a placement the shares are well down on recent peaks close to $35.
However the longer term prospects are strong in my view. World class fields and reserves, proven building and operating expertise and demonstrated investment discipline are three key reasons to hold WPL for the long term.
Despite the hopes of environmentalists for a switch from fossil fuels straight into renewables, none of the new technologies are economical without government support. The need for a transition fuel that is big enough to scale up but has lower carbon dioxide content is more pressing than ever, and LNG is in the frame. As reality dawns on environmentalists and investors there is potential for a long term re-rating of the stock.