There was a sharp sell-off in industrial commodities in international markets on Friday.
While the drop in oil is about the impact of Hurricane Irma, the fall in metals looks like a self-generating bout of profit taking. Hedge funds and others are heading for the exits after an impressive rally. A firmer $US is helping
This saw the Aussie Dollar fade after steaming through key resistance at .8067 on Friday. It has also led to sharply lower mining stocks this morning.
Here's a review of some key charts
Iron Ore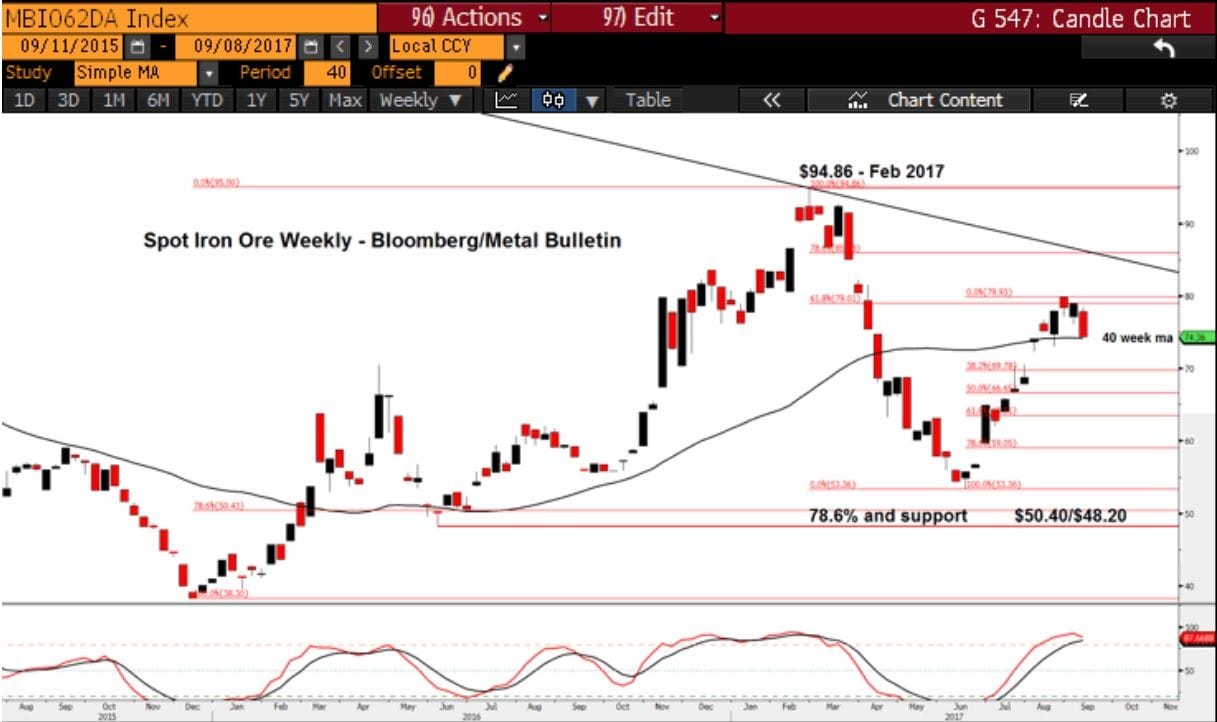 Iron ore put in a soft looking, red candle that finished on its low last week. This confirms a bearish rejection of the 61.8% Fibonacci retracement of the whole decline from $94.86 to $53.36. It also comes with the slow stochastic in the box below the chart well up in the overbought zone
Last Friday's close was neatly at the 40 week (200 day) moving average. However that average is itself rather flat, suggesting that iron ore could chop up and down through its 200 day sma for a while
The recent uptrend was a one way affair that created little in the way of support and resistance. The Fibonacci retracements may be the levels to watch
Summary: Price has rejected the 61.8% retracement level in a high momentum sell-off from and is coming out to the overbought zone. The 38.2% retracement level around $69.80 may be the first one to watch.
Copper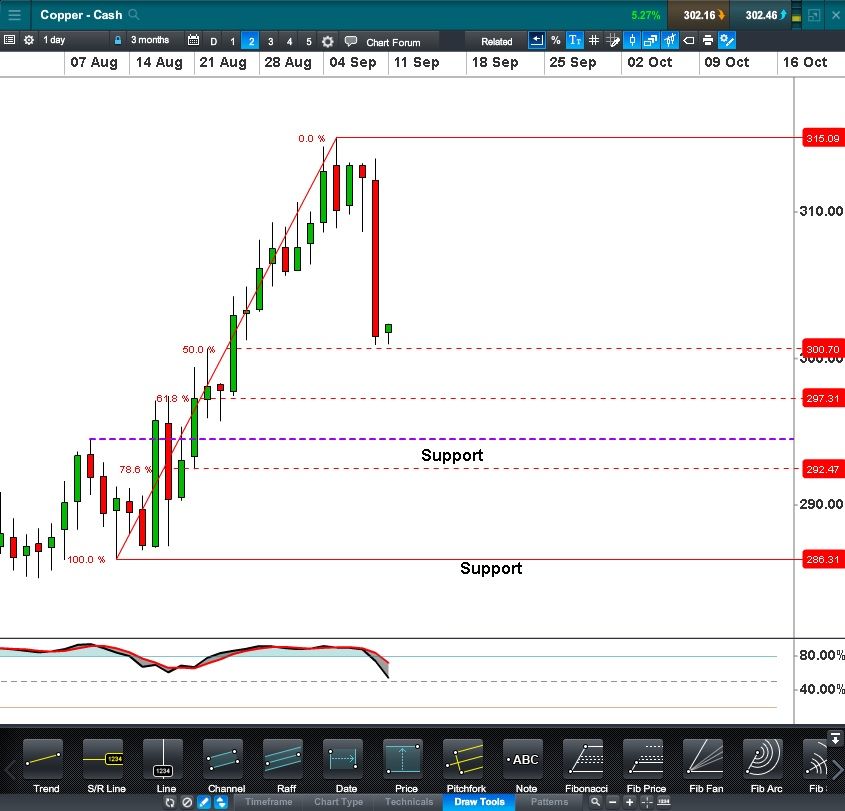 Here we see another high momentum rejection of a key Fibonacci level starting from the overbought zone
I haven't shown it here but last week's peak was a neat rejection of the 78.6% Fibonacci retracement of the decline from 348.5 to 192.4.
Lower prices look likely now. A break below the lower support on the chart at 286 would be bearish for a deeper correction.
However, if the market bases at higher levels between the 61.8 and 78.6% retracements (2.92/2.97) then in the scheme of things this will only be a relatively minor pull back and potentially a buying opportunity.
Fortescue Metals (FMG.ASX)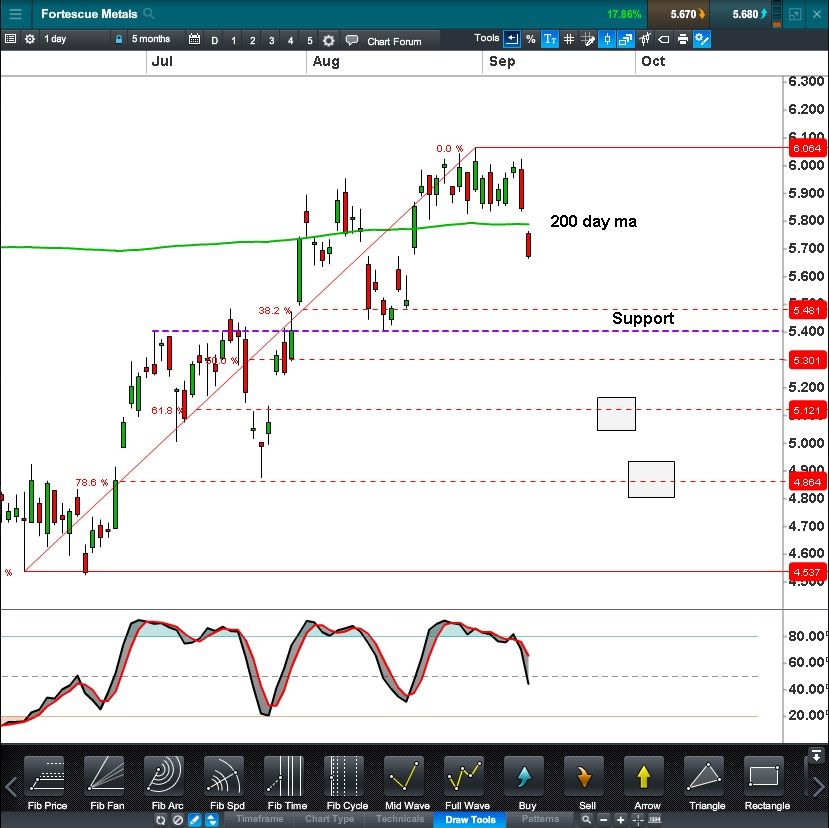 Fortescue gapped through its 200 day moving average in a display of strong negative momentum this morning.
However, like iron ore the 200 day moving average is moving horizontally, indicating a flat long term trend. If that's maintained, support around $5.40/$5.50 and the 38.2% retracement could be an area to watch as a potential base.
If price does just fall straight through $5.40 then the deeper retracement levels at $5.12 and $4.86 may be levels to watch as potential turning points
Aussie Dollar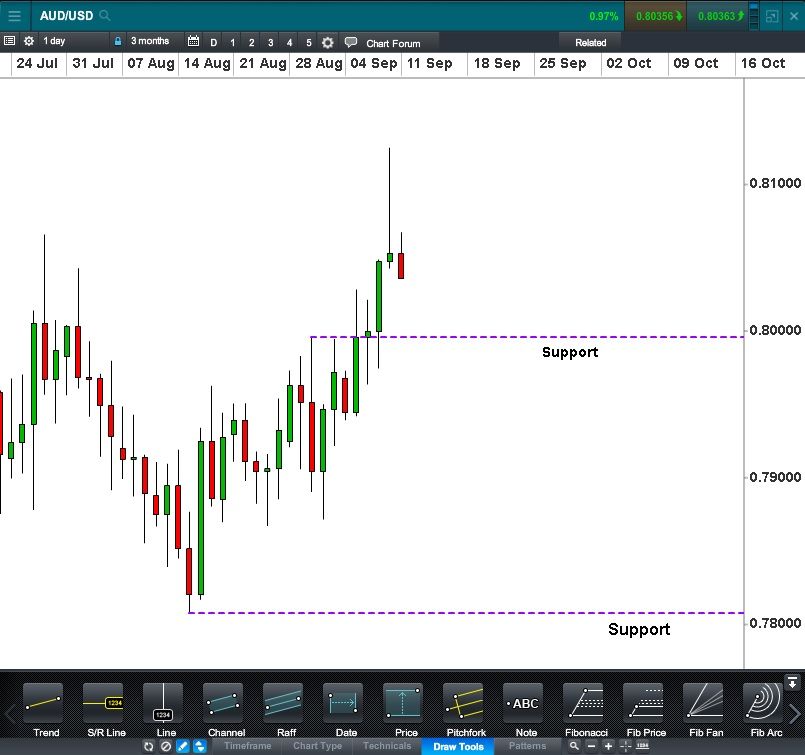 Aussie charged through .8067 resistance on Friday but that day's candle looks far from impressive from the vantage point of the new trading week.
The selloff in metals saw the currency sold, leaving a candle with a very long and very nervous looking upper wick.
The recent peak at .7995 may be the key to this chart in the short term. Forming a base above that level would still be consistent with an impulsive uptrend, leaving $A as a buy dips market for short term traders.
However, overlap below .7995 would be a sign of weakness and more consistent with a short term sell rallies market
To get long term bearish about this chart we'd need to take out the .7809 support in my view