Deutsche Bank's share price may have doubled since its record lows from last year, but it still remains well below the levels it enjoyed as recently as two years ago.
Today's increase in the banks pre-tax profits is welcome, coming as it does off the back its settlement with the US Department of Justice earlier this year and its recent capital raising of €8bn of fresh equity.
Despite overcoming these two sizeable obstacles, a feat that didn't look likely towards the end of last year it would be tempting to think that the worst of Deutsche's problems are now probably behind it.
There is certainly less concern about the bank now than there was at the back end of 2016 when there were real concerns about the bank and its sustainability, a view not helped by all the other problems rippling through Europe's banking system, in the shape of non-performing loans, as well as insolvent banks.
It is true that some of these problems are being dealt with and while today's increase in profits is welcome, a sum of €882m against €408m a year earlier the numbers remain well short of what a bank of Deutsche Bank's size and scale should be making.
Furthermore the improvement in profits hasn't been as a result of an improved performance within the bank itself but as a result of huge cost cuts of over €5bn. These are only a one-off and cannot be repeated which means its various divisions need to start to, outperform.
Its investment banking division, previously one of the crown jewels for Deutsche underperformed as it saw a 10% decline in revenues, and while a decline was expected given recent numbers from JP Morgan and Goldman Sachs, this was still below expectations.
The bank is in the middle of a big restructuring program and part of this involves updating its huge out of date IT systems, as well as its trading culture where the bank's staff crossed the line in terms of ethical behaviour on a regular basis, and where current management are now having to pick up the pieces.
It is also reshoring some of its assets back into Germany as CEO John Cryan looks to make the bank more Germany centric, and part of this was announced earlier this month when it announced that it would be pulling back €350bn of assets out of London back to Frankfurt.
While refocussing the bank to a more German model, even here the bank may struggle given how overbanked Germany's domestic banking sector is, and here margins are also wafer thin.
The bank is also still having to contend with legacy issues including its business relationships with President Trump which could come under the microscope if the political situation in Washington continues to deteriorate.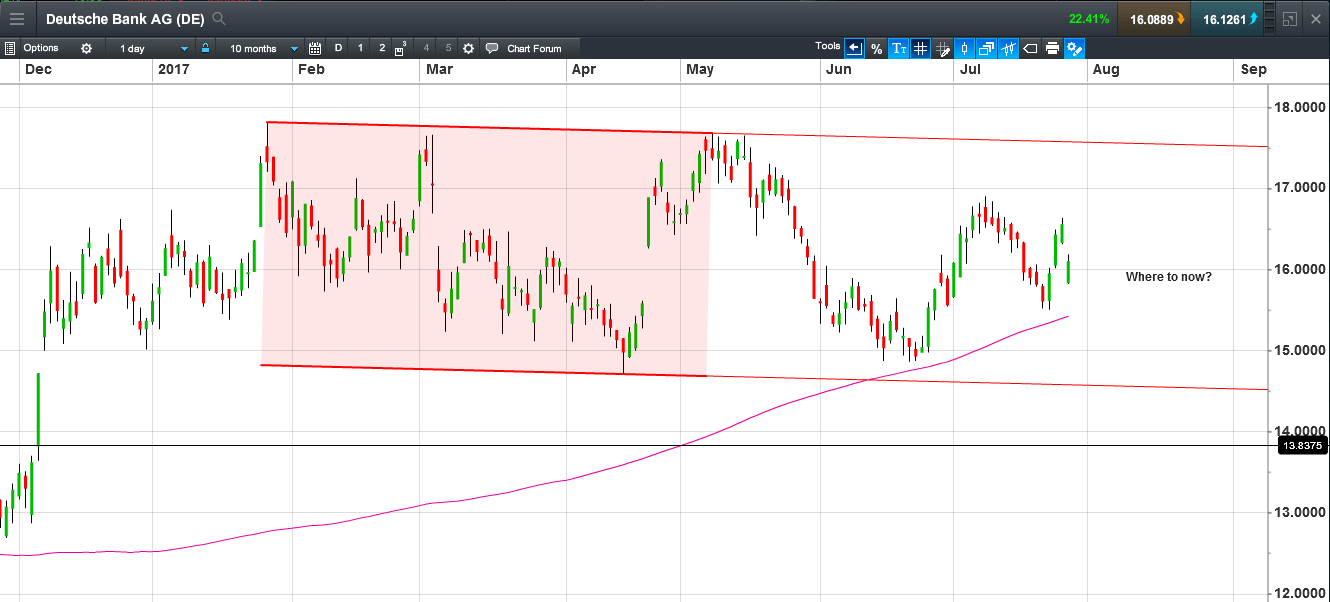 The share price performance since the end of last year therefore reflects the uncertainty still plaguing the bank's turnaround plan in markets where the banks international peers have had a two to three year head start and where Deutsche is playing catch-up.
The jury remains out.
The material (whether or not it states any opinions) is for general information purposes only, and does not take into account your personal circumstances or objectives. Nothing in this material is (or should be considered to be) financial, investment or other advice on which reliance should be placed. No opinion given in the material constitutes a recommendation by CMC Markets or the author that any particular investment, security, transaction or investment strategy is suitable for any specific person