Descent of the Kiwi
By John Sheridan, Trade With Precision
We've seen some strong moves in the FX markets recently. Some have petered out, but others just seem to keep on going.  Some of my favourite markets recently have been the New Zealand Dollar pairs, and in my opinion the better of the bunch is NZD/EUR. 
What I particularly like about this pair is the price action that we are seeing across multiple timeframes, from the monthly downwards.  When we have agreement on the trend spanning multiple timeframes we often find trading opportunities present.
Beginning our analysis on the Monthly chart below, we see a down trend with price forming lower highs and lower lows. And our moving average (MA) geometry adds possible confirmation to the strength of this trend, with the 10, 20 & 50 period MAs all flowing downwards with good space between them.
Price has recently gone through a level of support to make a lower low and the trend momentum is confirmed by bearish convergence on both the MACD & RSI.  With price now trading at a three-year low, in my opinion the long-term outlook is bearish.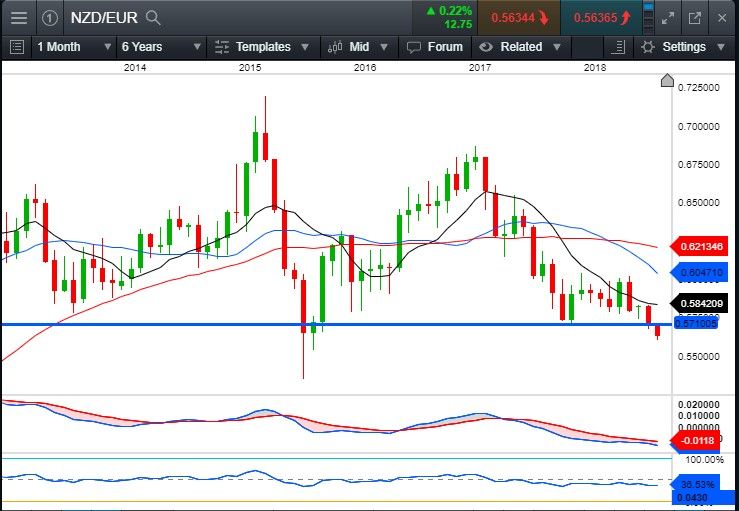 The view is also bearish on the Weekly chart. We can see that since the high in February 2018, price has been in a smooth flowing downtrend before finding support around the 0.57100 level. After ranging for a period, the trend then re-established, testing support before finally breaking through. Again, the trend is showing us optimal MA geometry and bearish indicator convergence.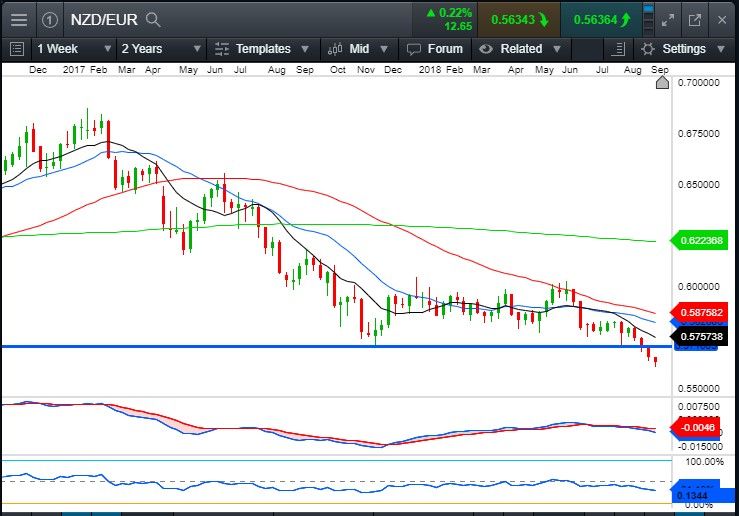 Moving our analysis down to the Daily chart, we can see good downward momentum with optimal MA geometry and bearish convergence, again confirming the down trend.
Price has been a little over-extended but is now pulling back towards the MAs and in my view, this could continue. Should price pull back to the Sell Zone between the 10 and 20 period MAs, I would be looking for a small bearish candle to form, providing a potential trade setup on this time frame. 
Another option would be to move down to the Four-hour chart, which is also trending and look for a trade setup there. Either way, given the strength of the trend on the higher timeframes, I may have the potential to stay in the trade and take a piece of a longer-term move.