One of the main drivers of the stock market rally in the US since last November has been the technology sector, where we've seen the S&P500 technology index rise from lows of $771 to be trading above $1,000 as of the end of last week.
If you strip out this sector from the overall S&P500 you can then see that the rally in US stocks has been much more modest, and it is this strong momentum in these so called FAANG stocks of Facebook, Amazon, Apple, Netflix and Google, that has got some investors concerned about frothy valuations.
In the past few weeks we've seen Netflix and Amazon deliver significant investment in their on-line streaming content as the race to add subscribers and a consistent revenue stream gathers pace.
Between the two of them there has been heavy investment in shows like the House of Cards, Orange is the New Black, and the Crown on Netflix while Amazon has invested heavily in shows like the Man in the High Castle as well as Top Gear – The Grand Tour.
This heavy investment, around $10bn a year currently, is all well and good but it still needs to be balanced against income and while exponential user growth is one thing, these users still need to generate enough revenue to create a steady revenue stream in order to justify their current as well future forward valuations.
This is one area that Apple has fallen behind, given that it was an early adopter of streaming content through its Apple TV, but where Apple management appear to have taken their eye off the ball, and we did see some speculation that we might see an upgrade here to a higher 4K specification. It is worth noting though that Apple lags well behind in terms of investment in content, which would suggest that it will likely come to an arrangement to host an Amazon video app. Whether this will prompt further take-up is open to debate given that the Apple TV is still expensive when compared to the Amazon fire stick. 
This may be an area that is addressed tomorrow when Apple holds its eagerly awaited press conference where it is expected to announce a number of product upgrades with the most eye catching expected to be the next iteration of its iconic iPhone product the iPhone 8, as well as an upgrade to its core operating system as it gets set to unveil a set of new features.
A lot has been made that the next version of the iPhone, is likely to retail at around $1,000, a significant amount of money, and in most cases more than the average laptop as well as desktop PC.
In these cost conscious times that is a serious amount of money for a device that usually has a shelf life of no more than two years.
It is true that Apple's products don't tend to be that price sensitive, but for a company whose margins are already quite high it still remains a big risk on a psychological basis, and in particular in markets where consumers appear to be leaving it longer to replace what are already quite expensive pieces of hardware.
Consumers generally don't mind spending a lot of money on a decent specification laptop computer, because it usually has a shelf life of more than 3 years, and this can be extended by replacing some of the parts, upgrading the hard drive or increasing the RAM, for example.
Apple's products don't offer that sort of flexibility and that could well limit its price appeal in some markets, even if some of the upgrades are cutting edge, and are embraced by Apple's hard core fans.
The Apple Watch could also get a significant upgrade if some of the speculation is correct, in the wake of a recent leak about what we can expect to see tomorrow. One of the main gripes about the Apple Watch is that it won't work without a corresponding iPhone, and it has been speculated that this could be addressed tomorrow with a new device that has its own 4G connection, which would mean it would be able to operate in isolation of any other Apple device. A true case of life imitating art, beam me up Scotty!
In recent trading updates Apple has made great strides in diversifying its revenue streams with significant improvements in its services business at its most recent trading update.
Last week we saw Apple's share price slip back quite sharply from recent record highs, and while it still looks cheap on the basis of future earnings potential there is a risk that we could see further declines if there is any scepticism or disappointment about tomorrow's product announcements.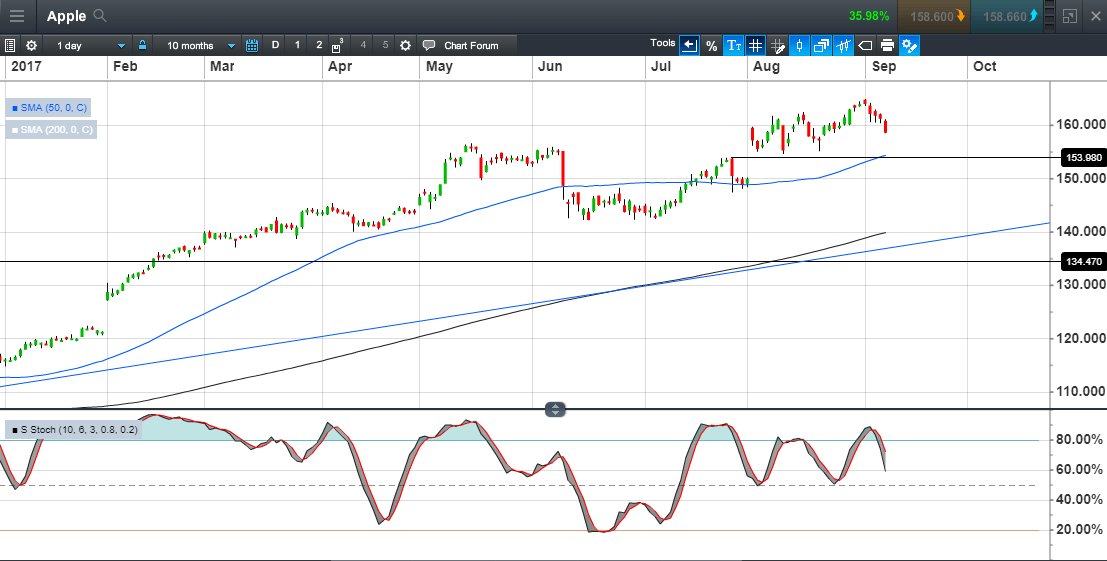 Revenue from iTunes, Apple Music and the App Store in its most recent quarter came in at $7.27bn, a 22% increase and a record number, which on an annualised basis comes in at $28bn.
For its latest quarter the company is expecting total revenue to increase to between $49bn and $52bn, from $45.4bn in Q3 and it is hoped that tomorrow's product launch will go some way to help achieving that.
CMC Markets is an execution only service provider. The material (whether or not it states any opinions) is for general information purposes only, and does not take into account your personal circumstances or objectives. Nothing in this material is (or should be considered to be) financial, investment or other advice on which reliance should be placed. No opinion given in the material constitutes a recommendation by CMC Markets or the author that any particular investment, security, transaction or investment strategy is suitable for any specific person.