By Adam Harris, Trade With Precision
Many currencies have been trending well over the past week. However, the turmoil resulting from Italy's problems in forming a new government has caused some hesitation in the Global Indices.
Today I would like to focus on how I build my watchlist and assess two possible markets. The first being the possible return to an uptrend of Crude Oil (this is my pick of the oil commodities). I'm also stalking a downside entry into EUR/JPY on the Daily timeframe.
Crude Oil Brent
Looking at the Weekly chart below, a green candle is currently forming in the Buy Zone, the area between the 10 & 20 period moving averages (MA). Although this candle is open until the end of the week, it could imply that if next week price breaks above the high of this week's candle, then according to my trading philosophy, the longer-term uptrend will have resumed. In the meantime, I am preparing myself for any long opportunities that may set up on the lower time frames.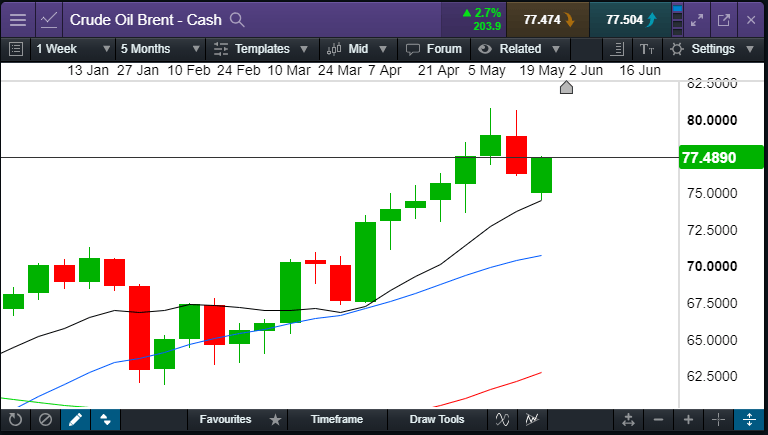 On the 4-hour timeframe the surge of buying has extended price from the 10-period moving average. I am stalking a pullback to the 76.00 level, which is a previous level of resistance which could act as support if price pulls back to it.
At this stage this is all advanced planning however I prefer to remain prepared and vigilant for setups that fit my strategy rules.
!*!*
Currencies - EUR/JPY
On this currency pair, the Monthly, Weekly and Daily timeframes are down trending in a similar fashion.
Zeroing in on the daily timeframe, price is currently retracing back up into a level of previous support at 129.25. This level is currently positioned within the 10 & 20 MA sell zone.
Drawing a Fibonacci retracement from the most recent low to the most prominent high, we see that the 50 percent level coincides with the support / resistance level around 129.25.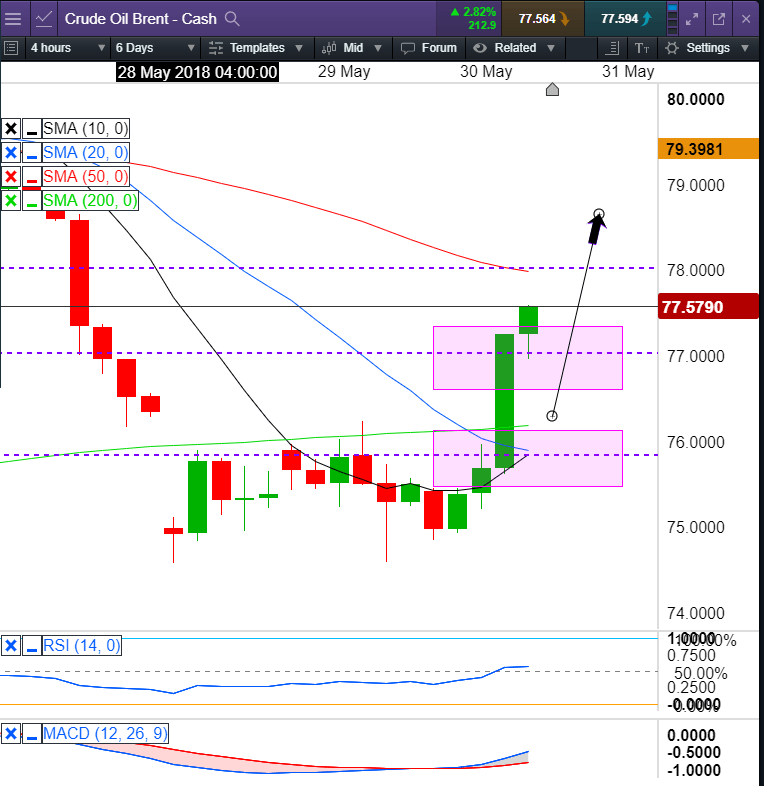 My strategy will involve waiting for a small to medium-sized red candle to form in this area, ideally offering additional stop-loss protection above 129.25.
As per my usual strategy trade rules, I choose to risk a maximum of 1% of my trading capital on any one trade. I will split this into two 0.5 percent orders, each with the same entry and stop-loss values.
The first order I would take profit at 1:1, while the second would ideally run down to a take-profit of at least the 125.00 level. In that case I would still trail my stop-loss several candles behind, while continuing to monitor price action for signs of an earlier-than-planned reversal.
In both cases, I will monitor the economic calendar for any major high-impact news events and trade accordingly.
Happy stalking.