Bearish divergence looks a possibility for the copper chart. If it sets up, it's also likely to have bearish implications for the Aussie Dollar which is looking shaky even with the recent support of solid commodity prices
Copper chart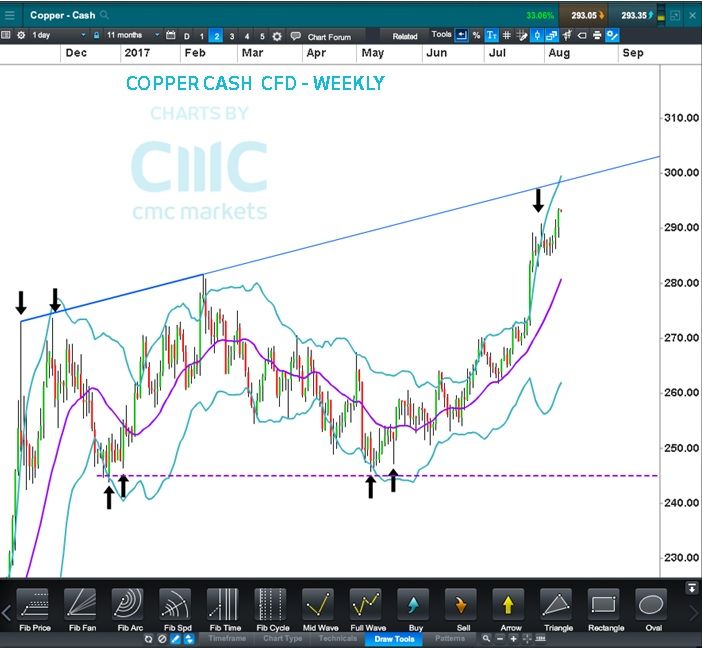 In late July, copper rallied hard outside the upper Bollinger band. This rally was briefly interrupted by a trend peak above the upper band on 31 July followed by a minor correction.
Since then, copper has continued to rally but is running well below the upper Bollinger Band. Any trend peak in the next few days could occur beneath the upper band. This would be a Bollinger "M" reversal sell set up where the bands indicate weakening momentum even though price is still rising.
If copper does make a trend peak a bit north of current levels, it might also be in the zone of resistance around the blue trend line I've drawn on the chart. This would add to the significance of this reversal
Copper has been in an expanding pattern since November last year. 3 of the 4 major turning points in this pattern have been examples of Bollinger reversal set ups (minor trend reversal outside the band followed by one inside)
Copper background
The copper market has been relatively balanced this year. Demand has also been improving with ongoing growth in China and an improving European economy.
 This situation has made the copper market vulnerable to supply disruptions and there have been a few of these this year.  The biggest were the Escondida strike in Chile and the imposition of export controls over the Grassberg mine in Indonesia. More recently there have been reports that China will cut back production to protect the environment particularly from scrap refining.
However, markets have run hard on this news and inventories are actually building which is a warning sign. The Comex copper inventory is continuing to build and now stands at 174,000 tons. Analysts are warning that the rate of growth in China's property and infrastructure construction will slow.  A correction in the copper price and another rejection of the looming trend line would not surprise. 
Aussie Dollar chart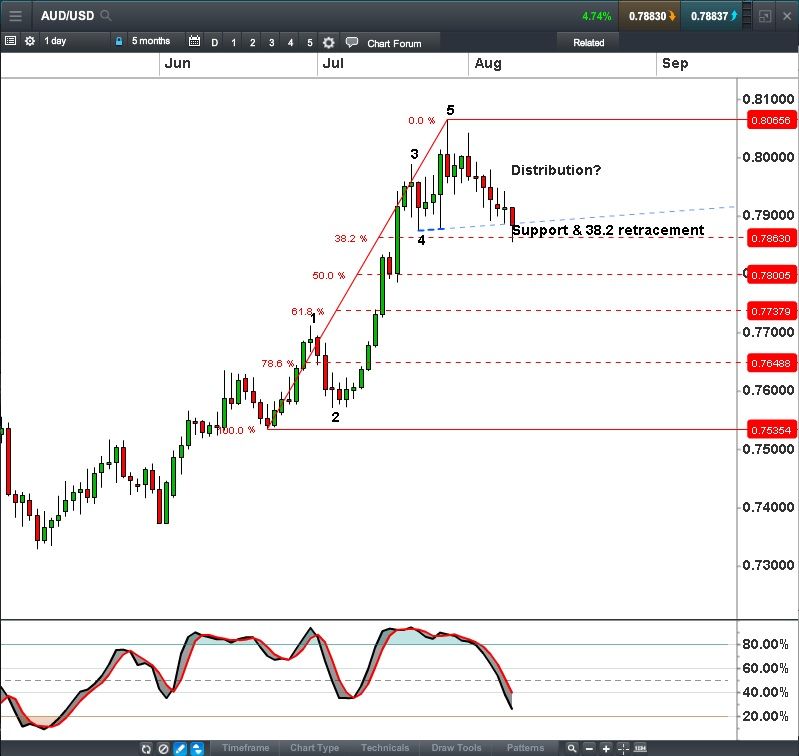 I have been following this chart recently both on blog posts and in the chart forum on our trading platform. It looks to be in a distribution phase after completing an Elliot 5 wave advance from .7535
Today it recovered off the 38.2% Fibonacci retracement level. However, a downward correction in metals could easily see the Aussie pull back to deeper retracement levels.