Please remember that your MT4 password is different from your CMC Markets admin portal password. To set your MT4 password, please log in to the admin portal using the password you created on the application form.

1. Launch the MT4 platform. The icon shortcut should be available on your desktop once you have downloaded and installed MT4.
2. Connect to the CMC Markets server.

(a) You can find the server name at the top of the emails we sent you during the application process.

(b) When you open the CMC Markets MT4 platform, the 'Open an Account' window will appear automatically.  If it does not:
(i) Click on "File" found in the menu bar at the top
(ii) Select 'Open an account' in the dropdown menu

(c) Click on the green '+' button & enter "CMCMarkets1-Canada"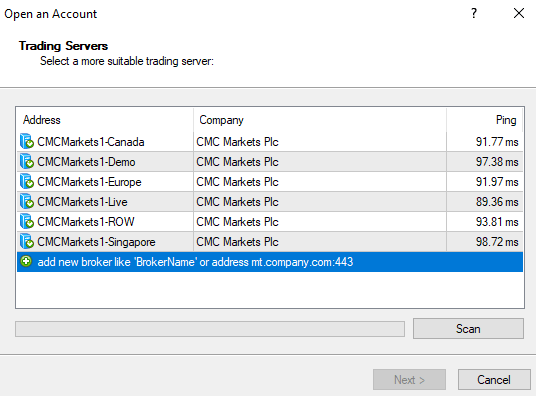 (d) Click 'scan'

(e) The Canadian server should now be added to the list of servers

3. Select 'Existing trade account' to log in.

4. The following details will now be required:
    a) Login (this is your MT4 account ID found at the top of your account confirmation email)
    b) Your MT4 password

5. ​You should now be logged in. You can verify this by looking at the 'Journal' tab and the icon in the status bar at the bottom.