C

hart of the week-Singapore Airlines

Potential capitulation of S'pore Airlines as recent bloodbath almost reached 200-day moving average 

Medium-term technical analysis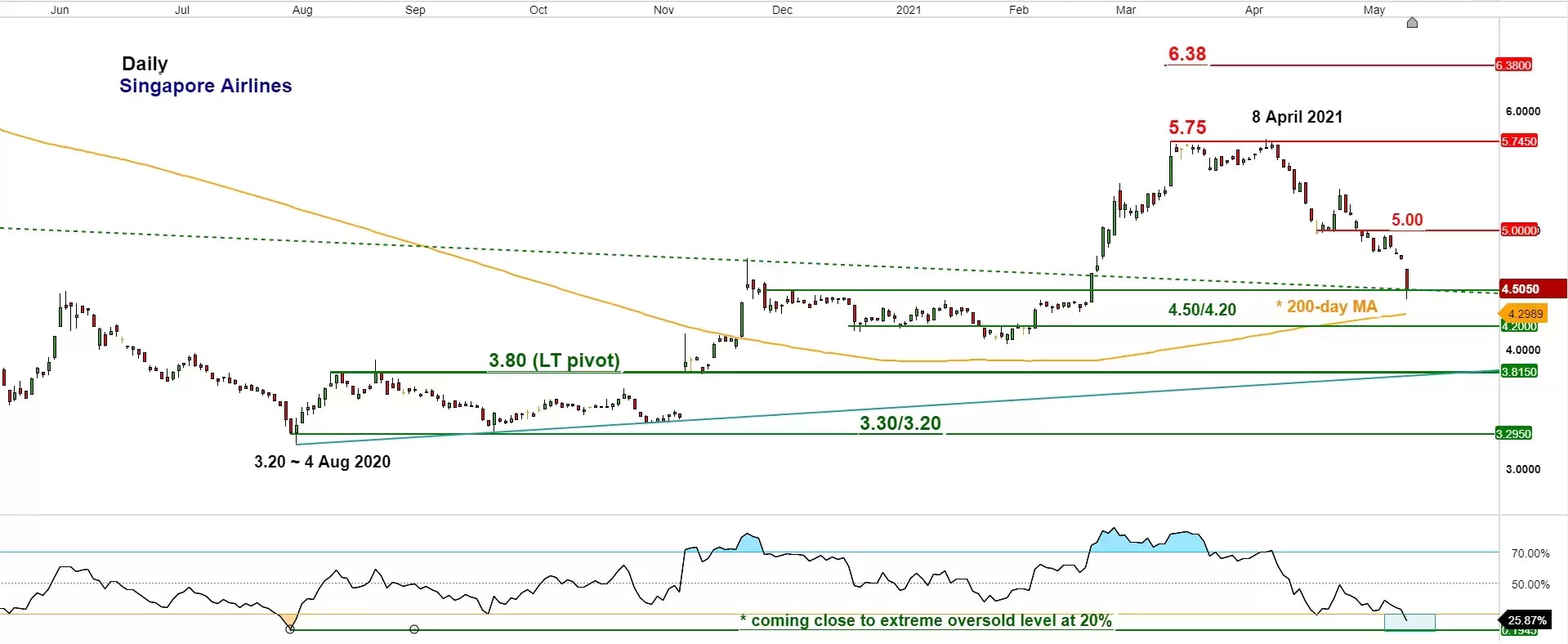 Time stamped: 16 May 2021 at 12:00 pm SGT
Source: CMC Markets
The share price of Singapore Airlines (SIA) has plummeted by -23.5% from its 52-week high of 5.78 printed on 8 April to a low of 4.42 seen on last Friday, 14 May. Last week's down leg of the on-going five weeks of corrective down move has been amplified by the heightened global inflationary scare on the real economy that triggered a negative feedback loop (the first hit was technology stocks in late Q4 2020) into global cyclical stocks that have been outperforming the benchmark stock indices in general since Q4 2020. SIA is a cyclical stock that has benefited from the "reflation/global economy reopening" theme play in the recent months.
Last Friday's 14 May decline of -5.66% is the worst single day loss since 13 May 2020 for SIA's share price due to the rising local community Covid-19 infection cases in Singapore that led to more stringent measures imposed by the government that will lead to a slowdown in economic activities. Also, SIA will report its full fiscal year 2021 earnings on this Wednesday, 19 May after the close of the Singapore stock market.
Technically, the medium-term uptrend of SIA in place since 4 August 2020 low of 3.20 remains intact despite the aforementioned five weeks of corrective decline from 8 April high. Interestingly, last Friday's "dramatic fall" may be a capitulation as price action has reached a potential inflection/support zone of 4.50/4.20
The inflection/support zone of 4.50/4.20 is defined by the 50%/61.8% Fibonacci retracement of the prior up move from 4 August 2020 low to 8 April 2021 high, the 200-day moving average, former swing high areas of 4 June 2020/25 November 2020 and the 1.236/1.382 Fibonacci expansion of the recent corrective down move from 8 April high to 21 April low projected from 27 April high.
In addition, the daily Relative Strength Index (RSI) has reached its oversold region. Hence, as long as the 3.80 long-term pivotal support holds and a daily close above the 5.00 intermediate resistance reinforces a potential recovery scenario to retest 5.75 before targeting the major resistance at 6.38 (former range support from Oct 2008 low).
However, a daily close below 3.80 invalidates the medium-term uptrend for a further decline towards the next support at 3.30/3.20 (the 52-week low and swing low areas of 4 August 2020/23 September 2020).