<b>What's Happening?
It's a light week for scheduled economic news and President Trump's first full week in office so politics and earnings reports are likely to be the dominant themes for trading. So far, the main economic focus of the new administration appears to be on trade. President Trump indicated over the weekend that he is scheduled to meet with UK PM May on Friday and is planning talks with Canadian PM Trudeau and Mexican Nieto soon to talk about renegotiating NAFTA.
GBP has broken out of a base this week on anticipation that a closer trade relationship between the US and UK could offset Brexit risks. Meanwhile, CAD and MXN have rebounded from depressed levels for now but could remain volatile for some time until there is more clarity on what changes to NAFTA may mean for each country's trade flows.
There have been rumours that Trump is preparing to walk away from NAFTA and the Trans Pacific Partnership which indicates the potential for pushback. An increased sense of the potential for political risk has started to attract capital back to defensive havens like gold and JPY.
Because of the wide ranging and differing potential impacts of Trump trade policies on different markets, we're going to change format a big and look at the charts of several markets that have the potential to be active this week.
Technicals: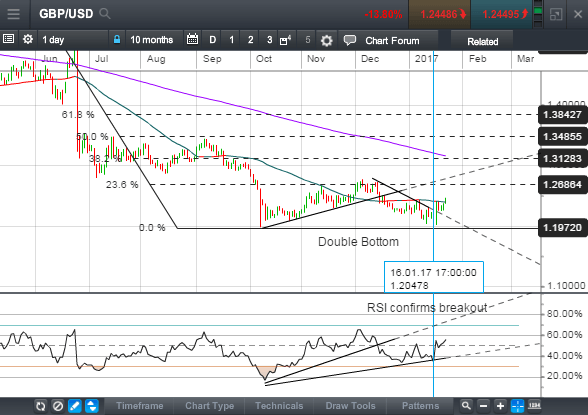 Source: CMC Markets
Last week's featured GBPUSD delivered on a big turnaround, completing a double bottom near $1.2000, breaking out of a downtrend and then breaking out over its 50-day average near $1.2400 to complete a base and signal the start of a new uptrend.
Meanwhile, RSI breaking out over 50 confirms the upturn in momentum. Next potential resistance may appear near the $1.2500 round number then $1.2575 or $1.2685 a 23% Fibonacci retracement of the post Brexit vote downtrend.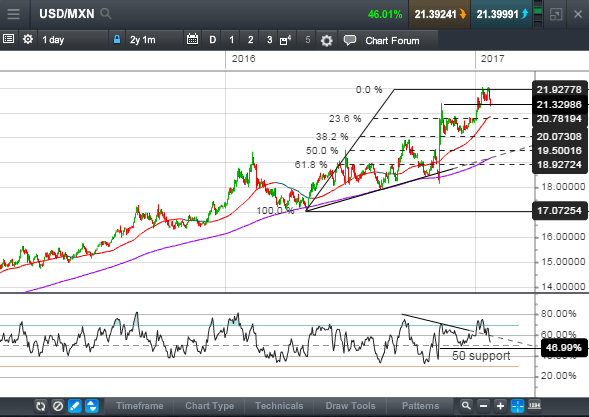 Source: CMC Markets
USDMXN has been in an uptrend (MXN weakening) for the last two years. Since the start of 2017, however, signs of peaking, or at least a correction, have emerged. The pair broke out over 21.30 but this could end up being a throw-over as the pair has since completed a small double top near 22.00 and dropped back to retest its breakout point as support. A failure to hold 21.30 would signal the start of a correction with next potential support in the 20.75 to 21.00 area.
RSI falling back toward 50 indicates upward momentum slowing. Should 50 hold it would suggest recent weakness as a correction within a bigger uptrend. Should 50 fail, it would signal the start of a downtrend.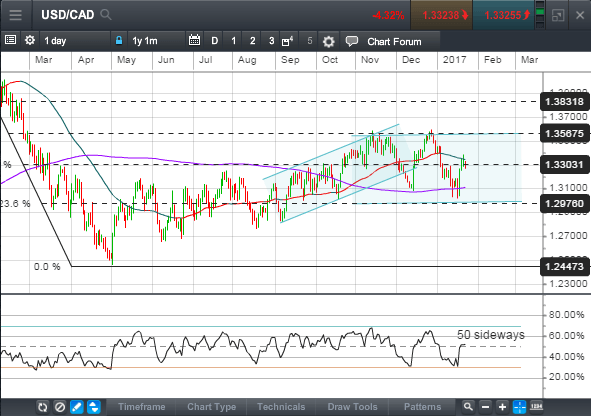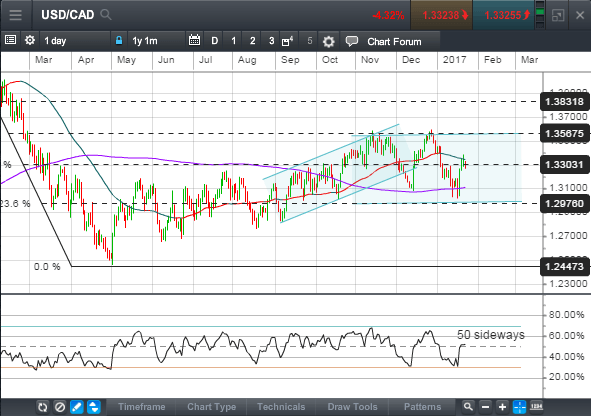 Source: CMC Markets
USDCAD had rallied (CAD weakening) last week after the Bank of Canada indicated it stood ready to cut interest rates if needed to offset any negative impact from Trump trade policies. This rally, however, was short lived and was more or less contained at a lower high near its 50-day average. Similarly, RSI levelling off near 50 suggests that the recent rally has peaked.
USDCAD has been trending sideways for some time between $1.2957 and $1.3565, centered around $1.3300 all of which are Fibonacci levels. The pair has started to turn downward with resistance falling from near $1.3440 toward $1.3400 and then $1.3565. Next downside support near $1.3180.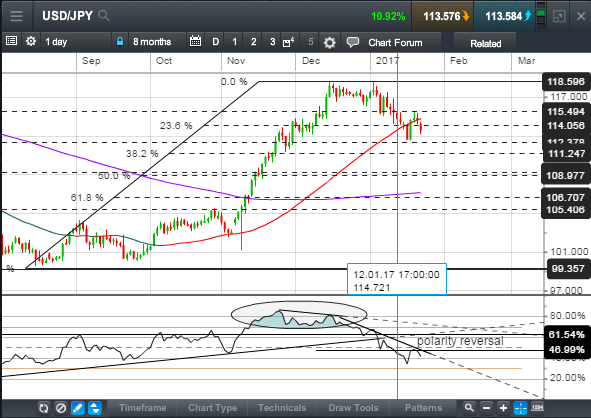 Source: CMC Markets
Following a major rally, USDJPY became extremely overbought by the end of 2016 and started 2017 by peaking in a double top. Over the course of January, USDJPY has come under distribution shown by lower highs in both the pair and the RSI.
Recently, the pair has been trading between 112.35 and 115.50 both Fibonacci levels. An upward correction appears to be over and a downtrend resuming with the pair taking out 115.00 then its 50-day average and 114.05 a Fibonacci level on its way toward 113.50. 50 on the RSI has become resistance following a breakdown, confirming a downturn in momentum underway. Next potential support on a breakdown near 111.25, another Fibonacci test.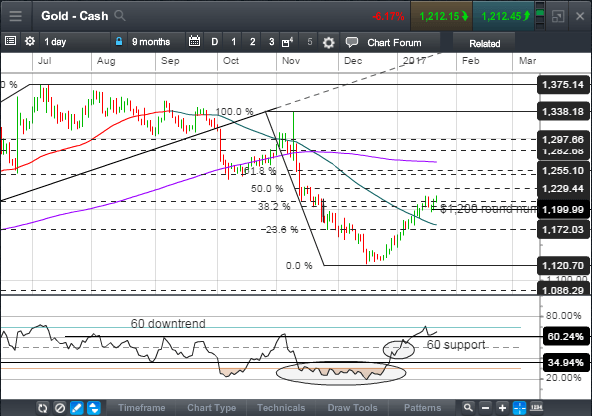 Source: CMC Markets
Gold plunged following the US election as capital left defensive havens for risk markets. By late December, the honeymoon phase ended and for the last month gold has been steadily recovering.
A series of positive RSI signals has confirmed the upswing in gold as it formed a rounded bottom and embarked on a recovery trend. Most notably, the RSI holding 50 and then 60 following breakouts indicates strong underlying accumulation.
Recently, gold has paused between $1,200 and $1,218, consolidating recent gains. Next potential resistance on a breakout may appear in $1,230 a Fibonacci level and a measured $1,236. Next downside support appears near $1,194.
CMC Markets is an execution only service provider. The material (whether or not it states any opinions) is for general information purposes only, and does not take into account your personal circumstances or objectives. Nothing in this material is (or should be considered to be) financial, investment or other advice on which reliance should be placed. No opinion given in the material constitutes a recommendation by CMC Markets or the author that any particular investment, security, transaction or investment strategy is suitable for any specific person.