When actively trading in the securities market, success can depend on accurately predicting which stocks are poised to make a big move. Of the well-known and successful activist short-sellers in the trading space, Hindenburg Research has made a name for itself by uncovering short-selling opportunities that fly under the radar of more mainstream investors. Recently, Hindenburg once again made headlines after exposing Jack Dorsey's Block Inc (NYSE: SQ) for its inflated user metrics and fraud facilitation. While trading veterans might be familiar with Hindenburg Research, newcomers might wonder why Block suffered such a big crash upon the release of Hindenburg's report.
This article will explore how Hindenburg Research has fared when exposing unethical business practices and bad actors. Additionally, we'll look into Hindenburg Research's latest scathing report on Block.
What Is Short-Selling?
Short-selling is a trading strategy whereby a trader borrows shares of a stock with the intention of selling them in the short term. The goal is to then buy back the same amount of shares at a lower price and pocket the difference as profit.
Compared to the conventional strategy of going long on undervalued securities where traders' losses are limited, short-selling exposes traders to unlimited losses should the security appreciate. Ultimately, it's an effective way to make money on stocks with shaky foundations but requires accurate market timing and a firm understanding of a company's fundamentals. That's why short-sellers like Hindenburg Research actively participate in this high-risk strategy.
Since its founding in 2017, Hindenburg Research has gained notoriety for its focus on uncovering unethical activities conducted by publicly traded companies. The firm has become famous for producing reports that expose fraudulent business practices and provoke large selloffs among unsuspecting investors. Although short-selling isn't new, Hindenburg Research has gained attention for its successful track record in identifying and exposing fraudulent companies in a detailed fashion.
Hindenburg's Track Record: Is It Reliable?
With their keen eye for detail and comprehensive approach, Hindenburg Research is a name to be reckoned with in the world of stock trading. By thoroughly researching companies and utilising their expertise in financial analysis, Hindenburg provides valuable insights that traditional stock traders may need to look into. While controversial, their vigilance in exposing fraudulent behaviour has been a welcomed addition to the market for those who value operational transparency and ethical business practices.
Thus far, the forensic financial researcher has offered valuable insights into the targeted businesses it analyses. For examples, it successfully predicted the downfall of prominent corporations such as Nikola Corp, Clover Health and Adani Group.
To summarise the bulk of Hindenburg's short-selling reports, it exposed the lies of Nikola Corp's founder Trevor Milton and highlighted how Clover Health neglected to inform the public about the firm's ongoing investigation with the Department of Justice. In 2023, Hindenburg accused Adani Group of stock manipulation and accounting fraud. Hindenburg Research has shown no signs of slowing down as it seeks to shed light on impending disasters before more unsuspecting investors fall victim to shoddy business practices. With these examples in mind, Hindenburg Research has demonstrated comprehensive investigative skills and has had a solid track record so far.
Hindenburg Research's Block Report
Rather than rest on its laurels after its report on Adani Group, Hindenburg Research has released a scathing report on Block. In short, the report suggests that the promising growth of Block is built on inflated user metrics and a need for anti-fraud measures. According to Hindenburg, Block's user metrics are vastly overstated, with as many as 75% of its accounts being labelled fake, according to former employees. Moreover, Hindenburg Research accuses Block of a "Wild West approach" to compliance. The lack of checks and balances allowed all sorts of revenue from suspicious sources to stream in so the company could prop up its revenue numbers.
The multi-page report has left many investors questioning the credibility of the company's reported numbers, as Block's half-hearted five-sentence retort has left many investors fearful. SQ shares crashed by more than 20% after its release to about $56 as investors and traders rushed for the exits. Since then, Block has clawed back half of the above dip but still sits considerably lower than its pre-short report valuation.
Reactions to Hindenburg Research's Block Report
Although the initial slump might have hinted at a further downward move for Block over time, numerous analysts and personalities have chosen to speak out against Hindenburg's short report. Of the various defences, Cathie Wood and Ark Invest stand out as one of the most prominent because they decided to place a contrarian trade and bought close to 700,000 SQ shares to show their conviction for Block's long-term potential growth. Ark Invest aside, Mizuho Securities' Dan Dolev also publicly spoke out about the inaccuracies of Hindenburg's report and how their fears of inflated metrics were unwarranted before issuing Block a Buy rating.
Technical Analysis of Block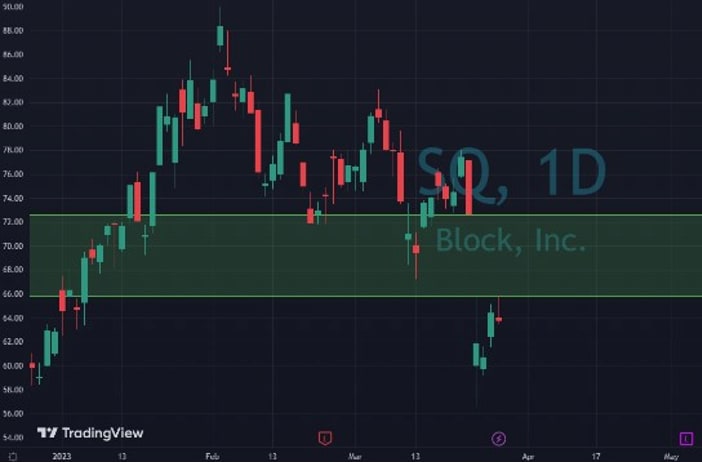 From a charting perspective, traders who are bullish for Block can possibly capitalise on a potential gap between the $66-$72 range. While the stock has struggled in recent months due to a high-interest rate environment, bulls are hoping for the short-report news to blow over so they can purchase more SQ shares at an attractive discount.
Conversely, bearish Block traders will be looking for a potential rejection at the $66 range, followed by a dip back to the previous $56 lows. As SQ trading volume tapers off, short-sellers could potentially look to take advantage of any technical corrections due to low volume pullback.
The Bottom Line
Even though short-sellers have gained a bad reputation in recent years, Hindenburg Research's impeccable track record thus far has shown that it's not your run-of-the-mill short-selling opportunists that try to cause fear, uncertainty and doubt in the market. Although it's uncertain how Block will perform in the long run in a post-Hindenburg Research report environment, one thing's for sure; Hindenburg Research is far from done with exposing fraudulent company practices through its detailed short reports. Through carefully selected criteria and thorough research, Hindenburg has demonstrated their ability to provide valuable insights into a range of target companies and activities.
Keen on reading up more about our analysis of market trends? Check out our coverage of e-commerce stocks and our summary of Tesla's recent Investor Day.

Disclaimer: CMC Markets is an execution-only service provider. The material (whether or not it states any opinions) is for general information purposes only, and does not take into account your personal circumstances or objectives. Nothing in this material is (or should be considered to be) financial, investment or other advice on which reliance should be placed. No opinion given in the material constitutes a recommendation by CMC Markets or the author that any particular investment, security, transaction or investment strategy is suitable for any specific person. The material has not been prepared in accordance with legal requirements designed to promote the independence of investment research. Although we are not specifically prevented from dealing before providing this material, we do not seek to take advantage of the material prior to its dissemination.