C

hart of the week – Hong Kong 50 

Potential bullish breakout for Hong Kong 50 

Short-term technical analysis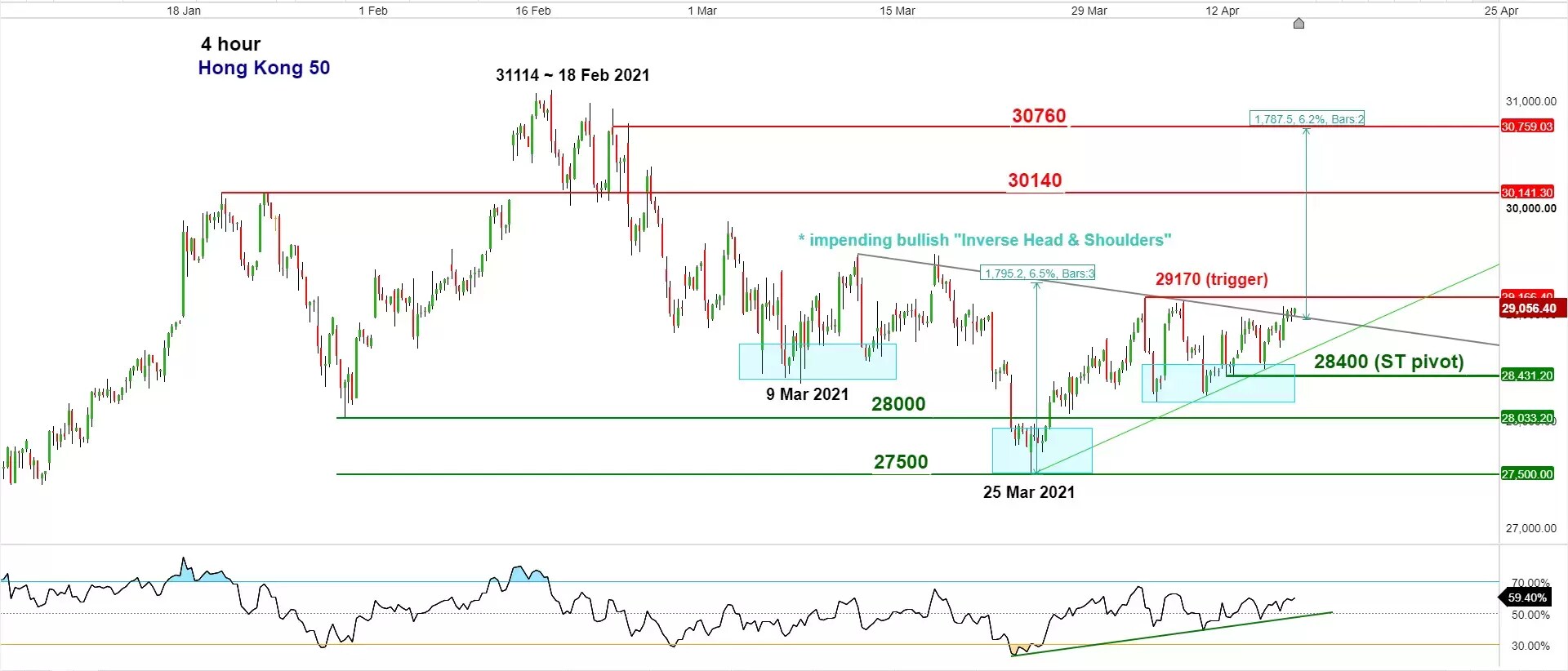 Source: CMC Markets
Time stamped: 17 Apr 2021 at 2:00 pm SGT
The Hong Kong 50-Cash Index (Hang Seng Index) has staged a recent decline of -11% from its 52-week high of 31,114 printed on 18 February to a swing low 27,500 on 25 March. Thereafter, it staged a minor bounce of 6% to hit a high of 29,170 and traded sideways for the last three weeks.
Two significant positive technical elements have emerged; firstly, the price action of the Index traced out an impending minor potential bullish reversal "Inverse Head & Shoulders" configuration in place since 9 March which indicates a likelihood that the on-going short-term downtrend in place since 18 Feb high of 31,114 may start to reverse to the upside soon.
Secondly, the 4-hour Relative Strength Index (RSI) has started to evolve within a series of "higher lows" that is holding above a significant corresponding support at the 50% level. These observations suggest that potential short-term upside momentum of price action is building up.
If the 28,400 short-term pivotal support holds and a clear break above the 29,170 intermediate resistance may trigger a potential bullish breakout for an up move towards the next resistances at 30140 and 30760 (the swing area of 23/24 February & the exit potential of the bullish "Inverse Head & Shoulders" breakout)
However, a break with an hourly close below 28,430 invalidates the bullish tone for another round of choppy slide back to retest the recent 25 March swing low area of 28000/27500.