In 2017, financial markets were caught up in a magic cryptocurrency bubble as investors piled into anything connected with blockchain technology.
Blockchain is the technology on which bitcoin as well as all other cryptocurrencies run. It is the means that is used to record bitcoin transactions, and it is for this reason that banks and financial institutions have looked at trying to develop this new technology.
It can be used to settle anything from financial transactions, to tracking the flow of goods and services from manufacture to delivery, all in a manner that is both speedy and efficient. Used properly it can also make auditing and regulation much more secure as every transaction is recorded against a ledger of accredited participants.
This crypto mania saw the price of the four main cryptocurrencies surge, along with a whole host of other initial coin offerings in 2017, before spectacularly imploding earlier this year, wiping out a lot of unwary investors and speculators in the process.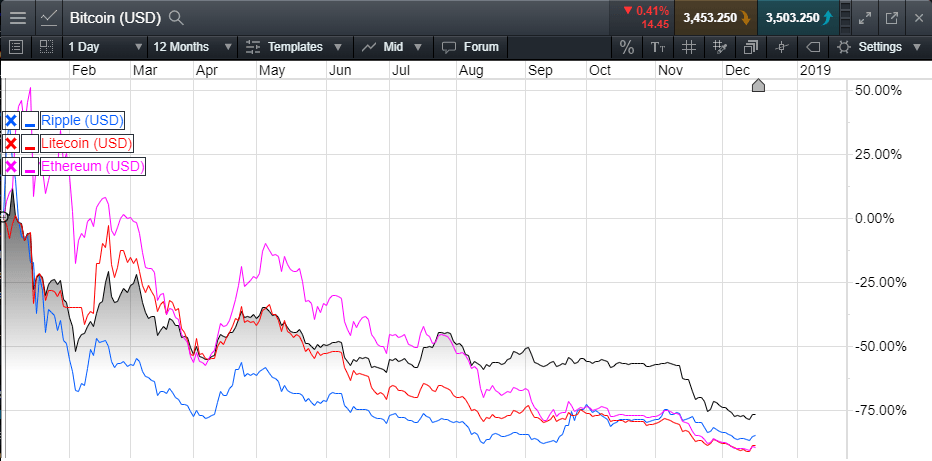 Source: CMC Markets
This crypto splat went spectacularly bad in the first few months of this year. Apart from the occasional rally, it has continued to burn fingers consistently along the way, in a fashion that has seen investors look elsewhere for investment opportunities.
They didn't have to look far, as coming off the back of a crypto high, markets turned their attention to cannabis stocks, as governments around the world started to look more closely at the medicinal qualities of cannabis and other variants.   
Until quite recently the words "legal" and "cannabis" were rarely seen in the same sentence, due to concerns over some of the more damaging effects the drug is reported to have on the cognitive functions of people who take it. 
For those who support its mainstream legalisation, the argument went that it is no more harmful than alcohol or tobacco. Whether you believe that to be true or not, and there are plenty of arguments either way, the fact remains that cannabis is slowly being recognised for some of its medicinal properties, as well as being used in the creation of new types of beverage. 
The drug has already been fully legalised in California, while medical marijuana has been fully legalised in 31 other US states. It is predicted that the industry could be worth $22bn by 2022. Earlier this year, Canada became the first G7 country to legalise the recreational use of cannabis across the country. 
The drug also gained notoriety here in the UK in a number of high profile medical cases involving the use of cannabis oil in the treatment of severely ill children. The Home Secretary has since signed off dispensation for the use of the oil by specialist doctors.
Cannabis in the UK is currently a controlled drug under the Misuse of Drugs Act 1971, as well as the Misuse of Drugs Regulation Act 2001, which puts it under a category of substances with no medicinal value. 
While there is no prospect of a significant change of tack from the UK government on how it views the legality or otherwise of cannabis, there does appear to be a growing recognition that certain parts of the plant can be harvested for medicinal uses, and legislation could well be changed in the future to reflect that. 
This growing industry has attracted a raft of start-up businesses keen to have a stake in what could well be a multibillion-dollar industry. However, there still remains a high degree of resistance to its legalisation on a wider scale.
As with any spawning and developing industry, we have seen and are likely to continue to see significant growing pains. This has taken the form of eye-watering volatility, as can be seen from the recent share price movements of a host of publicly listed companies that are looking to do business in this area.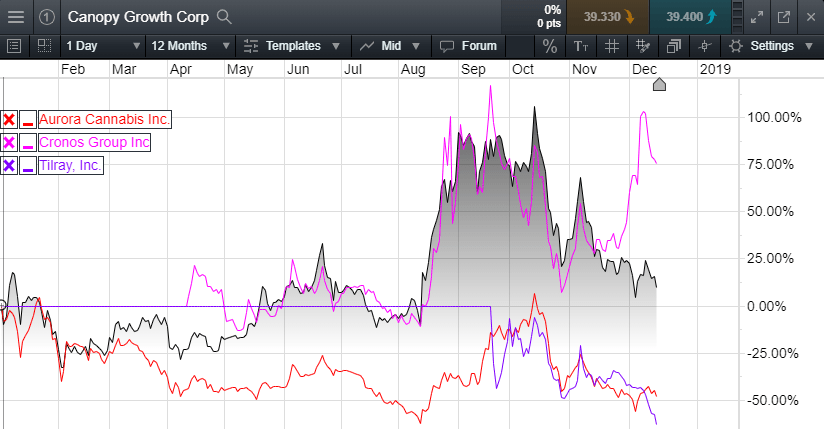 Source: CMC Markets
As can be seen from the chart above, the volatility seen year-to-date has had enormous price fluctuations with a fledgling Canadian company, Tilray, falling heavily soon after its IPO in September. Tilray is a business that grows, cultivates and exports marijuana. 
The price volatility seen since its float has been astonishing for a company that for the moment has a limited market for its exports given that outside of Canada, Uruguay is the only other country where cannabis is legal.  
When the company floated in September the market valued the business at an eye watering $11bn a huge valuation for a business that on its last set of accounts turned over $20.5m. Since then the valuation has cratered, a warning for unwary investors who buy into an idea without looking at the fundamentals.  
Other companies that have exposure to this sector include Canopy Growth, whose share price managed to double this year before sliding back, Aurora Cannabis, which has seen its share price halve completely retrace and then halve again over the same period, as well as Aphria and Cronos Group whose share price movements have seen similar volatility.
While all of these companies can be viewed as unicorns, their valuations are all based on future potential. For something as controversial as cannabis, this makes them vulnerable to enormous price swings, given that none of them are currently profitable. 
In contrast, GW Pharmaceuticals has been around since 1998 and has a market cap of $4.8bn. It has been working on cannabinoid research all that time, and comes from the biotech side of the equation. As such, is unlikely to see the same levels of volatility in its share price as it isn't a cannabis producer.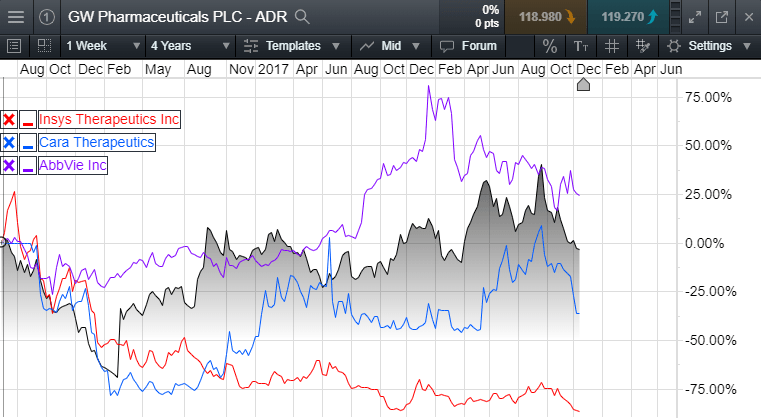 Source: CMC Markets
Other biotech companies that are looking at the opportunities afforded by cannabis include Abbvie, Cara Therapeutics and Insys Therapeutics. Even here there has been volatility, however these companies are also slightly more diverse.
In the case of Insys Therapeutics, its share price has been battered after falling foul of the US Department of Justice to the tune of over $150m around the use of one of its cancer drugs called Subsys. While its future sales of this drug are likely to face difficulties, its move into cannabinoid-based drugs could offer it a lifeline, while CalPERS, the US's largest pension fund, recently acquired a stake in the business. 
CalPERS also acquired a stake in Tilray, a brave move considering that even after recent declines the valuation is still eye-wateringly high at over $6bn, and could go even lower.
In the next 12 months, investors will in all likelihood look to weed out further opportunities in the cannabis sector, whether it be in the form of medicinal cannabis or cannabis infused non-alcoholic beverages. 
This has seen Constellation Brands, Heineken and Molson Coors look at developing opportunities in this area.  
Constellation Brands, owners of Corona beer, has taken a 10% stake in Canopy Growth, while Molson Coors is said to have been in talks with companies including Aphria and Aurora Cannabis in an attempt to develop new products which are infused with cannabis. 
Coca Cola is also said to have been in talks with Aurora Cannabis about developing marijuana infused drinks.  
As with any developing market the opportunities are there, but as can be seen from the share price performance of all these fledgling companies, interest from multinationals doesn't necessarily mean your share price gets a lift. 
It is true that this could well be a lucrative sector for the canny trader and investor, but this year's share price movements should also serve as a significant health warning, as getting on the wrong side of a move could give the unwary a nasty case of withdrawal.

Disclaimer: CMC Markets is an execution-only service provider. The material (whether or not it states any opinions) is for general information purposes only, and does not take into account your personal circumstances or objectives. Nothing in this material is (or should be considered to be) financial, investment or other advice on which reliance should be placed. No opinion given in the material constitutes a recommendation by CMC Markets or the author that any particular investment, security, transaction or investment strategy is suitable for any specific person. The material has not been prepared in accordance with legal requirements designed to promote the independence of investment research. Although we are not specifically prevented from dealing before providing this material, we do not seek to take advantage of the material prior to its dissemination.