By Chloe Edwards, Trade With Precision
The Euro has been in a downtrend for most of the year, yielding some excellent trend trading opportunities on EURUSD, as well as some of the other Euro cross pairs, across several different timeframes.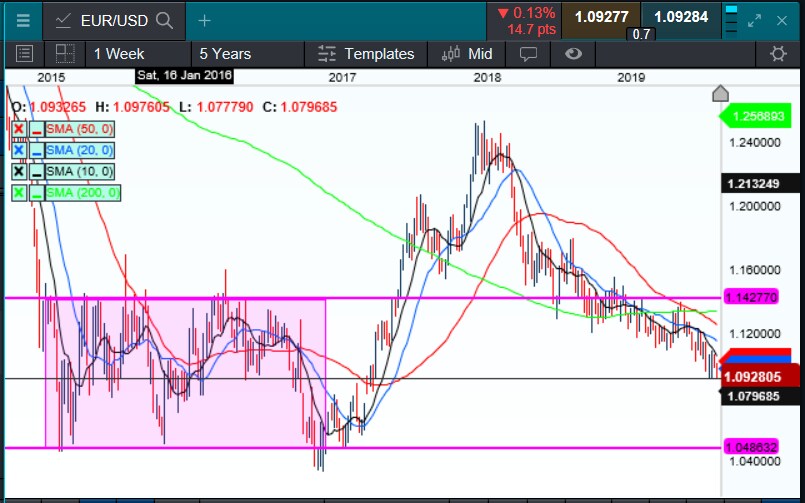 Here I will focus on EURUSD, as my analysis suggests that there may be further opportunities to the downside coming up. To clearly describe the horizontal levels I am using in this analysis, I will zoom out on the weekly chart to see the range of price action that formed over the two years between the beginning of 2015 and the end of 2016. I have marked these on the chart above.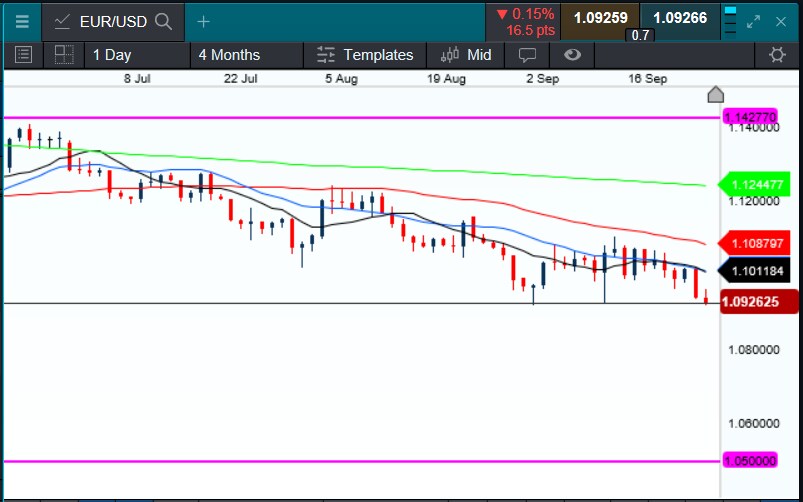 Looking now at the daily timeframe above, I can see that price is currently sitting mid-way between these two levels of support/resistance, having broken back into this range towards the end of 2018.
The daily timeframe also shows a downtrend, with lower highs and lower lows in price action. There is bearish moving average (MA) geometry, with the moving averages sitting in the correct order, pointing downwards and fanning out. The lower level of support gives me a potential target of 1.0500 if the downtrend continues. In terms of trading on the daily timeframe, I will be looking for the downtrend to continue with another lower low beneath current price, before a pullback into the sell zone around the 10 and 20 MAs.
I will then be looking for a small bearish bar in this area, for a swing trading opportunity. My ultimate target would be the 1.0500 level, but there is another horizontal level of support around 1.0800 that I will likely choose to take some profits at.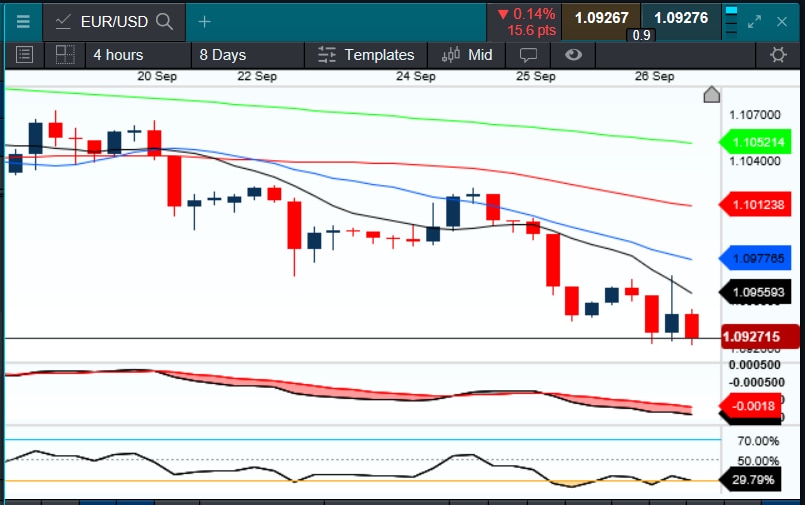 I will also continue to look at the lower timeframes as they can offer some higher reward to risk opportunities, with the benefit of offering a more accurate entry than entering on the daily timeframe.
On the four-hourly timeframe above, I see a downtrend with lower highs and lower lows in price action and good moving average geometry. In support of this, I also note that the MACD and RSI indicators are showing bearish momentum and giving me further confidence that the downtrend is strong.
A medium-sized bearish candle has just formed beneath the 10 MA and if price moves below the low of this candle I will be taking a short opportunity, using the aforementioned horizontal levels at 1.0800 and 1.0500 as potential targets.