Elon Musk's Tesla has been the subject of great debate among investors regarding its valuation. On one side, Cathie Wood's ARK Invest recently made a bold prediction, forecasting that the EV maker could surge to a valuation above $6 trillion by 2027. Other leading investors, including Warren Buffett, have taken a more bearish stand. Ultimately, is ARK's market cap for Tesla realistic?
Cathie Wood expects robotaxis to make up about 44% of Tesla's revenue and two-thirds of its enterprise value by 2027.

Stock analysis suggests Tesla shares might drop by 1.43% over the next 12 months from current levels. 

Tesla stock is +158.85% YTD and 'expensive' based on its P/E ratio vs peers as of 5 July. 
Cathie Wood's bull case 
On 20 April, ARK Invest published a report setting a base case scenario of $2,000 per share for Tesla [TSLA] in 2027, representing an impressive 8-fold increase from current levels, predicting that Tesla's market cap could surpass $6 trillion within the next four years.
This bullish forecast indicates the potential for significant market growth, with the bearish case at $1,400 per share and the bullish case at $2,500 per share.
Driving ARK's ambitious expectations for Tesla is its forecast for the company's autonomous taxi segment.
"We think Tesla is one of the biggest AI opportunities out there," said Wood during her appearance in a BloombergDaybreak: Asiashow on 31 May. 
Tesla is ARK Innovation ETF's [ARKK] top holding, weighing over 12% as of 5 July. 
Notably, Tesla released its compute capacity forecast last week, projecting its AI supercomputer to reach 100 exaflops by October 2024, roughly 20 times more than the 4.5 exaflops it disclosed in September 2022, as shown in the below chart.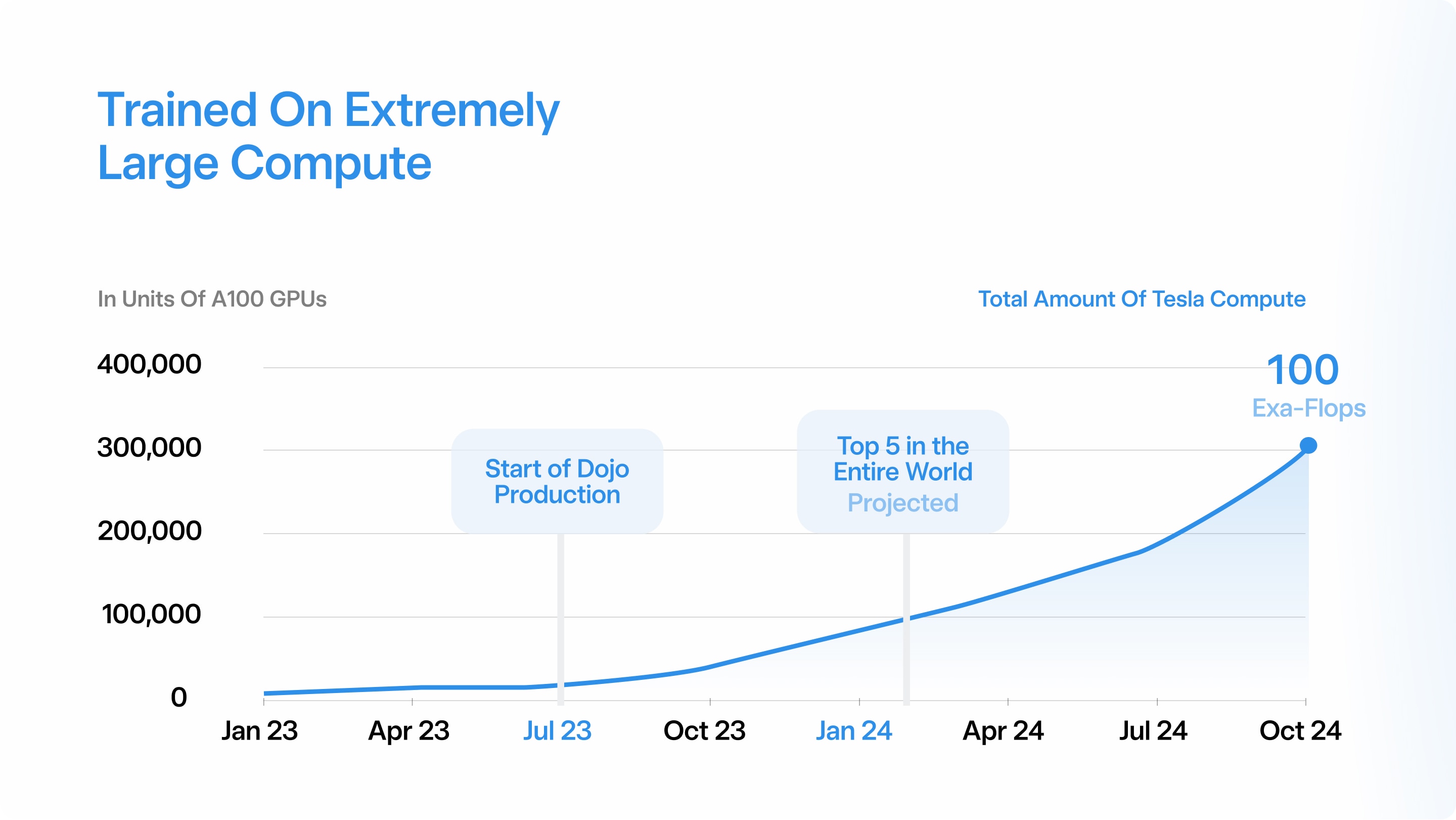 Although the robotaxi segment currently generates no revenue, ARK Invest ultimately believes in Tesla's ability to capitalise on this market opportunity.
Warren Buffett's bear case 
By contrast, Berkshire Hathaway's CEO, Warren Buffett, and its Vice Chairman, Charlie Munger, explained why they are reluctant to invest in Tesla during the firm's annual meeting in May.
"Elon has a dedication to solving the impossible," said Buffett.
The superinvestor acknowledged Musk's propensity for tackling exceptionally challenging objectives, mentioning that although he sometimes succeeds, he often falls short. 
"We're different. Warren and I are looking for the easy job," said Munger, adding, "We don't want that much failure."
More importantly, when it comes to Tesla, Buffett expressed uncertainty about estimating its future earnings, describing the automobile industry's transition to EVs as fascinating but highly competitive.
"I think I know where Apple is going to be in five or ten years, but I don't know where the car companies are going to be in five or ten years," said Buffett.
Munger also highlighted that, at the moment, the electric vehicle industry "is imposing huge capital costs and huge risks" that do not align with the investment philosophy of Berkshire Hathaway.
Stock analysis
While Tesla shares are +158.85% year-to-date as of Wednesday, 5 July, its stock is expensive based on its price-to-earnings ratio (75.2x) compared to the peer average of 22.9x, according to SimplyWallSt. 
Company
P/E

Estimated Growth 

forecasted earnings annual growth rate

Market Cap
Peer average
22.9x
 
 
Tesla [TSLA]
75.2x
19.6%
$886.9bn
Ferrari [RACE]
54.8x
11.3%
$59.1bn
Ford [F]
21.1x
17.4%
$61.0bn
Thor Industries [THO]
9.8x
-3.8%
$5.5bn
General Motors [GM]
5.8x
-0.4%
$54.2bn
According to SimplyWallSt's analysis of share price vs fair value, looking at the firm's future cash flows, Tesla shares are 75.8% overvalued, indicating a fair value estimate of $159.21 per share as of 5 July. 
Leading investors' 12-month price targets for Tesla
The below-listed investment firms convey a well-balanced mix of bullish and bearish sentiment in their 12-month price targets for Tesla shares.
| Companies | TSLA 12-month price target (per share) |
| --- | --- |
| ARK Invest | $460 |
| Morgan Stanley | $250 |
| RBC Capital Markets | $305 |
| Roth Capital | $85 |
| average  | $275 |
Their average 12-month price target for Tesla is $275, which is greater than the price target average from 33 analysts polled by SimplyWallSt, amounting to $212.73, but slightly lower than Tesla's share price of $279.82 as of 5 July, suggesting that the stock might drop by approximately 1.43% over the next 12 months.
Are you finding this content insightful? Leave us some feedback here.
Is Tesla an AI stock?
According to ARK Invest, the robotaxi market will reach $8 to 10 trillion by 2030, and the firm expects it to make up about 44% of Tesla's revenue and two-thirds of its enterprise value by 2027. 
"Tesla, many people think, is an auto stock. We don't. We think it's much more than that," said Wood. 
According to ARK Invest, Tesla may launch its taxi service as early as next year, and with a robotaxi platform, the company could generate earnings from both EV sales and recurring ride-hail revenue streams, which could generate 'SaaS-like' margins.
Ultimately, for Wood, the long-term bull case for Tesla rests on the potential of advancement in autonomous driving technology that would enable a fleet of Tesla taxis. 
Similarly, Tom Narayan, lead equity analyst for European autos at RBC Capital Markets, mentioned that 70% of his firm's valuation for Tesla is focused on its autonomy capabilities in a CNBC interview on 16 June. 
The rest of RBC's valuation focuses on Tesla's full self-driving (FSD) software (20%) and cars (10%).
"The opportunity is so massive for these things that we think this is enough to carry the story for the stock for several years to come," added Narayan. 
According to RBC Capital Markets, Tesla's market cap could soar by over $150bn thanks to an approaching rise in demand for autonomous taxis. 
A realistic projection?
A 2022 Fortune Business Insights report predicted the robotaxi market worldwide would surge some 6,000% from $1.7bn in 2021 to $108bn in 2029 - a significantly lower amount than projected by ARK. 
According to an autonomous vehicle market forecast by Next Move Strategy Consulting, the global autonomous vehicle market is projected to reach a size of over $2.3 trillion by 2030, as shown in the chart below.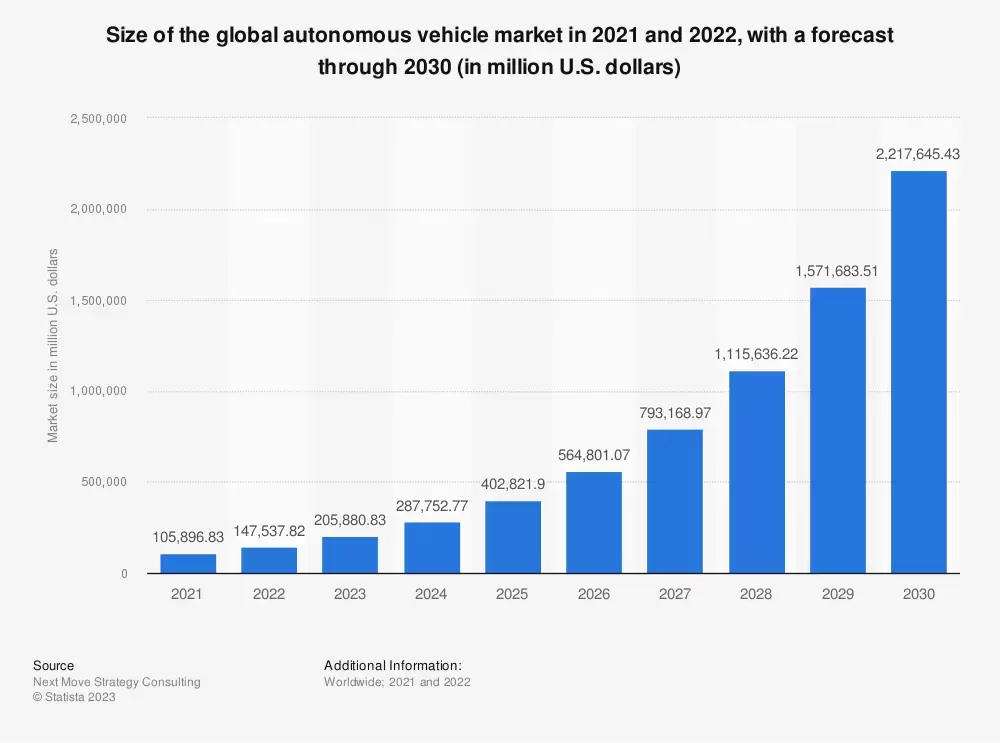 Moreover, level four of automation, which enables fully autonomous driving in passenger cars, is expected to be achieved by 2025, according to the Statista infographic below.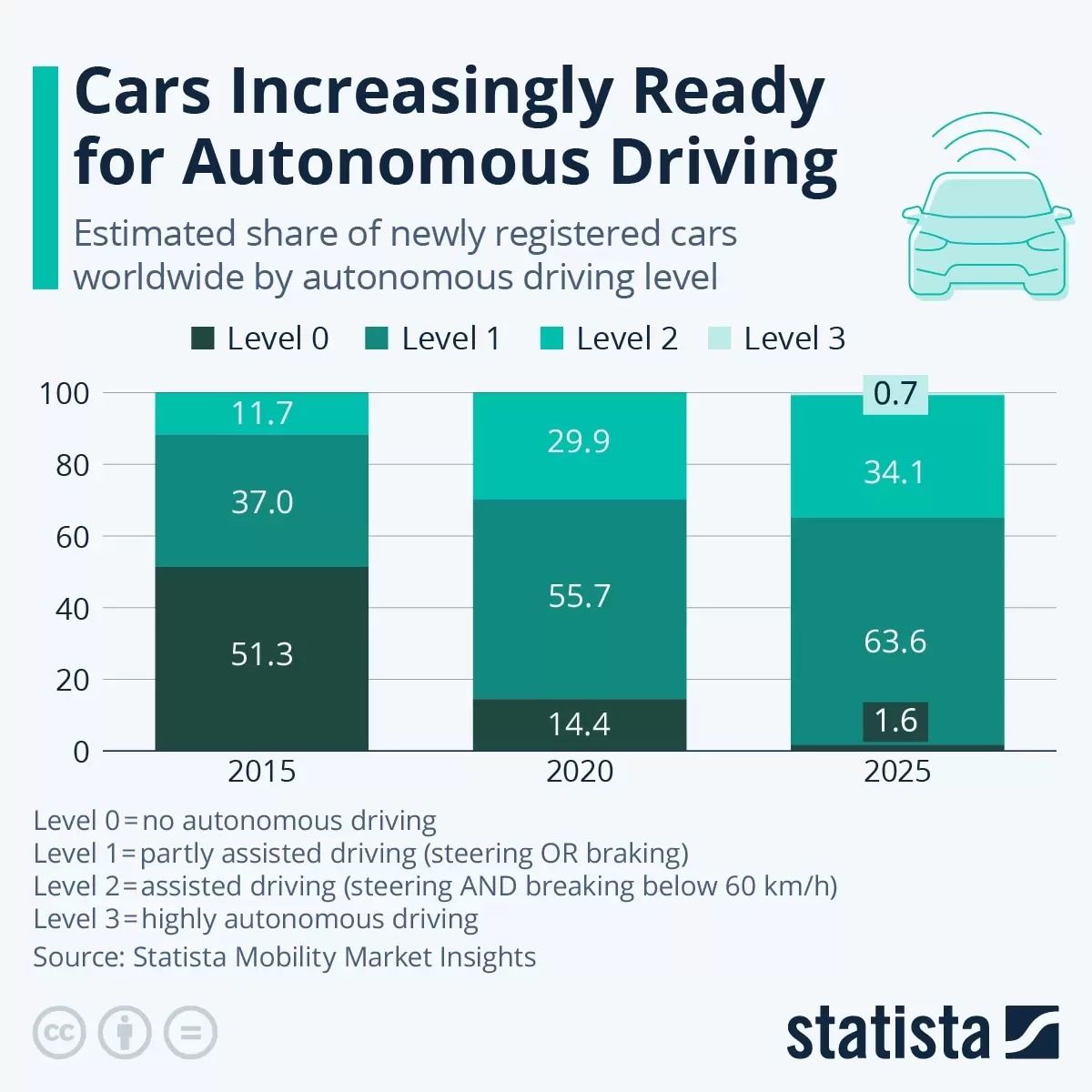 Besides diverging projections on the future size of the global robotaxi market, some analysts also argue that Tesla is still an auto stock. 
Morgan Stanley analyst Adam Jones recently told Bloomberg that despite the hype surrounding its AI capabilities, Tesla remains primarily a car company, and its stock direction would depend on the supply and demand of EVs over the next 12 months. 
Craig Irwin, a senior analyst at Roth Capital, echoed the same sentiment when he said that Tesla has no significant advantage in the EV space during a CNBC's Squawk Box interview on 7 June.
"Tesla doesn't have anything that Toyota doesn't already have," Irwin said, adding, "The story about robotaxis is just a story still."
Supercharger network deals
Over the past month, Tesla secured partnerships with Ford [F], General Motors [GM], and, last week, Rivian [RIVN], enabling the companies to join its Supercharger network and adopt the company's North American Charging Standard (NACS) connector. Recent reports suggest that Hyundai is also considering joining the alliance. 
Tesla boasts the largest charging system globally, with over 45,000 Superchargers worldwide and roughly 17,000 charging ports in the US, offering faster-charging speeds, delivering over 200 miles of driving range in only 15 minutes.
Cathie Wood expressed optimism about the benefits of this alliance for the transition to an electric future during a CNBC's Squawk Box interviewon 9 June.
"It increases the probability that our forecasts of 60 million EV sales by 2027 is right," said Wood, specifying that any boost Tesla would get from these deals is not captured in ARK's projection of the company's valuation by 2027.