OneWeb joins forces with Eutelsat to bolster its position in the satellite internet race, targeting a London listing later this year. Despite challenges and fierce competition with Starlink and Amazon's Project Kuiper, OneWeb aims to provide global broadband coverage by 2023. Can this new alliance propel OneWeb to the forefront of a satellite internet boom?
- OneWeb is set to merge with Eutelsat and pursue a London listing to strengthen its position in the growing satellite internet market.
- Despite stiff competition from Starlink and Project Kuiper, OneWeb plans to achieve global broadband coverage by the end of 2023.
- High ground terminal costs remain a challenge for OneWeb, potentially limiting its market to enterprise customers rather than the wider consumer market.
Global satellite internet provider OneWeb is set to join forces with French satellite group Eutelsat [ETL], with plans to seek a London listing later this year. This strategic partnership, first announced on 25 July 2022, aims to enhance the company's position in the rapidly growing space industry, with both companies' shareholders receiving 50% stakes in the all-share deal. OneWeb faces stiff competition from Elon Musk's Starlink and Amazon's [AMZN] Project Kuiper in the race to dominate the low-earth orbit (LEO) business.
The Satellite internet revolution
Satellite internet has the potential to bring connectivity to a third of the world's population currently without internet access. Despite setbacks, such as the bankruptcy of Richard Branson's Virgin Orbit, analysts remain optimistic about the future of the space industry. OneWeb's March satellite launches, following its rescue from bankruptcy by the UK government in 2020, are expected to provide global coverage for its internet service later this year.
The competition, however, is intense. Starlink, a SpaceX venture, has more than 3,500 satellites in orbit, compared to OneWeb's 618. Meanwhile, Amazon's Project Kuiper has yet to launch its hardware. The need for expansion has led OneWeb to collaborate with Eutelsat to strengthen its position in the LEO business. As the Statista infographic shows, competition in Earth's orbit has been heating up in recent years.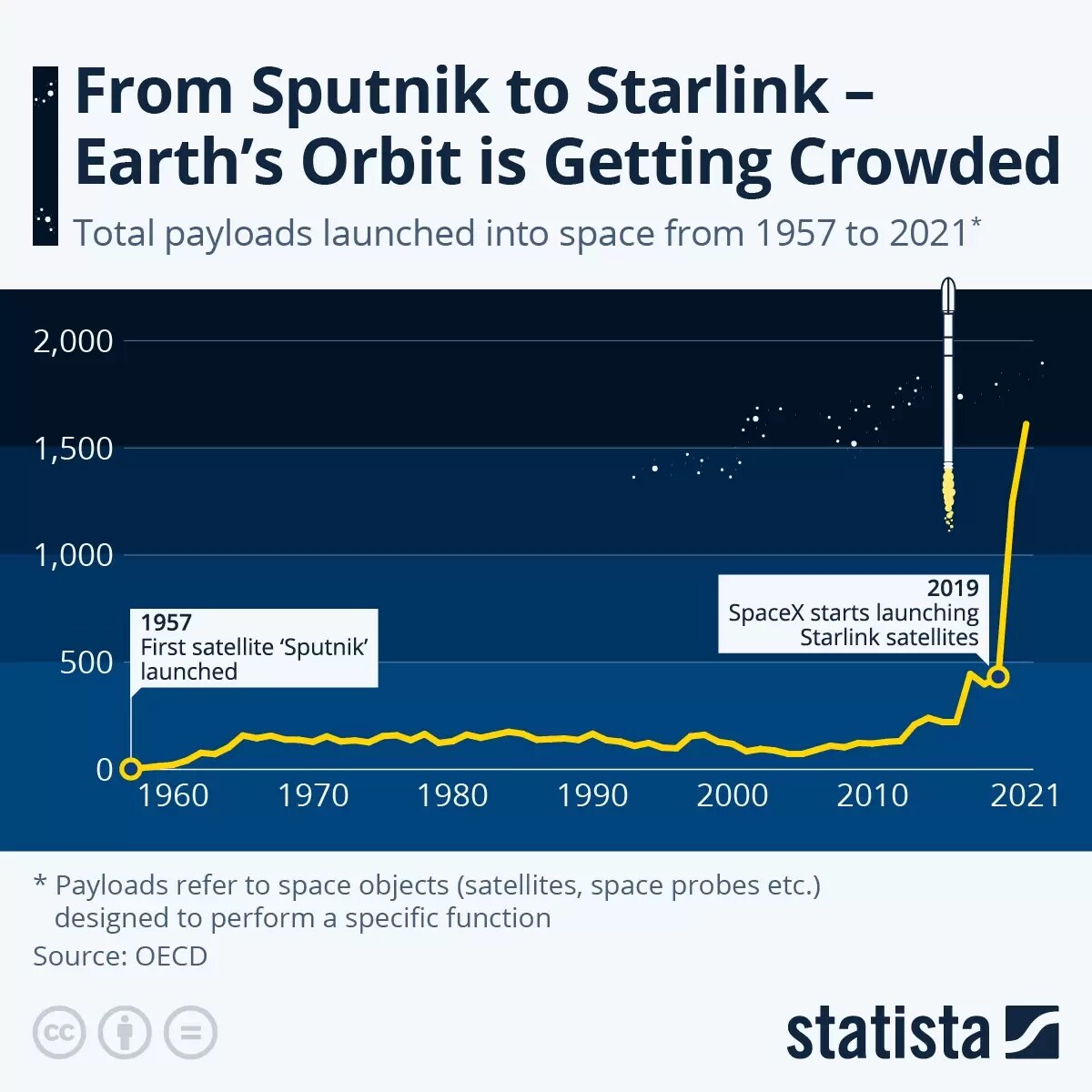 Challenges and market prospects
One major obstacle for OneWeb is the high cost of ground terminals. While Starlink is subsidising its terminals, and Amazon aims for a price of just $400, OneWeb's terminals cost approximately $10,000, according to Chris Quilty of Quilty Analytics. This significant price difference could limit OneWeb's appeal to enterprise customers, rather than the wider consumer market.
Mo Islam, co-founder at space research firm Payload, estimates that, excluding terminal sales, Starlink's subscriber revenues reached $1bn last year. Assuming revenues double every year, Starlink could be worth 12 times its 2025 revenues, valuing the business at around 75% of SpaceX's $137bn valuation. By contrast, OneWeb expects revenues of €600 million by 2025. Eutelsat's market value suggests an implicit valuation of just under three times for OneWeb, in line with traditional satellite businesses but with no premium for internet services.
Expanding global reach
Despite facing strong competition, OneWeb's recent satellite launches should enable it to provide global broadband coverage by the end of 2023. The company already has enough orbiting spacecraft to offer broadband services to businesses and government customers in the lower 48 US states from May onwards. Furthermore, OneWeb has attracted investment from notable companies such as SoftBank Group Corp., South Korean conglomerate Hanwha Systems Co., and US firm Hughes Satellite Systems Corp.
OneWeb is also planning a second wave of several hundred more advanced satellites, which could cost up to $4bn and become operational by 2028. These state-of-the-art satellites will further solidify OneWeb's presence in the global satellite internet market, allowing it to compete with industry giants like Starlink and Amazon's Project Kuiper.
Funds in focus: SPDR S&P Kensho Final Frontiers ETF
Several thematic ETFs cover the satellite industry. The SPDR S&P Kensho Final Frontiers ETF [ROKT] provides investors with exposure to companies operating in cutting-edge fields such as space exploration, satellite communications, and deep-sea technologies. The fund is up 15.96% in the last six months, as of 17 April.
The ARK Space Exploration & Innovation ETF [ARKX] offers exposure to companies from a diverse range of industries, such as aerospace, satellite communications, robotics, artificial intelligence, and more. The fund is up 8.23% in the last six months, as of 17 April. Its top holdings are Trimble [TRMB] and Iridium Communications [IRDM].