Discussing the future of robotics on Opto Sessions, Pedro Palandrani, Director of Research at Global X ETFs, explains why Japan's neutral position and tech legacy positions it at the heart of the global move towards automation.
Japan is leading the way in automation and industrial robotics, says Pedro Palandrani on this week's episode of Opto Sessions.
"Japan accounts for slightly over 50% of the total global supply of industrial robotics," according to the vice-president and head of research at Global X ETFs. "These companies have fortress-like balance sheets. They have very high cash levels and low debt levels — they're very traditional Japanese companies that tend to be more conservative than Western companies.
"But that in common aside, you're seeing companies like Fanuc [6954.T], SMC [6273.T], Yaskawa [6506.T] and many others truly enabling automation around the world."
As the world builds more factories and embraces more automation, Japan is strategically placed to benefit, says Palandrani.
"Japan accounts for slightly over 50% of the total global supply of industrial robotics."
One reason is the country's strong robotics legacy. "You're talking about companies that have been around for 80 to 100 years in some cases — the sort of companies that really kickstarted the automation revolution back in the day."

As geopolitical tensions rise globally, Japan's neutral position is another clear asset. "We're seeing many companies bringing back that manufacturing capacity to their countries, whether that's the US or Europe, or 'friend-shoring' — trying to bring those manufacturing capacities to countries they have good relationships with.
"Let's not forget, Japan has great relationships with both Western countries like the US, but also even with Eastern countries like China. Japan is very well-positioned with that neutral geopolitical position around the world," Palandrini tells Opto.
Electric vehicles driving the robotics sector
The largest markets for robotics and automation are still auto manufacturers and consumer electronics, and both are arenas Japan already excels in. "You're definitely seeing a lot of car companies coming out of Japan. They've been using those robotic solutions for many years. The consumer electronics market has been heavily positioned in Asia as well."
The car industry remains central to the theme of robotics. Global X has researched the impact of automation as car firms transition from internal combustion engines (ICE) to electric vehicles (EVs). "We've realised that robotics and automation capabilities can be much greater in EVs relative to ICE cars," says Palandrani.
"An EV has way fewer moving parts than an ICE engine." He gives the example of the company behind the world's best-selling EV, the Tesla [TSLA] Model Y: "You can see that Tesla's robotic capabilities in their factories are much greater than any other car company."
As car companies increasingly switch to producing EV models, robotics could rise on the back of them. "We would see a pickup in automation and factory buildout around the world and, potentially, these Japanese companies that we're talking about today benefitting as a result of that."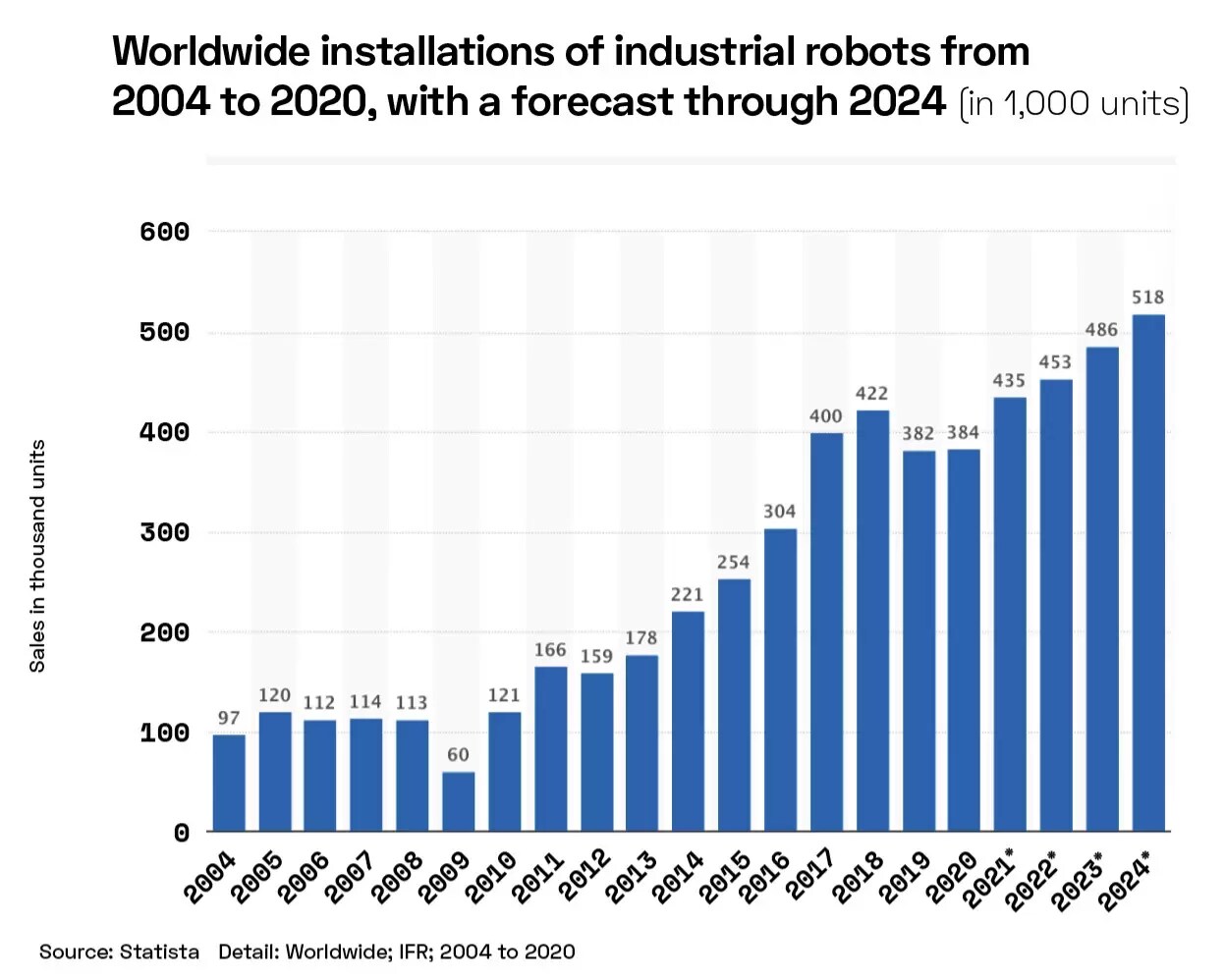 The companies going automatic
Several Japanese companies are doing interesting things in the robotics space, says Palandrani. One name Global X flags to watch is Omron [6645.T].
"Much of what Omron is doing is making the brain or nervous system for robotics and factory automation capabilities. If you think about it, most of those capabilities are actually surrounded by sensors. Sensors are critical to factories to make sense of everything that's happening and moving around the factory. There are special technologies essentially allowing machines to talk to each other, share information and work together like a team."
Other names to watch include SMC, which has captured 64% of Japan's and 39% of the world's pneumatics market, according to the Tokyo-based engineering firm's annual 2022 report. Pneumatics are central to moving applications like robotic mechanics.
"SMC is a good example of a company that provides a lot of services to these two industries: car companies and consumer electronics."
Investment in robotics looks set to grow further in the medium term. "If we look at capital expenditures for the next five years or so it's likely that robotics and automation are going to account for about 25% of capital spending," says Palandrani, echoing the results of the 2022 McKinsey Global Industrial Robotics Survey. 
"I think that's where these Japanese companies are going to truly benefit within the next few years."