Enhance your trading experience on the MetaTrader 4 platform with key insights from a large range of free indicators and add-ons.
Choose from 12 add-ons including mini terminal and sentiment trader, and 15 indicators such as pivot points and renko charts.

Download and install our MT4 indicators and add-ons below, and follow the installer instructions. Alternatively, you can learn how to create MT4 indicators online for custom strategies.
MT4 add-ons
Learn more about some of our main MT4 trading add-ons.

Mini terminal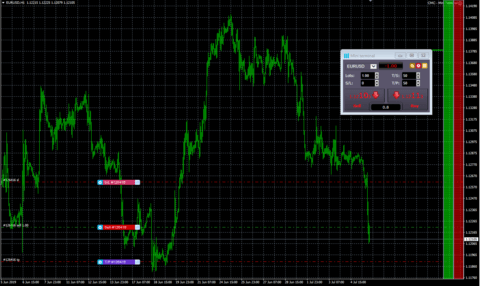 Place pending orders and modify them directly from a chart, including smart lines for trend line stop-losses and take-profits
Access one-cancels-the-other (OCO) orders and enhanced order ticket functionality, with templates to quickly create orders with predefined target levels
Undock charts to create a floating window on your desktop
Trade terminal

Access quote panels with enhanced order ticket functionality
Set up alerts based on your account activity
Add additional position-closing options such as automated and bulk closing
Sentiment trader

View other traders' sentiment with live and historical data, and compare against price movements
Correlation matrix

Create a grid of instruments of your choice and easily view correlations between them to help control your exposure
Customise your desired time range and timeframe for measuring correlations
Tick chart trader

View bid and ask prices on a chart with every tick
Place ultra-fast trades with one click, using the speed-optimised order ticket and keyboard shortcuts for entry and exit
Market manager

Keep track of instruments you follow, filter by instruments with orders and quickly access sentiment on an instrument
View a snapshot of your account information
Connect


Stay informed with breaking updates through our in-platform RSS newsfeeds
See the events which could impact the markets with our market calendar
Learn more about our range of MT4 add-ons
MT4 indicators
Find out about our main MT4 indicators below.

Order history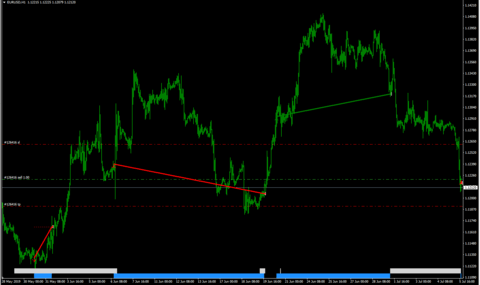 Display trade entry and exit points on your charts
Show stop-loss and take-profit orders
Pivot points


Add pivot points to charts and set alerts based on pivot levels
Renko


Overlay Renko blocks on normal time-based charts
Create traditional non-time based Renko charts
Donchian channel


Keltner channel


Add bands to measure volatility while identifying extremes in price movement with Keltner channels
Candle countdown


View the time remaining in the current candle
Symbol info


See an overview of buy and sell signals from a series of indicators and range of timeframes
Additional MT4 add-ons

There are also a number of additional MT4 indicators and add-ons you're able to use. Find out more below.

Alarm manager


Set alerts to keep up-to-date with price movements, account and trade activity, economic events and technical indicators
Receive alerts via email, SMS, Twitter and in-platform
Perform automatic trading, based on alerts
Correlation trader


Easily view the correlation between two instruments and place trades directly within the tool
Excel RTD plugin


Pull real-time data account and price data into excel from MT4
Use VBA programming to send trading commands to your MT4 terminal
Session map


Shows the trading sessions of the major global regions with indicators of upcoming economic events
Stealth orders


Hide orders from other market participants
Additional MT4 indicators
Bar changer


Modify a chart to show only specific sessions, adjust times or scale prices
Chart groups


Link charts so that changing the symbol in one changes the symbol in other linked charts
Chart-in-chart


Put the price action from another symbol into a chart directly to perform a candle-by-candle comparison of two symbols
Freehand drawing


This feature enables you to draw directly on the chart with your cursor
Gravity


Easily visualise areas of support and resistance
High-low


Add high and low indicators from any timeframe or range to a chart
Magnifier


The magnifier lets you highlight an area of chart data and view a lower interval within the area to see more detail in the price action
Mini chart


Create smaller, drag-and-drop charts within your MT4 workspace