The Net Promoter Score (NPS) provides a forward-looking view of a company's performance – letting investors know how a company is viewed through the eyes of its customers.
One of the best ways to understand companies and industries is simply by listening to management at event presentations and on conference calls, or reading the transcripts. I read through hundreds of transcripts per month and raise that number in December as I look for emerging trends and outlooks from companies and their respective industries, as I prepare by Annual Market Outlook.
Two topics I saw a number of management teams focus on were Net Promoter Scores and Environmental, Social & Governance (ESG). The latter is a major theme that we cover in detail in the OptionsHawk 2020 Outlook. The graphic, from the Wall Street Journal, indicates the rising popularity of Net promoter Score among company management teams.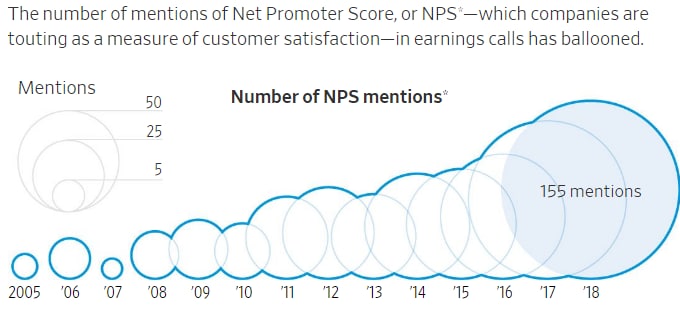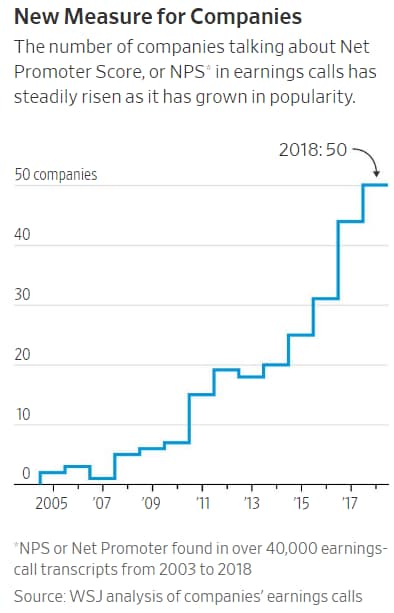 I wanted to dive a bit deeper into the former as it was a new concept to me, and I came away with some interesting relationships between Net Promoter Score and company/stock performance. The Net Promoter Score is a measure of a company through its customers' eyes and is based upon a simple one question survey asking customers on a scale of 0 to 10 how likely they are to recommend a service/product to a friend.
It can be tracked for various business, products, stores and more. Another value to Net Promoter Score is that it is forward looking and survey results in near real-time can be a better indicator of a company's health than backward looking financial ratios. It is a simple, yet insightful, measure of whether a company is winning with its customers and it can have key implications on market share trends within an industry. Leaders in the Net Promoter Score category also benefit from word of mouth, often considered the most powerful marketing tool. In the age where everyone is connected through social media, this is more important than ever before as everyone now has a voice that can be heard far and wide.
Bain & Co. presented a study showing how Net Promoter Score is a good indicator of future growth and how NPS explained roughly 20-60% of the variation in organic growth rates among competitors within a given industry. The study went on to explain it is a better indicator in industries with a substantial numbers of players, more customer choices, and more mature industries with minimal network effects.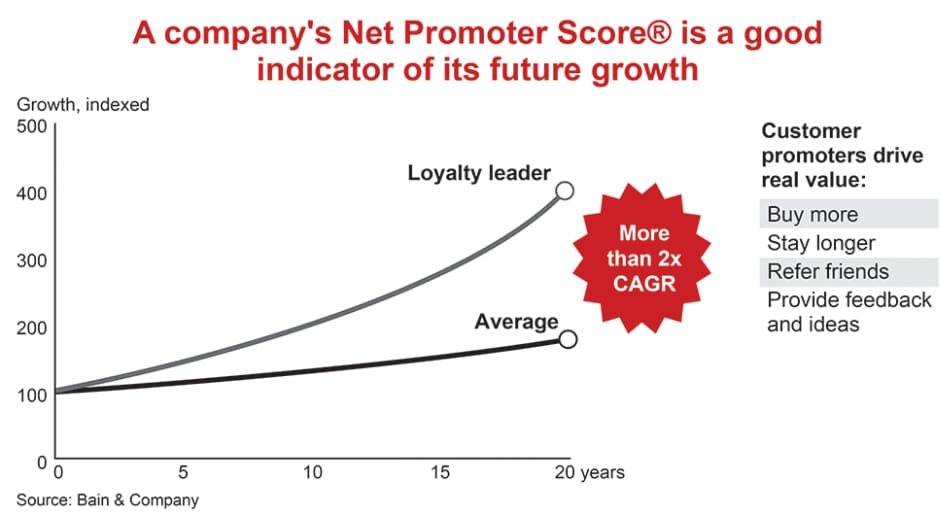 While a company's sales/profits can be measured in financial filings it is simply showing results/output. Meanwhile, customers are the ones generating these outputs and the measure of the likelihood of these financial numbers rising/falling in the future can be prognosticated better using a measurement of customer satisfaction and loyalty, such as the Net Promoter Score.
It is by no means a new phenomenon as it was covered by the Harvard Business Review in December 2003 (The One Number You Need to Grow), but it is now being more widely adopted. The article is an excellent read and covers the connection between customer loyalty and company profitability. It is also interesting that NPS could be even more effective in identifying potential short trades as a negative indicator as word of mouth historically in the US shows that twice as many people are told about bad experiences than good ones.
McKinsey's research of 27,000 consumers in the U.S. found that "maximizing satisfaction with customer journeys has the potential not only to increase customer satisfaction by 20 percent but also to lift revenue by up to 15 percent while lowering the cost of serving customers by as much as 20 percent."
Websites such as Customer.Guru now track customer satisfaction and provide benchmarks and NPS scores for the Fortune 500 at https://customer.guru/net-promoter-score/fortune-500. It is important to benchmark against industry averages, as the NPS varies widely as shown below with the average scores per industry. Industry leaders are also shown, including some notable names like Southwest Air [LUV], Apple [AAPL], American Express [AXP], Costco [COST], and UPS [UPS] which have been stellar long-term owns in the market for the most part.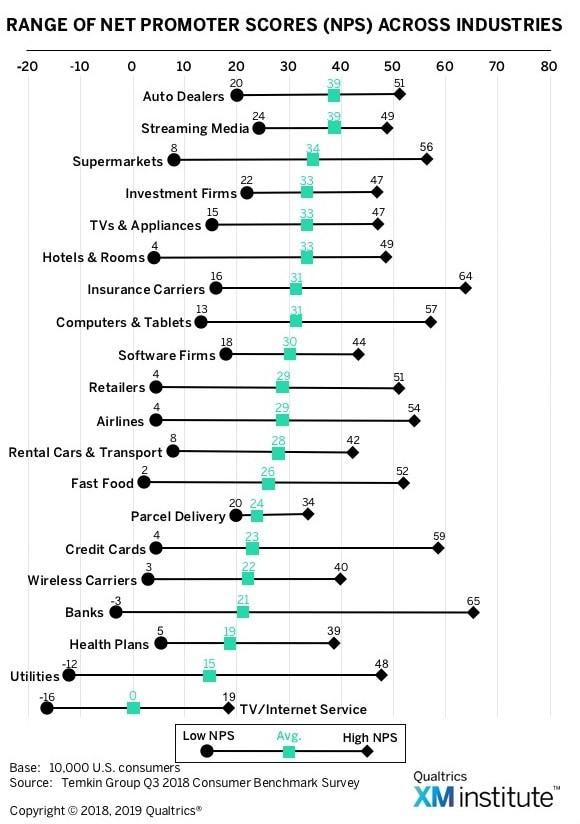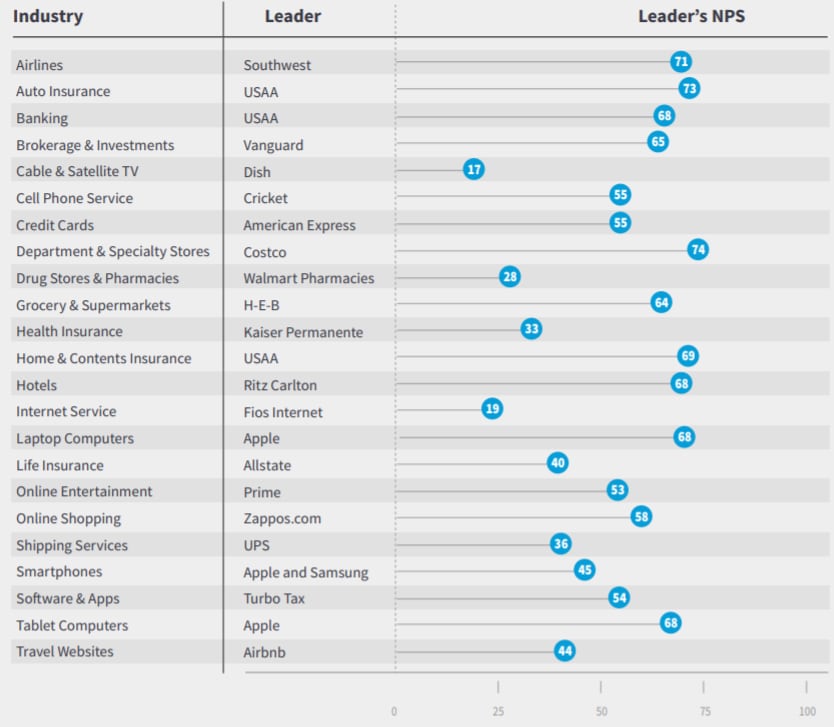 The Net Promoter Score is not without flaws, like any other method used to analyze a company, with plenty margin of error and the need for larger sample sizes. But the overall takeaway is the importance of customer loyalty – and satisfaction surveys have a strong correlation with high quality companies and their profitability, as well as organic growth. We are in an emerging super cycle of alternative data and NPS is something that's likely to be improved upon in coming years, creating far greater measures of customer loyalty and satisfaction, but a very useful tool to be conscious of when choosing which companies to invest in.