Since 1999 when Renault first bailed out a struggling Nissan, the partnership has had its ups and downs. Nissan will invest up to 15% in Renault's EV business Ampere, which plans to go public this year, and the two vehicle makers are restructuring their equity stakes for more balance and autonomy. Meanwhile, Carlos Ghosn, the man who was once CEO of both Nissan and Renault simultaneously and chaired the alliance of the carmakers with Mitsubishi is now at the heart of one of the world's biggest financial scandals.
- The 24-year-old Japanese-French partnership will reduce Renault's 43% stake in Nissan to 15%.
- Renault plans to take its EV business Ampere public in 2023, and Nissan will invest up to 15%.
- Former CEO of Nissan and Renault, Carlos Ghosn, is an internationally wanted fugitive with an Interpol Red Notice out for his arrest.
The French-Japanese alliance redefines its terms
Automakers Nissan Motor [NSANY] and Renault [RNO] restructured their longstanding 24-year-old alliance in a deal that gives the two companies greater independence while continuing to collaborate closely on global projects.
The deal will cut Renault's 43% stake in Nissan down to 15% and transfer 28.4% of Nissan shares into a French trust, which would establish greater parity and freedom in the partnership for the next 15 years, sources close to the matter told CNBC.
As part of the change, Nissan will invest up to 15% in Ampere, Renault's flagship EV and software business, "with the aim to become a strategic investor," the companies said in a statement. The French automaker plans to debut Ampere on the stock market in 2023. Leading chipmaker Qualcomm [QCOM] has also committed to taking a stake in Ampere. Meanwhile, Renault is also working with Alphabet's [GOOG] Google to develop what it refers to as a software-defined vehicle.
Shifting trends in the auto sector
The restructuring reflects an overall shift in the wider automotive industry's dynamics, moving away from alliances focused on gasoline-powered cars to partnerships combining resources and expertise on electric vehicle (EV) technology, batteries, and software. The alliance is also in talks for joint projects across Europe, India, and Latin America, and plans to collaborate on Renault's EV business, electronics and solid-state batteries.
Both companies are looking forward to this new era. Renault CEO Luca de Meo said at a news conference Monday, "We can now operate like a normal company," and a Nissan executive said, "management is now in a position to run Nissan for Nissan," according to the Wall Street Journal.
Nissan was the first in the game with mass-market EVs when it debuted its Leaf model in 2010. It has, however, recently been overtaken by both Tesla [TSLA] and the more established Ford Motor [F] in the EV space.
Ghosn – the fugitive behind the alliance
In 1999, Renault rescued Nissan from the brink of bankruptcy, forming an alliance which in 2016 was joined by the then-struggling Japanese Mitsubishi Motors [TYO].
At the time, Carlos Ghosn served as both Renault and Nissan's CEO and chairman of the three-party alliance between the carmakers and Mitsubishi.
The alliance crashed when in 2018 Ghosn was arrested in Tokyo financial misconduct and allegedly siphoning millions of euros from Renault. Ghosn then hired former US Army Green Beret Michael Taylor to smuggle him out of Japan, which he successfully did in 2019.
After smuggling Ghosn into Lebanon, which does not extradite its citizens, Taylor was arrested by Japanese authorities and served two years in prison for the extraction mission. He now demands about $3m in legal fees from Ghosn.
Ghosn is currently in Lebanon and is stuck there indefinitely, with an Interpol Red Notice for his arrest, becoming known for one of the world's biggest financial scandals in recent history, detailed in the Statista infographic below.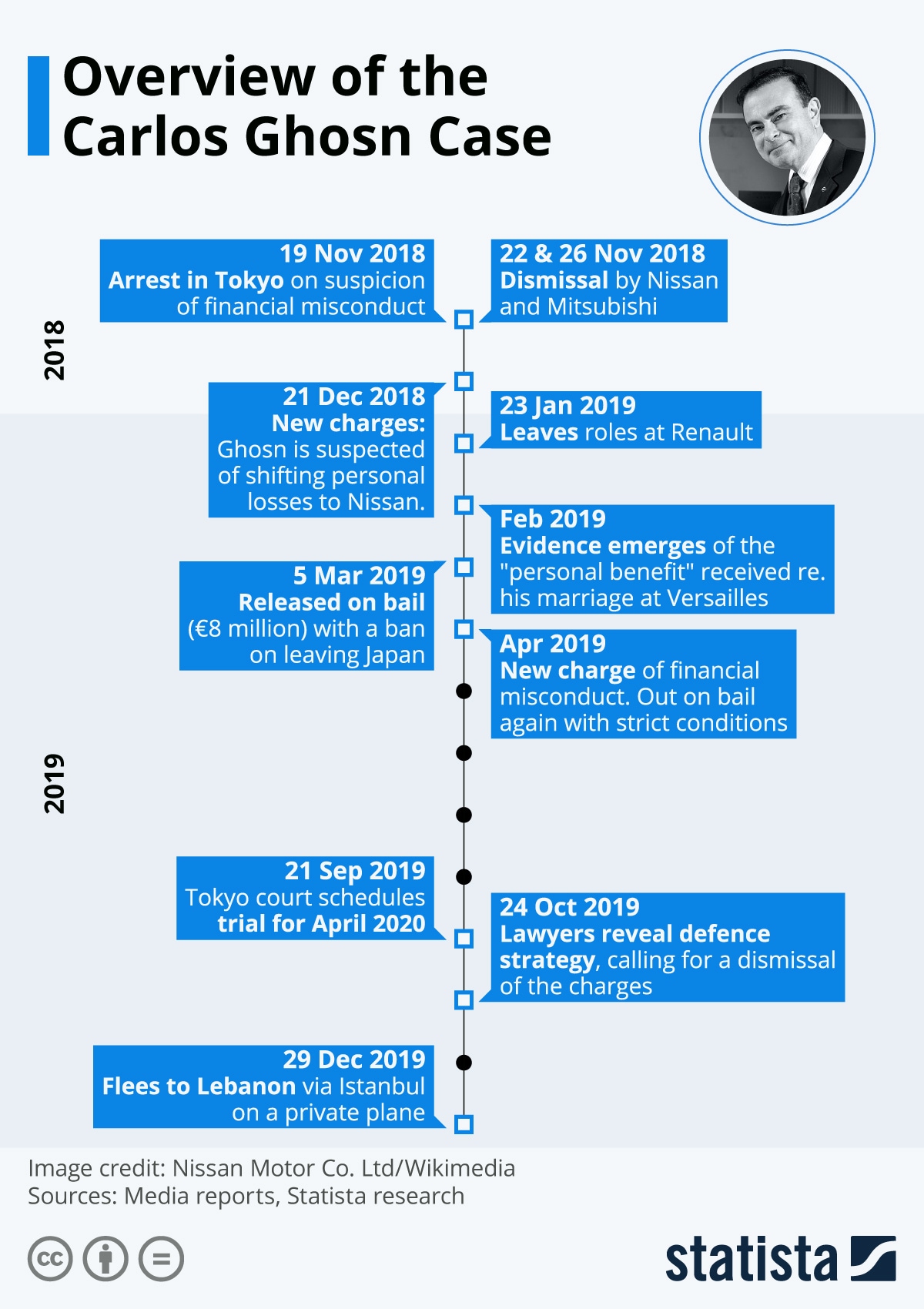 Funds in focus: Global X Autonomous & Electric Vehicles ETF
Several thematic ETFs provide exposure to the automaker and the broader EV sector.
The Global X Autonomous & Electric Vehicles ETF [DRIV] has holdings in both Nissan and Renault, along with exposure to other leading global EV makers, including Tesla, which is its top holding, Toyota [JP.7203] and Ford. The fund was up 14.71% in the last month.
The KraneShares Electric Vehicles & Future Mobility ETF [KARS] includes a 4.03% holding in Tesla and a 2.88% weighting of Chinese EV maker BYD [HK.0HKY]. The fund was up 10.59% in the last month.