As Lockheed Martin abandons its deep-sea mining endeavours, Norway emerges as the new trailblazer in the quest for green transition metals beneath the ocean floor. Amidst the global race for these precious resources, the European Union delicately shifts strategy to foster alliances, navigating environmental concerns and accusations of neo-colonialism. Is deep-sea mining a two-edged sword?
- Norwegian startup Loke Marine Minerals acquired UK Seabed Resources from Lockheed Martin on 16 March, planning to invest $100 million in the sector.
- Norway leads ocean floor mining for green transition metals, facing environmental concerns and debates on potential marine life impacts.
- The EU shifts strategy to foster alliances and collaborations in the global race for critical minerals, avoiding neo-colonialism accusations.
Lockheed Martin exits deep-sea mining
Lockheed Martin [LMT], the largest corporate player in deep-sea mining, has decided to leave the industry just as it begins to heat up.
Norwegian startup Loke Marine Minerals acquired UK Seabed Resources (UKSR), a deep-sea mining firm, from Lockheed Martin on 16 March for an undisclosed sum, Reuters reported.
The US defence giant's exit means no Western mining contractor has the resources to fund a multibillion-dollar seabed mining operation.
Loke reportedly plans to invest around $100 million in surveys, environmental mapping, and technology development, aiming to start mining by 2030.
Lockheed has been interested in deep sea mining since the 1970s. Its British subsidiary, since 2013, has had ISA permits to search the ocean floor for cobalt, nickel, and other metals. UKSR holds two seabed exploration licenses in the Pacific Ocean's Clarion-Clipperton Zone, an area rich in cobalt, copper, nickel, and manganese, Bloomberg said.
Norwegian firm Kongsberg Gruppen [KOG.OL] has also taken a stake in Loke Marine Minerals, joining TechnipFMC [FTI] and Wilhelmsen [WWI.OL].
Norway leads despite environmental concerns
Norway and the wider Nordic region are renowned for being the forerunners in sustainability. However, this reputation comes with a two-edged sword. 
The global clean energy transition is driving demand for minerals such as lithium, cobalt, nickel, copper, and rare earths, as the Statista infographic below illustrates. Norway has emerged as a front-runner in the global race to mine the ocean floor for metals crucial for the transition away from fossil fuels. Meanwhile, environmentalists have raised concerns about the potentially devastating impacts of mining on marine life.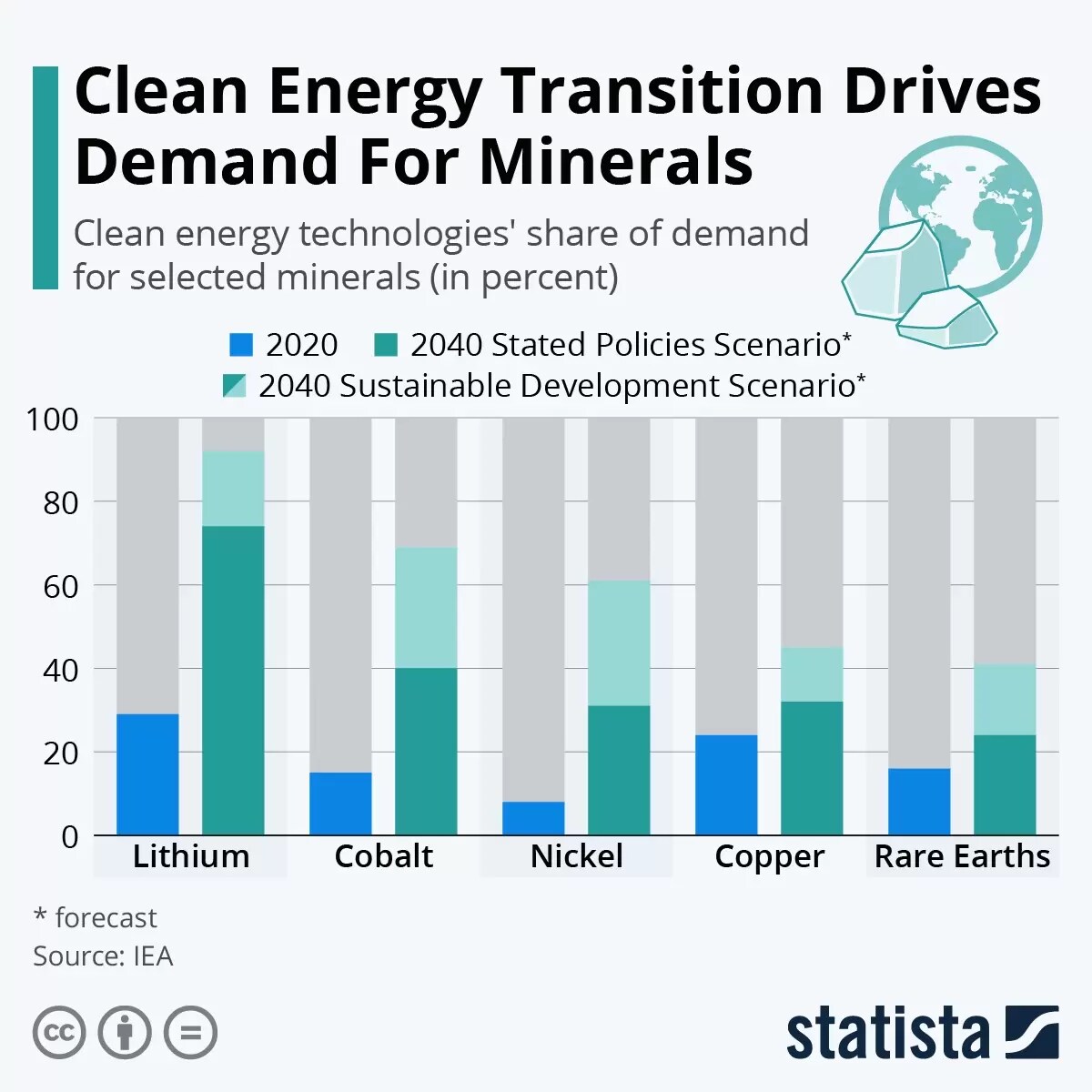 The International Seabed Authority (ISA) met in March to approve regulations enabling deep ocean ecosystems to be mined as early as 2024. The conference takes place amidst increasing demand for metals used in electric car batteries and a recent agreement among 193 nations to protect marine biodiversity in international waters.
Critics argue that there is insufficient scientific knowledge about deep-sea ecosystems targeted for exploitation. Some attendees at the ISA conference accused the Authority's Secretariat of promoting a pro-mining agenda without adequate consideration for the environmental risks.
EU treads cautiously in global mineral race
The global competition for minerals essential to the green transition, such as rare earths, lithium, cobalt, and nickel, is intensifying. Many of these materials are sourced from developing countries, drawing comparisons to previous eras of European imperialism. The European Union (EU) has been criticised by nations like Malaysia and Brazil for adopting a neo-colonialist stance, using trade policy to impose its views on forest management.
The EU is now attempting to adopt a more delicate approach, emphasising alliances and collaborations with producers through its Critical Raw Materials Act and portraying itself as a development partner in recent trade deals. Its recent agreement with Chile demonstrates a shift in tactics, with Brussels aiming to work together with producing nations to ensure a more sustainable and mutually beneficial supply of critical raw materials rather than a neo-colonial extractor.
Funds in focus
The VanEck Rare Earth/Strategic Metals ETF [REMX] provides investors with exposure to the global rare earth and strategic metals industry. This ETF also impacts the long-term growth of industries that rely on rare earth and strategic metals, such as electric vehicles, renewable energy, and aerospace. The fund is up 10.32% year-to-date, as of 3 April.
The Invesco Water Resources ETF [PHO] includes companies involved in various aspects of the water industry, such as water treatment, infrastructure, and water management technology. The fund's top holdings are Xylem [XYL] and Ferguson [FERG]. The ETF is up 3.16% year-to-date.