Rex Jackson, chief financial officer of ChargePoint, sees a clear path to profitability by the end of 2024. However, the company's stock has struggled of late thanks to Tesla's plans to create a North American standard of electric vehicle charging infrastructure. Jackson explains why he believes this doesn't represent a headwind for the business.
"It's all about making money," Rex Jackson, chief financial officer of ChargePoint [CHPT] tells Opto Sessions. His long-term vision for the company sees it making a profit on everything it sells, including those new products which, at present, hamper its bottom line.
The path to profitability is clear in Jackson's mind. So clear, in fact, that he has had the planned profitability date tattooed onto his body. "I told my kids I would never get a tattoo, but I have a tattoo across my chest saying we will be profitable by the end of next year."
ChargePoint's revenue is strongly correlated with the adoption of passenger electric vehicles (EVs) in North America. Jackson is emphatic that EVs will, eventually, entirely displace internal combustion engine (ICE) vehicles. While the time that will take is debatable, he sees the transition happening over the next 15 to 30 years.
Given that EVs currently account for less than 6% of the cars on US roads, there is an enormous implicit upside to ChargePoint's revenue projections over the coming years.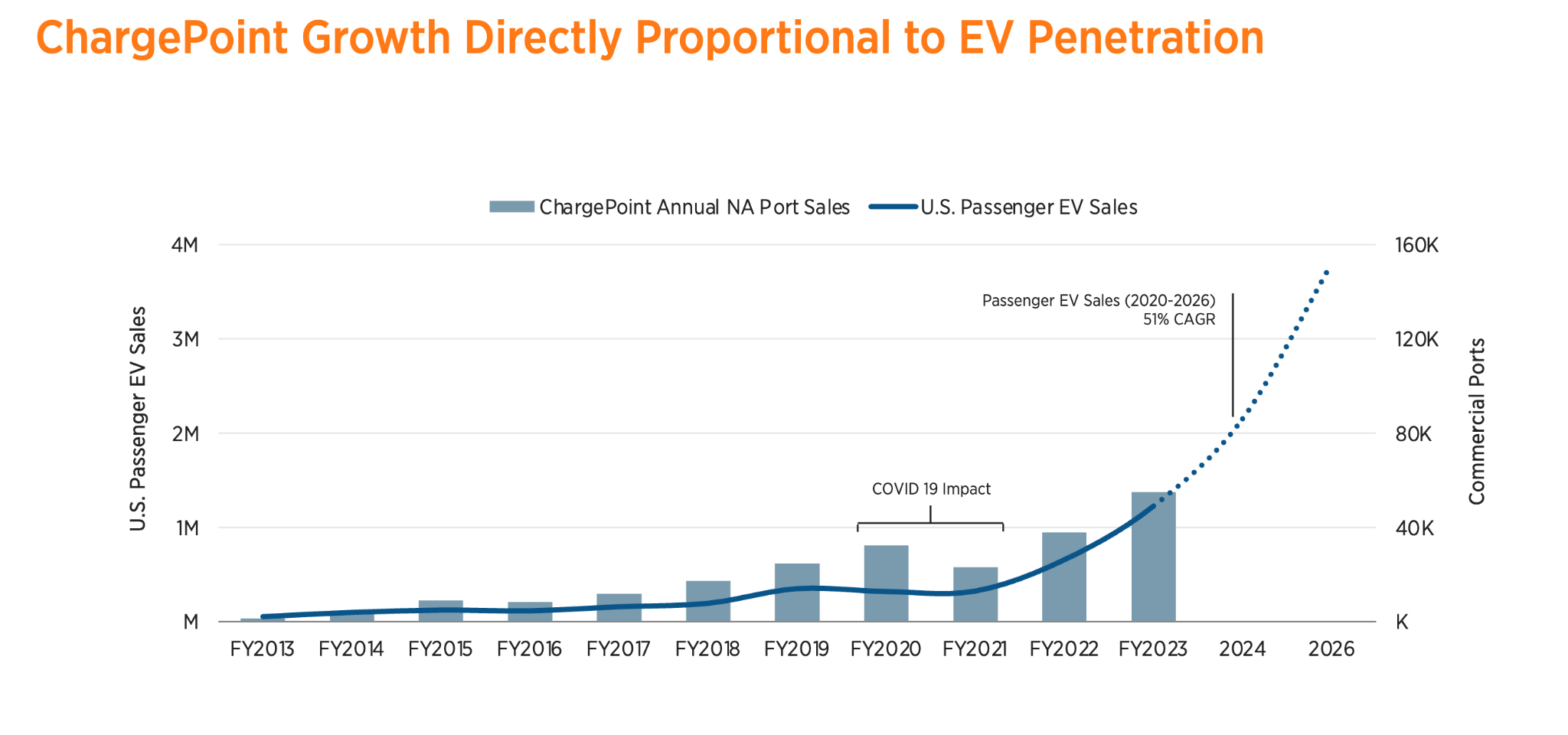 As well as being profitable by the end of 2024, ChargePoint's projections involve cutting adjusted EBITDA by the end of 2023.
The story so far
ChargePoint has made a solid start on this front. Revenue grew 94% year-over-year in 2023. As Jackson puts it, "growth is great".
However, non-GAAP gross margin fell from 24% in fiscal year (FY) 2022 to 20% in FY 2023, reflecting an expansion in ChargePoint's product offering.
"We think it's important to be able to walk in to a customer and say, 'Hey, what's your problem? Then we'll use this part of the toolkit or that part of the toolkit to address it.' So we've had a lot of new product introductions over the last couple of years, and our gross margin took a hit."
However, he points out that in the quarter ending 30 April, gross margin increased to 25% from 17% the previous year.
A supercharger in the works
Tesla's [TSLA] moves to establish its Supercharger network as the North American Charging Standard (NACS) presents a potential headache as far as these plans are concerned.
Volvo [VOLV-A.ST] joined Rivian [RIVN], Ford [F] and General Motors [GM] in adopting the standard in late June, before Mercedes-Benz [MBG.DE] joined on 7 July. Does Tesla's plan for a unified charging infrastructure stand in direct competition to ChargePoint's own strategy?
"The world is missing the mark on this one," says Jackson. "70% of the chargers on our network are Tesla's — so it isn't like we don't do Tesla."
Jackson compares the technicalities of charging plugs to different international standards for mains plug sockets. "I just went to a wedding in Belgrade and I realised that I forgot to bring an adapter. I had the wrong plug… But what happens behind the plug doesn't change based on the plug." In other words, the technical challenge of standardising charger connectors themselves is relatively trivial.
Nevertheless, "We would be delighted if someone decided to go with a single [universal] connector."
Despite this stance, however, ChargePoint was among five charging companies to oppose the state of Texas's plans to adopt Tesla's standard.
Rival charging manufacturer ABB [ABBN.SW] was also among the move's opponents, describing it as "premature", while asking for more time for Tesla's connectors to be tested and re-engineered.
Investors don't appear to share Jackson's optimism. ChargePoint's share price closed 11 July 55.2% down on its 15 September peak of $19.92. The stock hit its 52-week low on 23 June, coinciding with news breaking of Rivian joining the Tesla network.
However, seen ChargePoint's share price recovered 6.8% in the fortnight after the company announced it will be offering NACS-compatible charging equipment on 27 June.