January saw Amazon (AZMN) become the world's largest company by market capitalisation. With a market cap of $790bn, it was enough to edge past Microsoft (MSFT), who were pushed into second place with a $785bn cap, having themselves taken the title from Apple (AAPL) back in November. 
Since then Amazon's market cap has continued to grow, with some analysts predicting a rally in 2019. Could this be enough to see the company hit the $1trillion valuation mark again?
This milestone was followed by the launch of AWSDocumentDB. Amazon's attempt to grab a piece of the growing cloud database market definitely made its mark, with competitor MongoDB's (MDB) stock skidding 15% on the news.
On a more personal note, Amazon chief Jeff Bezos and his wife MacKenzie are divorcing after 25 years of marriage. While speculation has been rampant, it has had little to no impact on the share price.
How has Amazon's share price performed recently?
Amazon's share price gained 28% last year as it outperformed other rival FAANG stocks. Taking a longer-term view, the stock has rocketed 1200% since 1 January 2010. Barring a major collapse, this would make it one of the best performing assets of the decade, according to CNBC.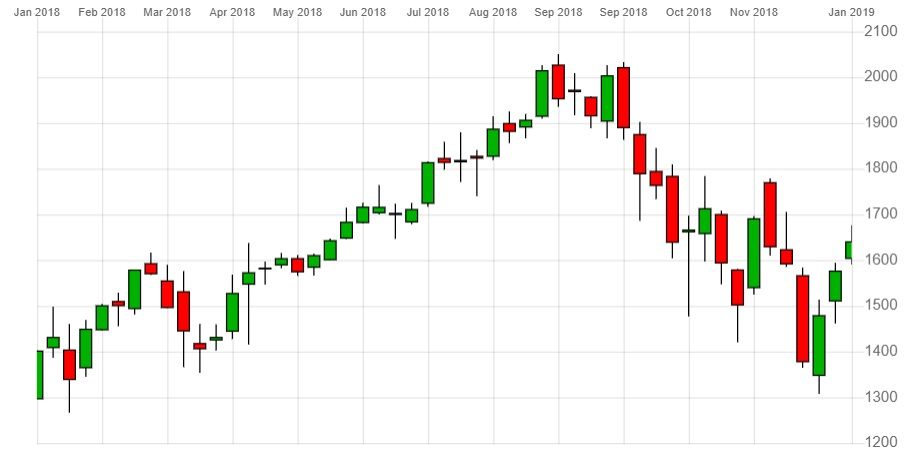 Powered by CMC Markets, as at 16 January 2019
Despite the strong performance, October saw the stock slump as Q3 earnings results revealed that quarterly growth had slowed to 29%, well behind Q2's 39% and Q1's 43%. A concern for shareholders as Amazon's growth model has prioritised revenues over earnings in recent years. Fourth-quarter revenue guidance also disappointed at between $66.5bn and $72.5bn, well-below analyst expectations of $73.79bn. Encouragingly, Amazon has since revealed it sold a record number of items during the Christmas period, which will be accounted for when the Q4 results come in. This immediately lifted shares 10%.
Wall Street analysts took note and have now forecast Q4 earnings to grow a huge 153% compared to the same period last year, with Zacks pegging earnings at $5.48 per share. 
153%
Wall Street analysts' forecasted percentage increase in Amazon Q4 earnings
Amazon Marketplace contributes to ecommerce growth
With revenue growth slowing, the company has now turned to Amazon Marketplace sellers for help. At last week's CES show, the Seattle giant met sellers to promote a new support service that comes with a price tag of between $30,000 and $60,000. All part of a concerted effort to improve the seller experience and bolster trust in the platform. 
These initiatives have a direct impact on the bottom line. In the most recent quarter, Marketplace sellers contributed a hefty $10.39bn in revenue, a healthy 31% increase from the previous quarter. Amazon Marketplace now accounts for over half of the company's ecommerce sales, contributing to Amazon's massive 50% share of the total ecommerce market. Overall, online store sales grew an impressive 10% in the third-quarter to hit $29.06bn.
50%
Amazon share of total ecommerce market
Can Amazon create the Netflix of gaming?
Reports have also surfaced that Amazon is set to launch an online videogame streaming service as early as 2020. The impact on the video games industry could be revolutionary. Creating what will essentially be the Netflix of gaming, the service would negate the need for expensive consoles and PCs. Instead, high-end games would be run inside data centres with gamers accessing them through smartphones and televisions.
Amazon's innovations have seen the occasional misfire – for every Kindle there's an Amazon phone – but with the video game industry set to be worth $20.28bn by 2020, this is a risky move that could pay off.
Is there opportunity in Amazon's share price?
Nearly all analysts recently polled by Reuters rated the stock as a buy. Pivotal Research's Brian Wieser has also pinned a target of 1920 for the end of 2019, which would represent a gain of almost 25% for the year and put the company's value above $1 trillion.
| | |
| --- | --- |
| Total revenue % change, Q3 YoY | +29% |
| Market cap | $818.81bn |
| PE Ratio (TTM) | 93.82 |
| EPS (TTM) | 17.85 |
Amazon stock vitals, Yahoo finance, as at 16 January 2019
"Despite its current massive size, we see Amazon's opportunities as mostly unconstrained based on a successful track record of capitalizing on consumer and IT department spending," Wieser wrote in a research note to clients.
Whether the stock goes on a bull run will depend on consumer spending withstanding a weakening US economy and the outcome of upcoming antitrust cases. A recent reduction in operating costs could also lead to better returns for investors. As it stands, shares in the company are still expensive, trading at over 100 times its EPS TTM. This is well-above the industry average of 65.3X.