In stark contrast to other FTSE 100 companies, GSK's share price has been on an upward trend. But is the drug maker doing enough to keep momentum going?
GSK's share price [GSK] has rocketed over 10.1% in the last 12 months, outpacing the FTSE 100 which is down 1.1% over the same period. A remarkable run given the economic and political uncertainty that has battered other UK stocks.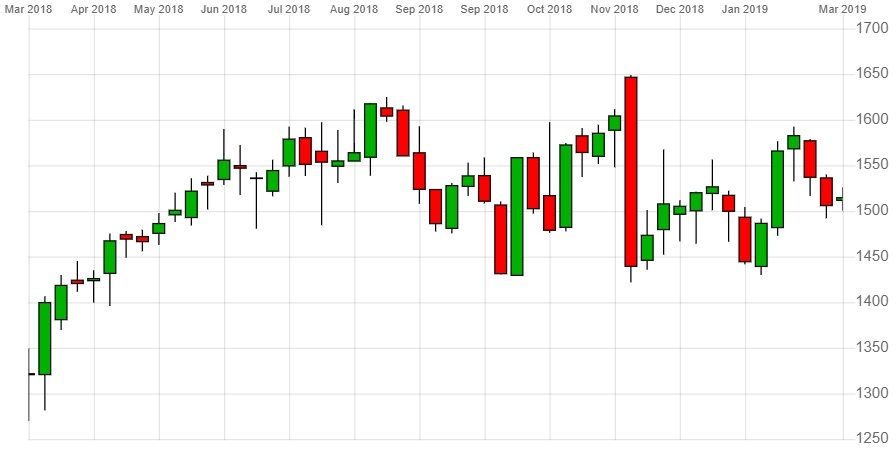 GSK 1-year share price performance, CMC Markets, as at 15 March 2019
Fuelling this is the growing international market for pharmaceutical products. GSK's ability to tap into this has seen it protected from domestic headwinds that have weighed on the FTSE 100. After all, people will always need healthcare products, no matter where they live. And with people living longer across the world, demand for GSK's products looks set to continue.
New strategy pays off
Many thought CEO Emma Walmsley would stick with the company's cautious way of doing things when taking the top job back in 2017. Doubters included fund manager Neil Woodford who dumped his entire £1.2 billion holding that year, decrying the drug maker's risk averse nature.
Yet, Walmsley has radically changed the business strategy to focus on international acquisitions and creating pipeline of profitable drugs.
£1.2bn
Value of Neil Woodford's GSK holding, until he dumped shares last year
So far the results of the strategy overhaul have been promising. 2018's full-year numbers beat analyst estimates as GSK pulled in £30.8 billion in revenue. £748 million of this came from its shingle vaccine, Shingrix, validating Walmsley's focus on profitable pharmaceutical drugs. 
Operating profits came in at £5.48 billion, a huge 34% rise on the previous year. Total earnings per share were 73.3p, reflecting better operating profits and lower charges.
In reward, Walmsley received a £1 million pay rise following the results. This now makes her the highest-paid female chief executive of a FTSE 100 company.
"GSK delivered improved operating performance in 2018 with Group sales growth, strong commercial execution of new product launches, especially Shingrix, continued cost discipline and better cash generation," she said after the results came out. 
"GSK delivered improved operating performance in 2018 with Group sales growth, strong commercial execution of new product launches, especially Shingrix, continued cost discipline and better cash generation" - GSK CEO Emma Walmsley
Expanding drugs pipeline and international presence
GSK's focus has shifted to build up a pipeline of profitable drugs for commercial consumption. Promisingly, ViiV Healthcare, which GSK jointly owns with Pfizer and Shionogi, reported upbeat data for a two-stage HIV treatment at the CROI conference in Seattle.
HIV treatments are big business for GSK. Last year, total sales for HIV treatments were £4.7 billion, up 9% on the previous year. News that the treatment dramatically reduces the number of antiviral doses someone with HIV will need over the course of the year shows GSK's focus is in the right area. Small wonder that the company immediately added 0.53% to its share price following the announcement.
Expanding GSK's international presence has also been a priority. Acquisitions include American drug maker Tesaro, and an alliance with Germany's Merck KGaA worth £4.2 billion. The company also acquired ownership of Swiss-based Novartis' consumer healthcare joint venture. Such expansion makes it less dependent on the fundamentals that have been causing ruptures in other UK sectors.
Is there opportunity in GSK's share price?
GSK hasn't had it all its own way. The cost of snapping up international businesses has forced it to drop 2019 full-year EPS guidance by -9%. The company is also not protected from the effects of Brexit. Expectations are that the UK's divorce from the EU will initially cost the drug maker £70 million over the next two years, followed by a yearly £50 million cost in duties and administration.
Market cap
£

74.17bn

PE ratio (TTM)
20.68
EPS (TTM)
72.90

Return on equity

 

(TTM)

113.00%
GSK stock vitals, Yahoo finance, as at 15 March 2019
Yet, the company looks to be in a strong financial state. The company's enterprise value is 9.82, with anything below 10 considered healthy. Analysts have also put a 1644.50 price target on the stock, over 20 points higher than last year's high. For investors looking for an income generating stock, GSK's shares also come with a healthy 5.2% dividend yield.
The UK's pharmaceutical sector seems to be exempt from Brexit turbulence. GSK rival AstraZeneca's stock is up a hefty 32% from this time last year. With the country due to leave the EU this year, investors will be keen to see if GSK's stock, and the sector as a whole, continue to be resilient in these uncertain times.