Chief executive John Flint doubled-down on HSBC's [HSBA] 'pivot to Asia' strategy when he took charge of the bank last year. The strategy has seen the bank invest heavily in China's southern Pearl River Delta region: the biggest urban area on the planet in terms of geographical and population. As the region's population becomes increasingly middle-class, HSBC has sought to create more customers for its banking services.
In a further sign of its commitment to China, the bank has offered 20% of its entire stock as contingent convertible securities on the Hong Kong exchange. 
20%
The amount of its stock that HSBC have offered as contingent convertible securities on the Hong Kong exchange
Unlike the UK's other big banks most of HSBC's profits come from overseas, arguably providing a buffer against Brexit. But with news that the Chinese economy is in slowdown, the bank could now be vulnerable on two fronts.
China's economy slows down
Until recently expansion into Asia looked like a shrewd move with 75% of the bank's profits coming from the continent.
Asia's, and in particular China's, economy had been growing at a phenomenal rate over the past decade. In 2018, 15 Chinese provinces increased their minimum wage. Chongqing is set to follow this year. In India analysts expect wages to grow at the fastest rate of any major economy over the next two decades - up 200% by 2040. HSBC looked set to be well-placed to benefit as wage increases drove demand for its services.
However, the Chinese economy has started to slow. Chinese Premier Li Keqiang announced earlier this month that China is now aiming for growth of 6% to 6.5% in 2019. Last year, GDP rose by its lowest level for almost three decades in a sign that China's economy is maturing. A potential headache for HSBC's plans to piggyback on the Middle Kingdom's seemingly unstoppable growth.
200%
Predicted wage growth in India by 2040
Interim results underwhelm
With three quarters of the bank's profits coming from Asia, a slowdown in the Chinese economy is a problem. The bank recorded a pre-tax profit of £15.4 billion for 2018 in last month's interim results. Despite being 16% higher than 2017 this came in below analyst expectations. Analysts from investment bank Jefferies pointed out that most movement came in the first quarter while the rest of the year was flat.
Market cap
£

125.11bn

PE ratio (TTM)
9.95
EPS (TTM)
63.00

5-year average dividend yield

5.75
HSBC stock vitals, Yahoo finance, as at 11 March 2019
Chairman Mark Tucker cited customer uncertainty and an unpredictable economic outlook as concerns. He also specifically cited the US-China trade war as a problem for the bank:
"The system of global trade remains subject to political pressure, and differences between China and the US will likely continue to inform sentiment in 2019."
Is there opportunity in HSBC's share price?
HSBC's share price is down around 3% this year, having fallen after the interim results. Taking a longer view, the shares are down over 11% from where they were this time last year but off October's low of 600.3.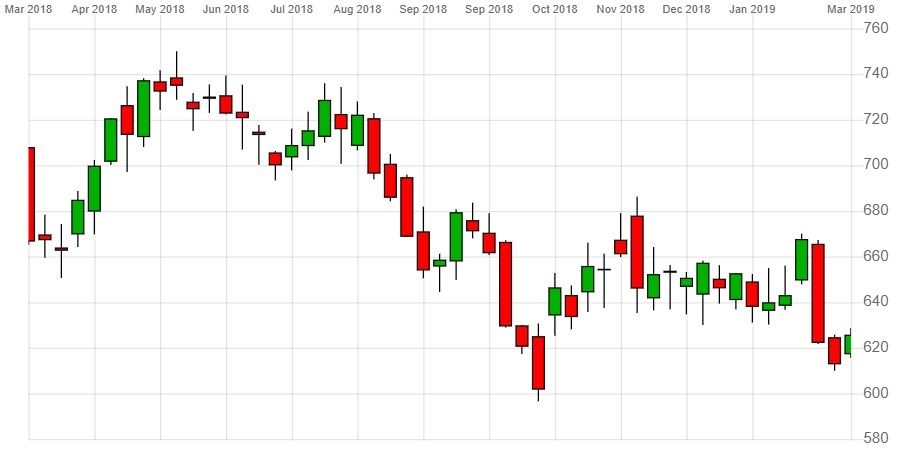 HSBC 1-year share price performance, CMC Markets, as at 11 March 2019
For income-seeking investors, HSBC stock packs a 10.51% yield. Over the past five years, the stock has averaged a 5.57 dividend yield, bolstered by a 79.95% payout ratio. But the 7.60% return on earnings is lacklustre compared to the 16.9% industry average and 16.13% sector average. The company's £603.54 billion debt pile might also drag on any potential profits.
Whether shares are able to climb back to last May's 749.9 high this year looks to be a tall order. HSBC now has the twin headwinds of a slowdown in Asia and the spectre of Brexit to contend with. Already HSBC has moved 1,000 staff to its French headquarters in an effort to insulate itself in the event of a no-deal.
Right now, it seems the market is in wait and see mode. Most analysts are hedging their bets with the majority having a hold recommendation. If the Chinese economy picks back up however, then HSBC's pivot will be justified.