Who will win the US Elections?
Hillary Clinton
Why will he/she win?
Recent polls, particularly following the first debate, have shown Hillary Clinton increasing her lead and regaining her campaign momentum. Although we should not forget how polls and markets were completely wrong for the UK Brexit vote back in June, Hillary Clinton looks like the winner at this stage.
Markets want to be free
Elections mean uncertainty and this is exactly what markets don't like. That said, we may see some downside pressure on stock indices before the presidential election, while there could be gains after the elections regardless of which candidate is elected president. This is because, although markets may prefer Hillary Clinton because she's a known quantity, they could also adapt to Donald Trump, particularly if he brings in pro-business policies (he has already indicated plans to cut regulations).
The biggest swings may come right after the election, depending on who wins. Heading into December the focus may turn to the US Federal Reserve, with markets currently expecting a rate rise in December as an almost done deal. Recent probability of a rate hike in December based on Fed funds is at 63%, a similar pattern to 2015, where there was only one raise in the year, and the December 2013 start to QE tapering.
Who would biotechs prefer to win?
Donald Trump. Hillary Clinton has twice targeted biotech companies on social media over what they charge for their products crushing the NASDAQ biotechnology index on both occasions, first in September 2015 and again in August 2016.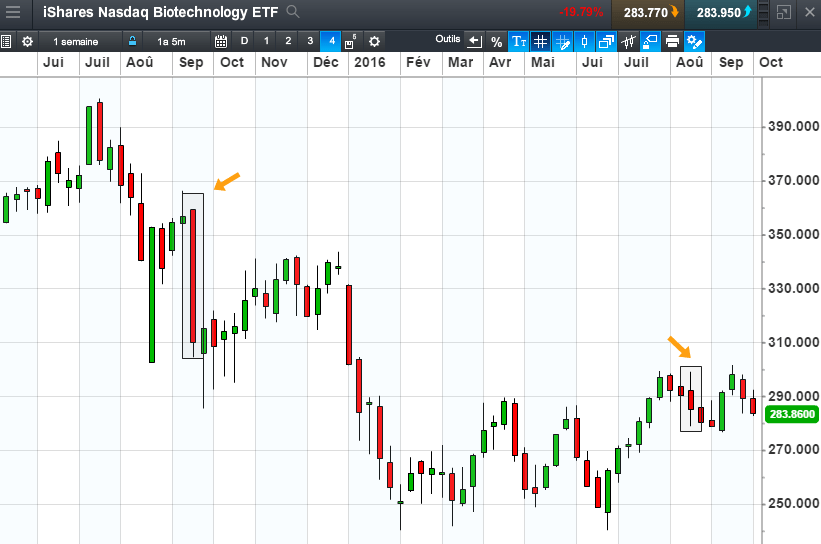 Open a live account
Unlock our full range of products and trading tools with a live account.
Losses can exceed your deposits.
Free demo account
Practise trading risk-free with virtual funds on our Next Generation platform.
US election and the French CAC 40
As I mentioned earlier, the largest and most important reaction may come immediately after the elections. If US markets continue to be strong, European markets may finish the year at the highest part of their actual range.
The CAC 40 has been fluctuating within a short-term range over recent months, which is itself in a larger long-term range. A Trump victory could create a move to the downside and break the short-term range.
A Clinton victory could be better for stocks in general (as seen by the market rally the day after the first debate went to her advantage) and we could then see the CAC 40 rallying to where it started the year, around 4600/4700 points.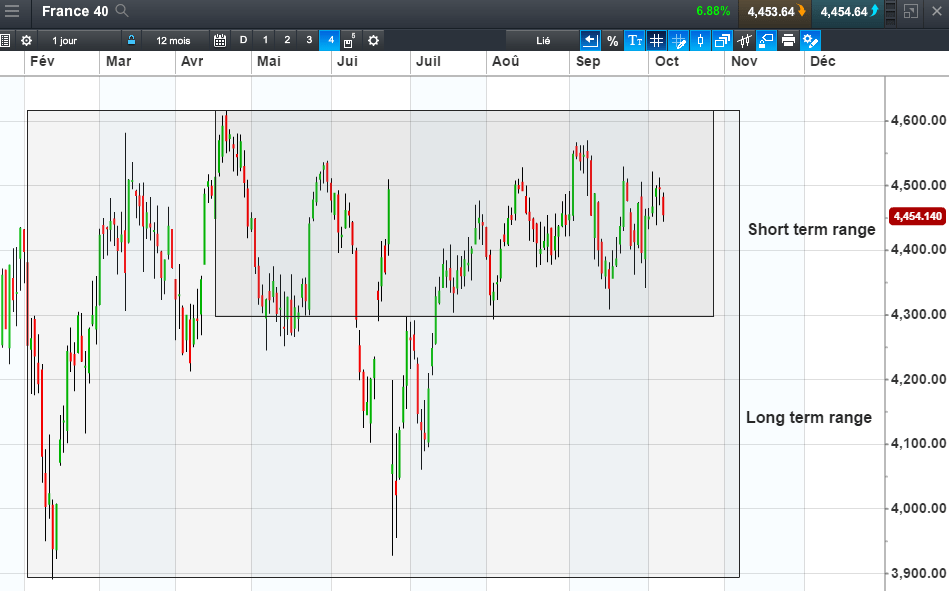 How could the gold price react?
Gold has experienced an historic first half, jumping by 30%. The yellow metal has benefited from the stabilisation of the dollar, a dose of risk aversion and declining bond yields. However, sellers seem to have taken the upper hand recently, despite growing uncertainty around Brexit and US elections.
As the elections approach, uncertainty could help gold to regain altitude, especially if Mr Trump bounces back in the polls. Nevertheless, the evolution of gold depends greatly on the US dollar, and it is hard to think that the Fed would back off a possible rate hike by year end considering recent FOMC member comments and US economic data.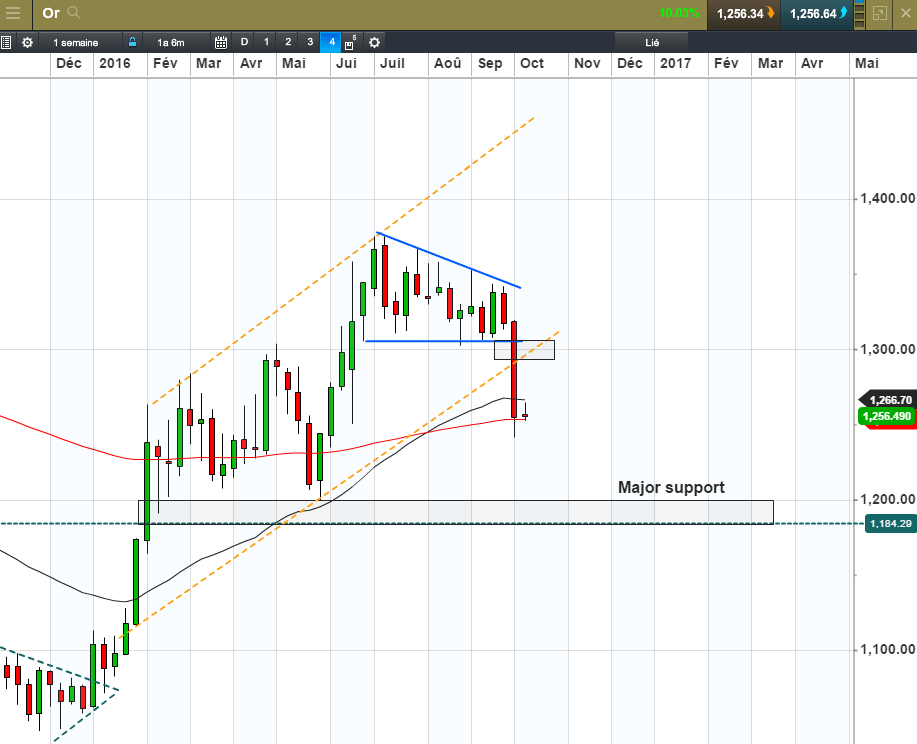 Also, as gold could trend below the 1280/1300 dollar resistance area, the risks remain bearish and bullish traders may prefer to wait, accompanied by a bullish reversal candlestick in weekly data, rather than anticipate a reversal based on hope. The 1180/1200 area appears to be a major medium-term support, while I will be watching for a potential reaction if prices return there in the coming months.
Open a live account
Unlock our full range of products and trading tools with a live account.
Losses can exceed your deposits.
Free demo account
Practise trading risk-free with virtual funds on our Next Generation platform.
Is the Mexican peso reflecting reality?
The Mexican peso has depreciated when Mr Trump has climbed in the polls and vice versa when he fell. Looking at the USD/MXN pair, we can see:
An increase in USD/MXN when Trump was gaining traction in the polls.
Bearish reaction after Hillary Clinton won the first debate and started to increase her lead in the polls again.
Bearish reaction after the second debate, with some polls suggesting Hillary Clinton was again the best speaker.
It looks like USD/MXN is showing us what markets think about the coming election. If a trader is looking for an instrument that could directly move depending on the elections results, this one could be appropriate. If Clinton wins, the peso could continue to climb, but if Trump wins, the Mexican currency and indices may come under significant pressure.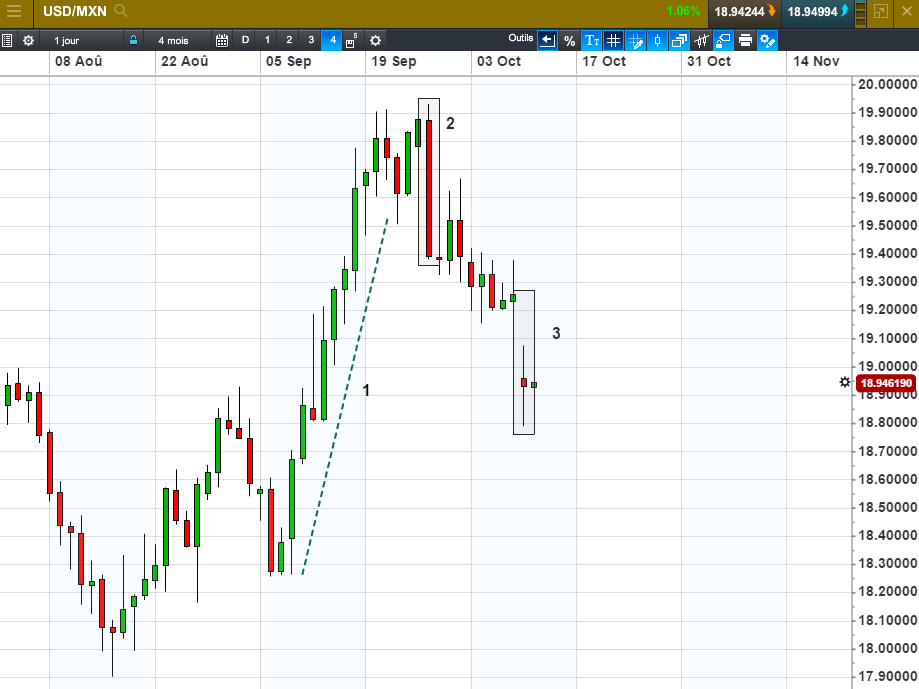 CMC Markets erbjuder sin tjänst som "execution only". Detta material (antingen uttryckt eller inte) är endast för allmän information och tar inte hänsyn till dina personliga omständigheter eller mål. Ingenting i detta material är (eller bör anses vara) finansiella, investeringar eller andra råd som beroende bör läggas på. Inget yttrande i materialet utgör en rekommendation från CMC Markets eller författaren om en viss investering, säkerhet, transaktion eller investeringsstrategi. Detta innehåll har inte skapats i enlighet med de regler som finns för oberoende investeringsrådgivning. Även om vi inte uttryckligen hindras från att handla innan vi har tillhandhållit detta innehåll försöker vi inte dra nytta av det innan det sprids.