In 2021, renewable energy continued to outperform the 'Big Tech' mega caps of Apple, Amazon, Microsoft, and Alphabet. But, as we expected, the renewables rally cooled off slightly.
Renewable energy outperformance of 'Big Tech' (2020-2021)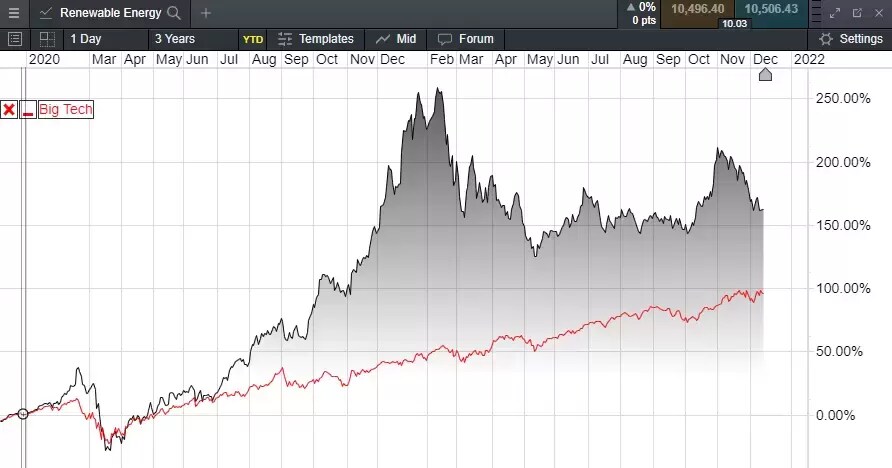 Source: CMC Markets.
When you look at the fundamentals of companies in our renewable energy basket, you see that many of them operate at low margins. Therefore, the kind of market correction that we witnessed this year wasn't a huge surprise. Even established companies in the renewable energy space, which have performed well over the long term, struggled this year. 
For example, two Danish companies that specialise in offshore and onshore wind, Orsted and Vestas Wind Systems, have pedigree in this sector, as shown in the graph below, but 2021 proved a difficult year for them.  
Investment in wind power, and renewables in general, remains a capital-intensive process. Margins aren't anywhere near as big as they are in fossil fuels, where the major players can also make and sell by-products of their core product. 
Comparison: Orsted vs Vestas (2020-2021) ​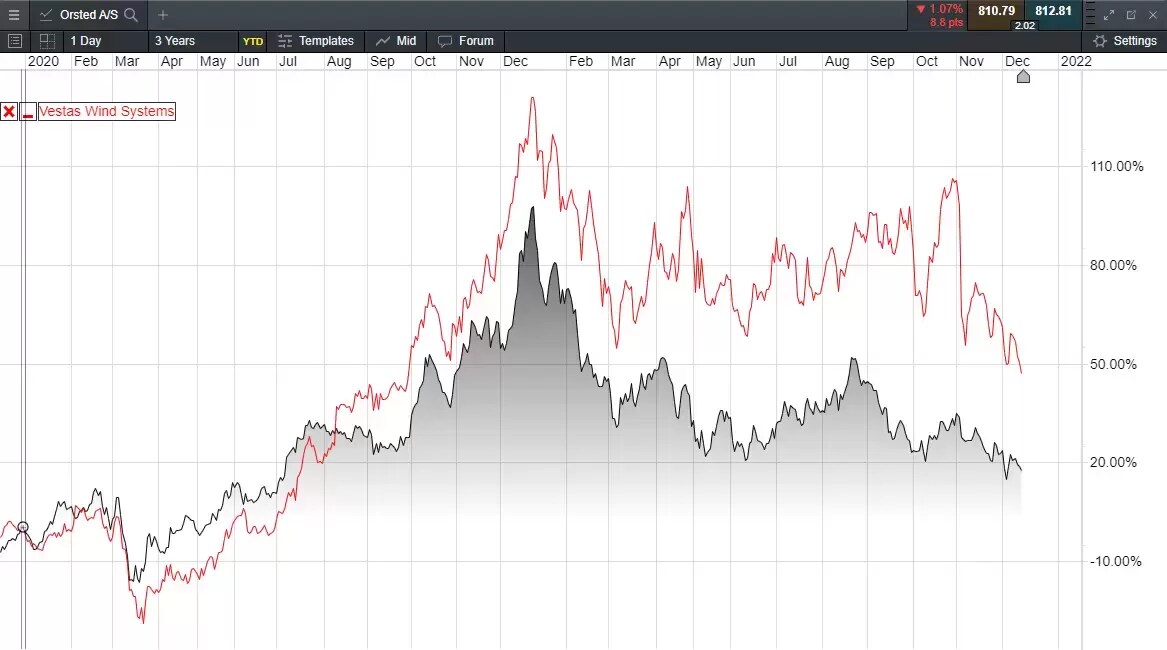 Source: CMC Markets
Orsted shines a light on challenges facing renewables firms
The challenges facing the sector are reflected in Orsted's annual capital expenditure, which has risen from DKK 17.6bn (approximately $2.6bn) in 2017 to DKK 31.58bn (roughly $4.8bn) in the first nine months of its current fiscal year. The company intends to spend up to another DKK 350bn, or about $54bn, by 2030 in order to increase its installed capacity from 12GW to 50GW. This is a large increase in spend for a company that has seen its revenue average around DKK 65bn since 2017. 
As a more mature business in this space, Orsted is in the enviable position of being profitable, having recorded a €960m net profit in the first half of this year, part of which came from its 50% divestment of the Borssele 1 and 2 offshore wind farms in May. 
Orsted's revenue for the first nine months of its financial year came in at €4.2bn, though offshore wind power generation decreased by 1.0 TWh compared to the year before. Naturally, changes in the weather are always an issue for wind power generation, as they are for most forms of renewable energy. Fewer windy days mean lower revenues. 
At the same time, investment in new capacity requires significant upfront costs. This year Orsted has spent €2.2bn on new projects in Greater Changhua in Taiwan, Hornsea in the UK, and on developments in the US and Poland. With the price of raw materials like copper becoming more expensive, Orsted seems likely to incur higher costs. 
Taking Orsted as a case study, the above-mentioned factors may help explain some of the underperformance seen this year in CMC Markets' renewable energy basket.
Comparison: CMC Markets' renewable energy basket vs our other tech baskets (2021)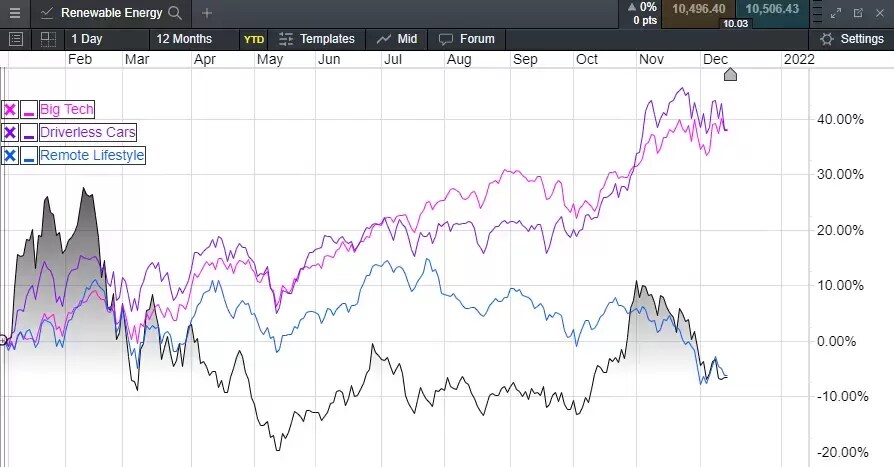 Source: CMC Markets
Renewable energy stocks lagged behind oil and gas this year
Another notable takeaway from this year is that oil and gas outperformed renewable energy, though we should remember that oil and gas stocks started from a low base after a dreadful 2020. The major oil and gas companies incurred losses of $76bn altogether, and have only just about recovered the ground they lost last year. 
Oil and gas vs renewable energy (2021) ​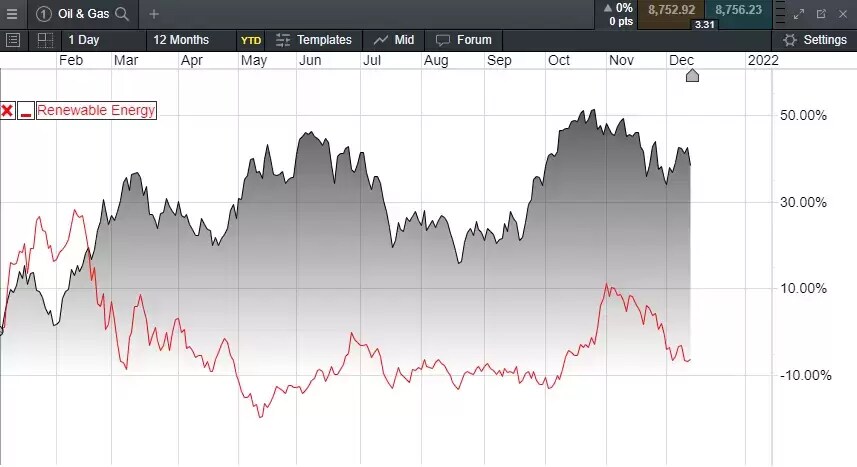 Source: CMC Markets
Can renewable energy shine in 2021?  
Looking ahead, calls for society to transition from fossil fuels to renewables will likely intensify in the coming years, as will demands that governments actively discourage funding for new sources of fossil fuels. Indeed, one of US President Joe Biden's first acts after taking office was to cancel the Keystone pipeline and halt new drilling operations on Federal land. While some view this decision as a landmark victory in the climate fight, others see it as a mistake.
As the post-lockdown global economy has picked up, demand for oil and gas has risen. While it's easy to demonise oil companies, the fact remains that fossil fuels power the global economy, and will continue to do so for some time. 
Moreover, the oil majors are part of the clean energy revolution, though it's true that some fossil fuel firms have been slow to embrace new technologies. But even as the shift towards renewables gathers pace, the sector as a whole will continue to rely to some extent on fossil fuel extraction to pay for the transition. 
Switching to renewables isn't going to happen overnight. It will take time, as governments strive to prevent energy price rises from driving millions of people into fuel poverty. 
The coronavirus pandemic has accelerated the push towards renewables, with the Democrats pledging to "build back better". This economic programme has much to commend it, but it needs to become more pragmatic and less political. 
Whatever happens, the increased focus on renewables under the Biden administration is set to shape US energy policy over his four-year term. The direction of travel for the renewables sector appears to be upwards.
How did firms in our renewable energy basket perform this year?
The CMC Markets Renewable Energy basket contains companies that specialise in renewable technologies, from wind and solar to hydroelectric power and new battery technologies. Of the 18 companies in our share basket, the biggest five make up 51.8% of the total weighting. 
The top five are:
Enphase has had a decent year. The company makes all-in-one solar panel systems for residential and commercial use across North America, with 85% of its sales in the US. It also operates in international markets, including the UK, France, China and Australia. In 2019 the company had a market cap of $3.2bn. A year ago, this increased to $16bn, and has doubled since then to over $32bn. The company is on course to increase its annual revenue from $774.4m in 2020 to $1.37bn this year, and is expected to more than double its profits for this year to $2.30 a share. 
2.
Maxeon Solar Technologies
(11.59%)
Maxeon has had a somewhat disappointing year, after the company was spun off from
SunPower Corp
in August 2020. Maxeon concentrates on manufacturing solar panels and operating the SunPower brand in global markets, while SunPower itself focuses on the US and Canada. Maxeon operates in over 100 countries, focusing on residential and business customers. In its latest quarterly outlook, the company reported negative margins in an area where other companies are making a profit. Total revenue for this year is expected to come in below last year's number of $844.8m, while its losses are expected to increase as well. 
Unlike its peers, First Solar primarily makes solar panels for use on solar farms, with the US market accounting for roughly 85% of its sales. One of the biggest solar power companies, with a market cap of over $11bn, First Solar has struggled to grow its revenue from its 2019 peaks. The company expects to generate annual revenue of $2.9bn this year, exceeding last year's $2.6bn. This modest increase partly explains why its shares are only slightly higher this year. 
Plug Power has had a volatile year – the shares peaked at $75 in January before crashing as low as $18.47 in May. The company designs, develops and manufactures fuel cell systems for electric vehicles, forklifts, trucks and other vehicles. Focusing on green hydrogen fuel cell systems that power electric motors, its client list includes the likes of BMW, Carrefour and Walmart. The company has a market cap of $23bn. The company is trading at a loss, but revenue this year should come in at $500m, which would be a record. Management wants to increase revenue to $1.2bn by 2024, but they need to get on top of the cost of sales. 
SunPower specialises in the installation of solar panels systems, as well as in battery storage systems for residential and commercial buildings in the US and Canada. It has two divisions, energy services and industrials business. Energy services accounts for half of company revenue, and the industrials division contributes the other half, although it is looking to spin off the industrials side. The company recently acquired Blue Raven, a residential solar provider, as it looks to focus on the residential side of the business. The split with Maxeon saw 2020 revenue fall to $1.12bn. That said, after the losses of last year, the company is expected to turn a modest profit of $0.15 a share for 2021, with revenue expected to improve to $1.3bn.
Amid concerns over climate change, it is no surprise that there is a huge amount of interest in the renewable energy sector, which is home to some cutting-edge technology and innovation. However, fundamental analysis indicates that, although profits have improved, costs have increased due to chip shortages and supply chain disruption. 
Despite this, the long-term outlook for the sector remains positive, with plenty of scope for growth. At the end of 2020 it was estimated that only 3% of US households had solar panels. President Biden's administration aims to increase that figure to 40% by 2035. That's a lot of solar panels, semiconductors and other related parts. 
The next two years are likely to be interesting for the renewables sector, with winners and losers set to emerge. In times like these, investing in a basket of shares is one way to spread risk, which is a safer approach than backing a single rider. 
Please note that past performance is not a reliable indicator of future results.

CMC Markets erbjuder sin tjänst som "execution only". Detta material (antingen uttryckt eller inte) är endast för allmän information och tar inte hänsyn till dina personliga omständigheter eller mål. Ingenting i detta material är (eller bör anses vara) finansiella, investeringar eller andra råd som beroende bör läggas på. Inget yttrande i materialet utgör en rekommendation från CMC Markets eller författaren om en viss investering, säkerhet, transaktion eller investeringsstrategi. Detta innehåll har inte skapats i enlighet med de regler som finns för oberoende investeringsrådgivning. Även om vi inte uttryckligen hindras från att handla innan vi har tillhandhållit detta innehåll försöker vi inte dra nytta av det innan det sprids.