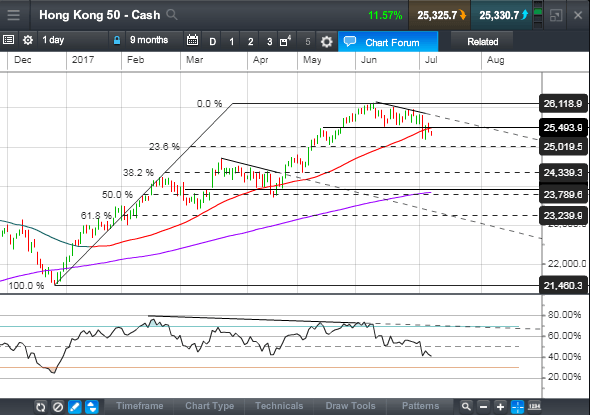 Coming out of what could be a contentious G20 summit on trade issues and with tensions building over North Korea again, Chinese markets could attract significant attention in the coming days.
In addition, the economic calendar is dominated by China, with inflation and trade numbers due in the run up to Q2 GDP, plus retail sales. China results may also have wider implications for commodity prices, resource stocks and resource currencies. Meanwhile amid all of this attention, the Hang Seng has been coming under distribution.
Technicals
Like other major indices, the Hang Seng staged a big rally following the US election and running through the winter, in this case, driving up from 21,460 toward 26,120. By the time the index hit a new high in June, a negative RSI divergence had emerged indicating slowing upward momentum.
In recent weeks, signs of distribution have emerged. Lower highs formed a bearish descending triangle above 25,500 which was recently completed. The index has also broken down through and remained below its 50-day average, signalling the start of a new downtrend. Meanwhile, RSI has broken under 50 and continues to fall, a sign of increasing downward pressure.
With resistance in place near 25,495, the Hang Seng has dropped toward 25,315. Next potential support may appear near 25,020 a 23% Fibonacci retracement of the previous uptrend, or the 25,000 round number.
Fundamentals
Sentiment toward China could be impacted by a number of factors in the coming days. Trade issues are expected to be front and centre at the G20 Summit. Trade frictions with the US have been growing due to President Trump's more protectionist stance in general and the possibility of sanctions over China's inability to rein in ally North Korea's nuclear missile ambitions. It remains to be seen if China can smooth over these problems or improve relations with other countries including BRICS nations or the European Union.
China also has a number of economic reports due in the coming days which could have a significant impact on market sentiment. Inflation figures are due Sunday 9 July (North America time), while trade numbers are due the evening of Wednesday 12 July. The big event is on Sunday, when Q2 GDP plus retail sales and industrial production are all on the way.
In addition to anything related to North Korea, any actions by the Trump Administration against China in particular or outside trade partners in general (steel tariffs have been rumoured lately) may also have an impact on sentiment toward the Hang Seng.


CMC Markets is an execution-only service provider. The material (whether or not it states any opinions) is for general information purposes only, and does not take into account your personal circumstances or objectives. Nothing in this material is (or should be considered to be) financial, investment or other advice on which reliance should be placed. No opinion given in the material constitutes a recommendation by CMC Markets or the author that any particular investment, security, transaction or investment strategy is suitable for any specific person.
CMC Markets Canada Inc. is a member of the Investment Industry Regulatory Organization of Canada and Member-Canadian Investor Protection Fund / Membre-Fonds canadien de protection des épargnants. CFDs are distributed in Canada by CMC Markets Canada Inc. dealer and agent of CMC Markets UK plc. Trading CFDs and FX involves a high degree of risk and investors should be prepared for the risk of losing their entire investment and losing further amounts. CMC Markets is an execution only dealer and does not provide investment advice or recommendations regarding the purchase or sale of any securities.
CFD and FX trading with CMC Markets is only available in jurisdictions in which CMC is registered or exempt from registration, and in Alberta is available to Accredited Investors only. CMC Markets neither solicits nor accepts business or accounts from residents of the United States of America.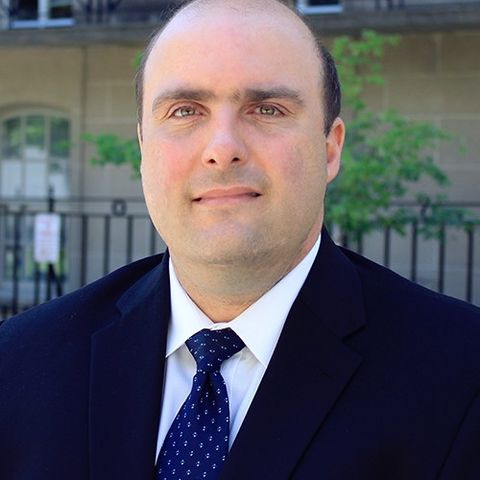 Colin Cieszynski