UK prime minister Theresa May triggers Article 50 on Wednesday 29 March – finally kickstarting the formal process for the UK exiting the EU. But what does Brexit mean to people across the country and how will it affect their financial decisions over the coming months?
We teamed up with online research company Populus to ask 2,000 people from 18 years upwards across the UK a series of questions around Brexit. The survey was conducted in February 2017 and shows clear regional and age divisions. 
People expect to be no better or worse after Brexit
Do you expect your household to be financially better or worse off, or will it stay the same after the UK leaves the EU?
A small majority of people aged 35 and over expect their household finances will be unaffected once the UK formally leaves the EU. This sentiment is particularly prevalent among the 35-44 age group, where 41% believe their households will stay the same financially, with 6% believing they will benefit and 39% thinking they will be worse off. 
Younger people expect to be worse off (41% of 18-24-year olds) against 7% who hold the opposite view and 38% who don't expect to be affected. Perhaps unsurprisingly, exactly half of those aged 65 or older do not expect to be affected. 
There is a similar theme with respect to geography, with participants from Wales (49%), the West Midlands (48%) and Yorkshire and Humberside (46%) expecting to remain unaffected. London (35%) and the South East (42%) are less optimistic, whereas there's widespread pessimism in Scotland and Northern Ireland, where 51% and 49% respectively expect their households to be worse off after Brexit.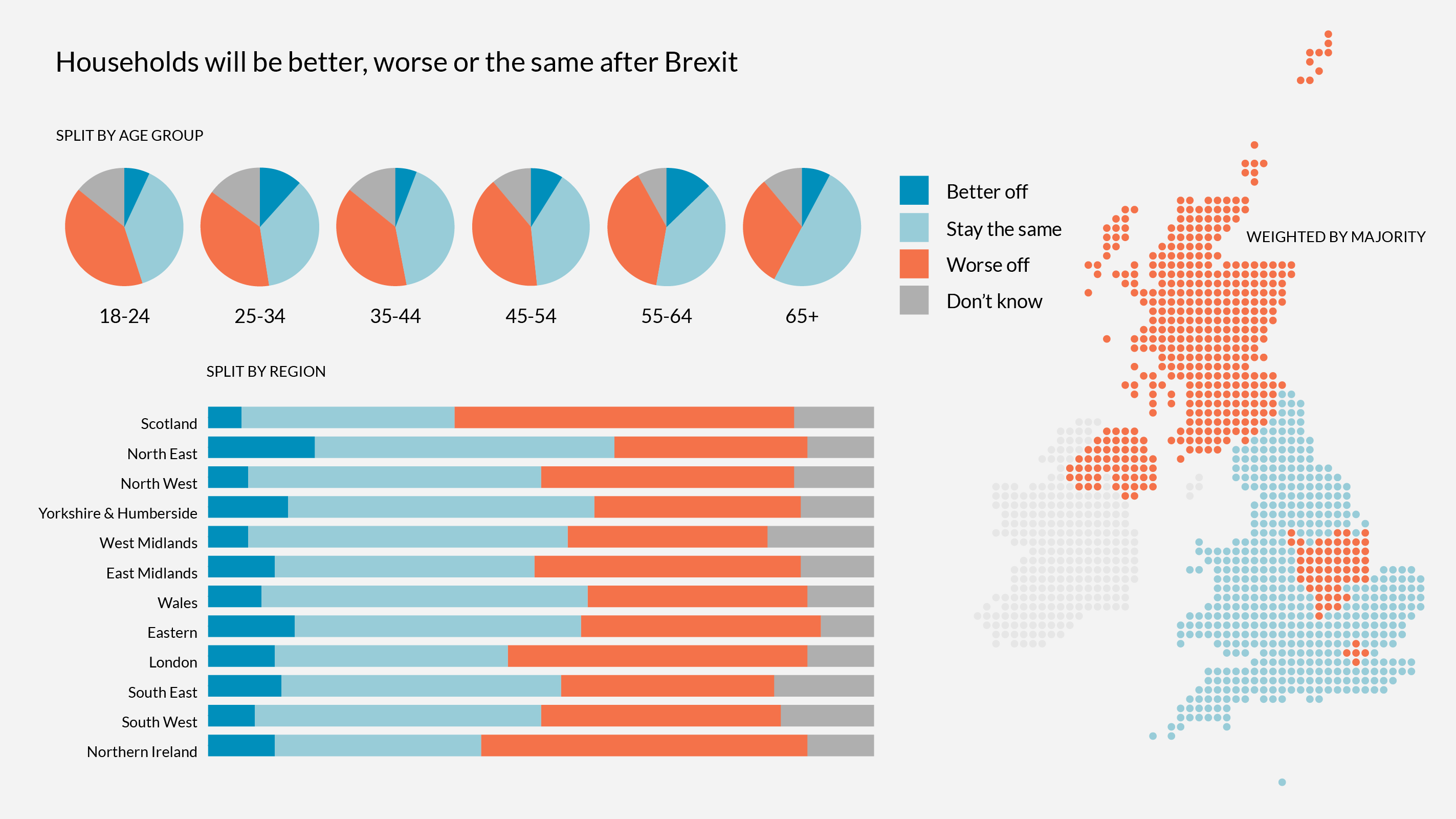 Scots & Londoners pessimistic deal will be reached in two years
How likely or unlikely is it that a deal will be reached within the two years allowed once Article 50 is triggered? 
Scotland has the most pessimistic view of any region in the UK that a deal will be concluded within two years, with 41% of respondents believing that it is unlikely. London came next, with 38% saying a deal was unlikely to be reached, although it should be noted that 32% of those surveyed do expect a deal to be reached. 
The most optimistic participants are from the north east of England, where 51% said they expected a deal to be reached within two years – in contrast, only 28% from the region thought it unlikely.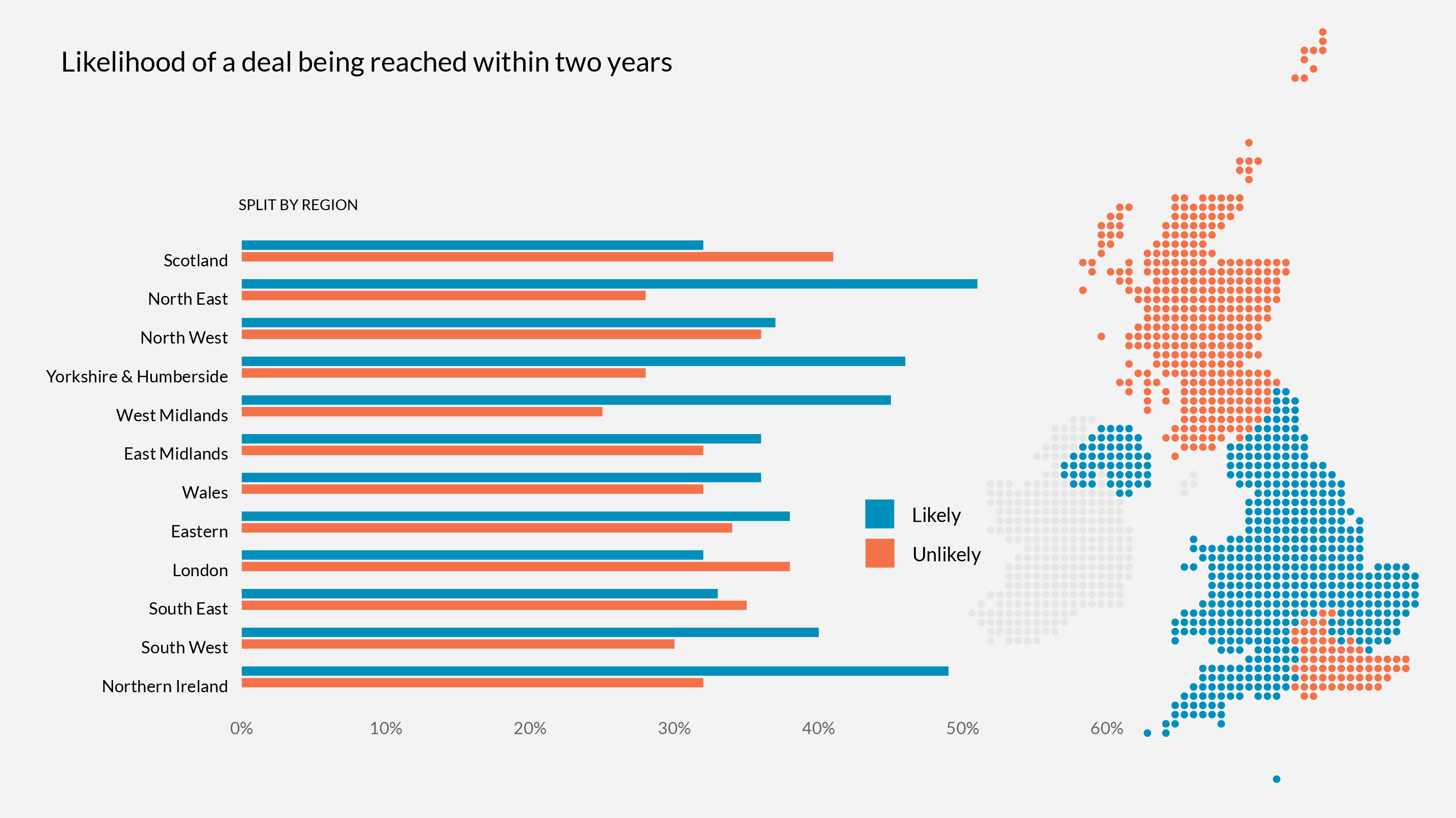 Young people more worried about personal impact of Brexit
Once Article 50 is triggered, negotiations will commence over the terms of Brexit. To what extent are you concerned or unconcerned about how the outcomes of these negotiations will affect you personally?
The survey found that the older the respondent, the less they are concerned, with 45% of respondents aged 65 and over admitting they are worried about the outcome of the two-year process. In comparison, the 18-24 age group are most worried about the extent to which the outcome of the Article 50 negotiations will impact them, with a significant 66% expecting to be affected by Brexit.
With regards to location, 66% of participants from both the East Midlands and Northern Ireland have the greatest concern, closely followed by Scotland (63%) and London (60%).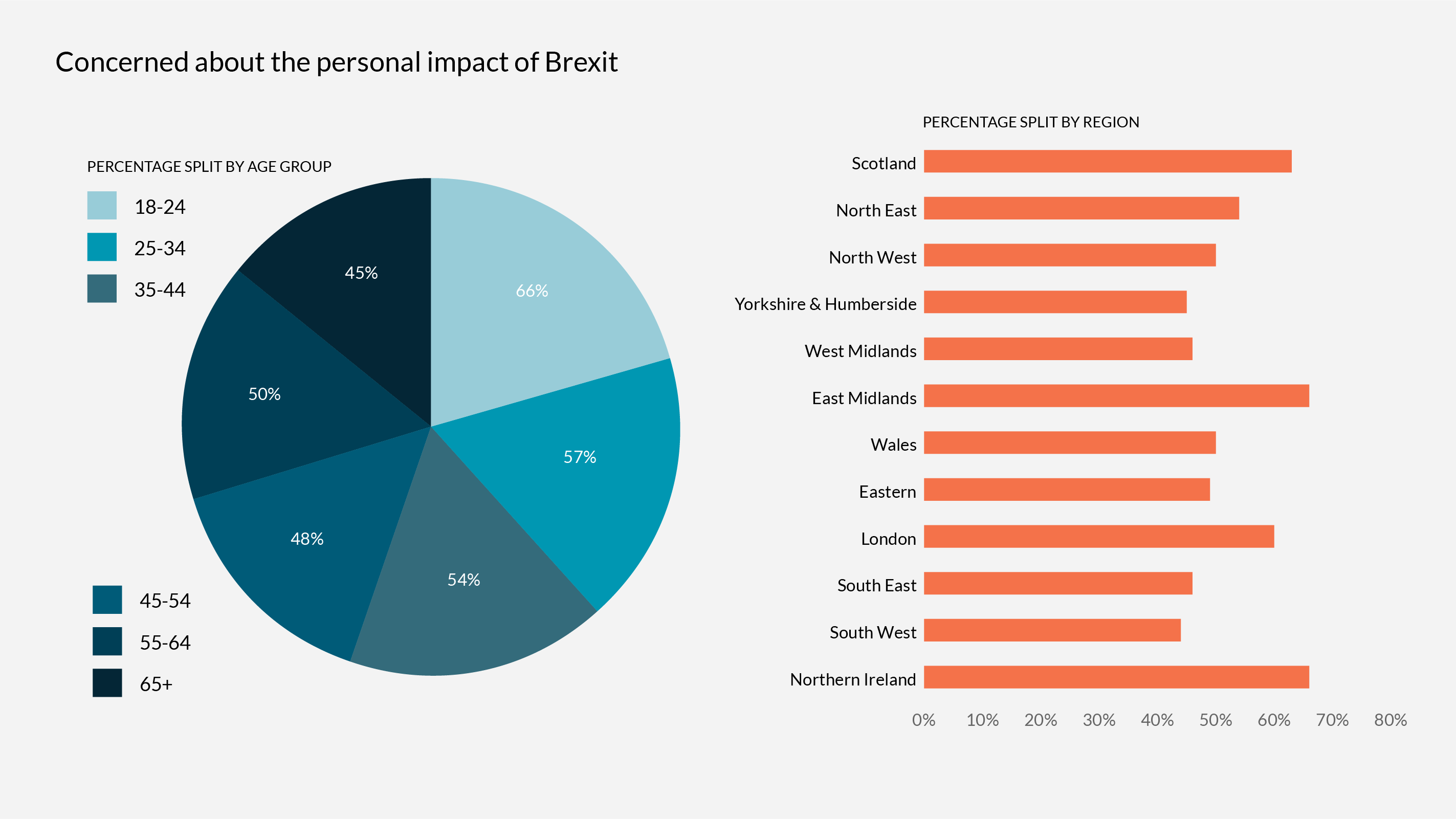 Clear disparity in freedom of movement debate
Would you be willing to allow free movement of labour and movement of people within the EU in order to maintain access to EU markets? 
This was another question which polarised opinion, much as the EU referendum itself did in June 2016. There was a marked pattern in terms of age groups; where the younger the respondent, the more likely they would be willing to allow free movement in return for access to the single market. Some 59% of 18-24-year olds were in favour, followed by 45% of 25-34-year olds. At the other end of the spectrum, just 29% of those aged 65 and over said they favoured free movement, followed by 34% of 45-54 year olds. 
The regional response mirrored previous results, with those in Scotland (51%) and London (49%) most in favour of free movement of people, whereas those from eastern UK (49%) and the north-west (46%) have the highest number of people against allowing free movement.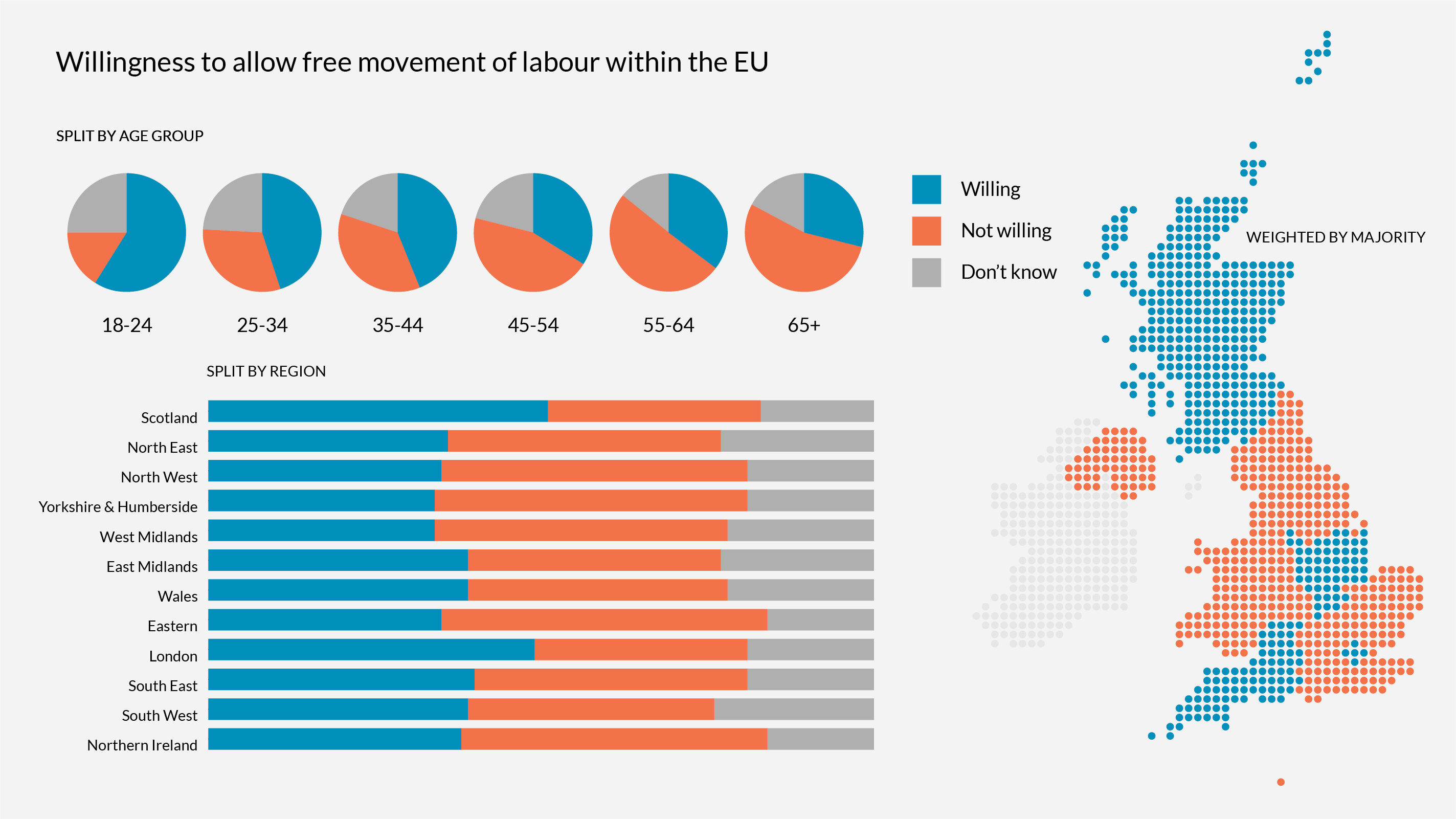 The survey results undoubtedly show the clear divides among respondents, reflecting the polarisation of opinion among politicians and the public during and after the Brexit campaign. There is a clear chasm between young and old, and also according to region, with Scotland and London noticeably more concerned and keen on closer ties with Europe. 
View the full survey results here
View our Article 50 hub for the latest analysis and more

CMC Markets is an execution-only service provider. The material (whether or not it states any opinions) is for general information purposes only, and does not take into account your personal circumstances or objectives. Nothing in this material is (or should be considered to be) financial, investment or other advice on which reliance should be placed. No opinion given in the material constitutes a recommendation by CMC Markets or the author that any particular investment, security, transaction or investment strategy is suitable for any specific person.