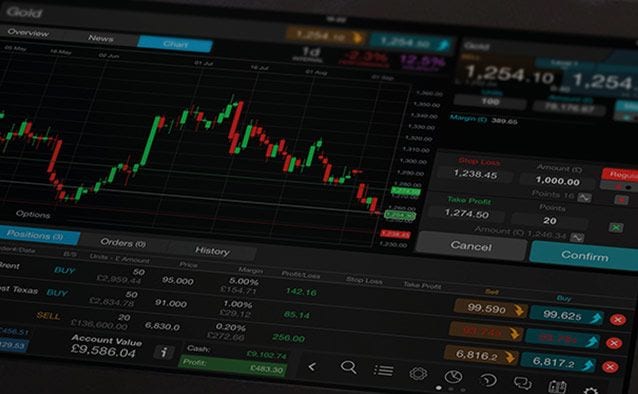 Precious metals are on the move again today, led by platinum which has posted a 2.5% gain on top of yesterday's breakout rally on news that Anglo American is cutting platinum production in South Africa. Gold and silver also continue to gain ground on dovish comments from two regional Fed presidents this morning that suggest QE3 could continue for some time yet. Action across other markets has been mixed today. European indices are trading lower following a disappointing German GDP report. US stocks are trying to stabilize today supported by positive earnings out of Lennar and better than expected retail sales offset a bit by another Sandy influenced soft Empire Manufacturing survey.
Commodities
are also mixed with crude oil giving back recent gains, while natural gas and grains continue their rebounds. There continues to be a lot of action in the technology sector. Apple is back testing $500 as it continues to fall back to Earth while Research In Motion continues to rally on anticipation of the Blackberry 10 launch later this month. Facebook could also be active today with a big announcement scheduled for 1:00 pm ET this afternoon. Dell may continue to attract interest on speculation of a private equity bid that started yesterday. Economic news A number of significant announcements are out this morning, including: US retail sales 0.5% vs street 0.2% US Empire Manufacturing (7.7) vs street 0.0 and previous (7.3) Germany 2012 GDP 0.7% vs street 0.8% and 2011 3.0% France government deficit €103B vs street €92.5B A number of countries are reporting inflation numbers this morning, including: Germany CPI 2.1% in line Spain CPI 2.9% in line Italy CPI 2.6% in line UK PPI Input 0.3% vs street 0.4% UK PPI Output 2.2% vs street 2.4% UK CPI 2.7% in line UK RPI 3.1% vs street 3.0% US PPI 1.3% vs street 1.4% Corporate News Earnings season starts to ramp up this week, led today by strong earnings out of Lennar as the US housing market continues to improve. Lennar $0.56 vs street $0.44 North American indices The Dow Industrials (US30 CFD) continue to back away from 13,500 but have stabilized above 13,450 with
RSI
holding above 50, both encouraging signs. Further downside support appears near 13,400. The S&P 500 (SPX500 CFD) has bounced up off of 1,460. If this continues to hold, compared with last week's low it would mean that the index has become more oversold on the RSI at a higher price level, a positive technical signal. Initial resistance appears near 1,476 then closer to 1,500. The S&P/TSX 60 (Toronto60 CFD) remains supported above its recent 718 breakout point with next upside resistance near 732. Commodities today Copper is back testing $3.60 but remains in an uptrend above $3.58 with upside resistance near $3.72 and $3.83. US crude has dipped under $94.00 but remains in a $93.50 to $94.75 consolidation channel within a larger uptrend. UK crude is hanging around near the middle of an emerging $110.00-$114.00 trading range. Gasoline is consolidating in the $2.75-$2.80 range. Natural Gas has broken out of a short-term downswing and RSI has retaken 50 both signs upward momentum continues to build. Trading near $3.40, next resistance appears near $3.50 then $3.65 with support emerging near $3.32. Corn is testing resistance near $7.25 today and could be set to potentially break out of a downtrend. Next resistance on a breakout appears near $7.40 then $7.65 with current support near $7.20 and $7.10. Soybeans continue to climb, building on yesterday's breakout over $14.00 and confirmed by RSI moving back above 50. Initial resistance appears near $14.50 then $14.70 and $15.10. Wheat has moved back up into the $7.60-$7.70 area with next resistance near $7.90 as its rebound continues. FX this morning Gold has cleared $1,675 and RSI has cleared 50 as upward momentum accelerates. It still needs to clear $1,695-$1,700 to break out of its current downtrend with next resistance on a breakout near $1.720 then $1,740. Silver continues to climb within its $29.00-$35.00 channel, facing its first significant challenge near $31.50 with next resistance near $32.00 then $33.50. Platinum is soaring again overnight but has encountered some resistance near $1,700 which could hold for now with RSI getting overbought. Initial support may emerge near $1,685 then $1,670. Additional resistance appears near $1,710 then $1,725. USDCAD continues to bounce around between $0.9820 and $0.9880 but remains in a downtrend. EURUSD is holding steady above $1.3300 as it consolidates its recent breakout with next upside resistance near $1.3480. GBPUSD is stabilizing near $1.6050 above $1.6000 support but short of resistance near $1.6100 and $1.6180. USDJPY met resistance near 90.00 and has slumped back toward 88.70. It remains above 88.40, its previous resistance level, keeping its uptrend intact with further support possible near 88.00 or 87.50. AUDUSD continues to form a big ascending triangle, currently trading in the $1.0510 to $1.0600 range. Technology Stocks Apple was pounded down yesterday and is currently staging a test of the key $500 psychological barrier. A growing positive RSI divergence suggests downward momentum slowing and
shares
could easily bounce back toward $525 or $545-555. Should the shares break down again, next support appears in the $475-$485 range near an old gap. Google dropped back a bit yesterday in a normal correction of an overbought RSI. Trading near $720, it remains in an uptrend above $710 with next resistance near $740-45 then $760. Research In Motion broke out over $14.00 yesterday as shares continue to surge on anticipation of BB10 launch at end of January. Next potential resistance level near $15.00, but a measured move from the recent channel suggests the $17.25-$17.50 could yet be retested. Facebook gave back a bit yesterday after running into resistance near $32.00. RSI overbought suggests we could get a correction back toward $30.50 or $29.50. Should today's announcement spark a rally, next resistance appears near $33.50.