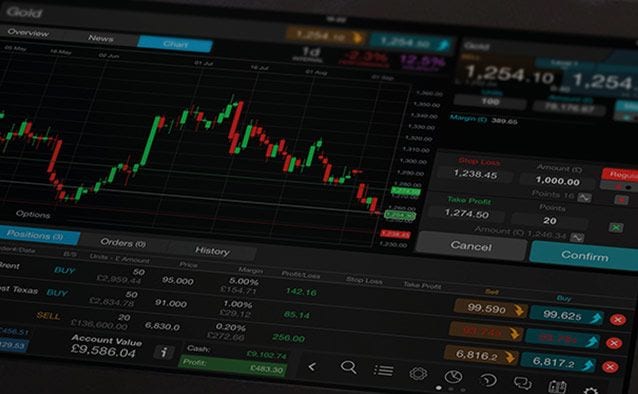 Positive broker comment in fairly low volume markets is buoying sentiment today along with some positive earnings numbers ahead of some key event risk factors later this week.
The biggest sector riser is the oil and gas sector with Brent crude prices remaining high on continued unrest across the Middle East. Royal Dutch Shell leads the sector after a positive note from UBS.
The biggest gainers are fashion retailer Burberry which has pushed higher on its plans to nearly double the number of stores in China over the next 5 years.
British Airways owner IAG is also doing well in anticipation of increased passenger traffic over the extended Easter break.
On the downside mining stocks have slipped back on sliding commodity prices with copper , gold and silver slipping back. Chilean copper miner Antofagasta and gold miner Randgold Resources are near the bottom of the FTSE.
Banks have also slipped back
US markets opened higher this morning on a collection of some positive pre market earnings reports from Ford , Coca Cola and UPS.
Ford earnings came in at $0.61c a share against expectations of $0.50c, while UPS beat estimates of $0.85c a share, coming in at $0.88c a share.
On the downside Coca Cola just missed estimates of $0.87c a share, coming in at $0.86c a share.
In economic data US consumer confidence for April came in above expectations of 64.5, rising to 65.4 shrugging off the effects of rising fuel and food prices, but whether that remains the case as prices continue to rise remains to be seen.
However gains are expected to be limited ahead of tomorrow's FOMC meeting and post meeting press conference as markets speculate about what effect the end of QE2 may have on sentiment.
The Swiss franc has again made new all-time highs against the US dollar as the green back continues to come under pressure ahead of this week's FOMC meeting.
The euro continues to remain resilient in the face of talk about Greek restructuring and a rising 2010 budget deficit of 10.5%, while a Spanish 3 and 6 month T-bill auction successfully completed albeit with higher yields.
Tomorrow's German CPI numbers are expected to reinforce the continued hawkish stance of the ECB while shining a light on the Fed's continuing loose monetary policy.
The pound has slipped back slightly in the wake of a disappointing CBI Industrial orders data for April ahead of tomorrow's Q1 GDP numbers. There is a concern voiced in some quarters that tomorrow's figures may well come in below consensus of 0.5%, which could trigger further sterling weakness.
Crude oil prices continue to remain resilient in the face of rising unrest in the Middle East, despite remarks from Saudi Arabia that supplies remain plentiful and that the country can more than offset any demand spikes caused by the turmoil.
Copper prices have slid back on fears about further tightening measures by Beijing to cool its economy as well as uncertainty about what the Fed will do post June when QE2 is set to end.
Gold prices have started to slip back after yesterday's fresh highs at $1,518, while silver prices have slipped back from yesterday's new 31 year high at $49.69. A close below $45 could see further declines towards $40.
The Reuters CRB index continues to find progress difficult to sustain beyond the 61.8% Fibonacci retracement level at $369 from the highs in 2008 at $474 to the 2009 lows at $200.