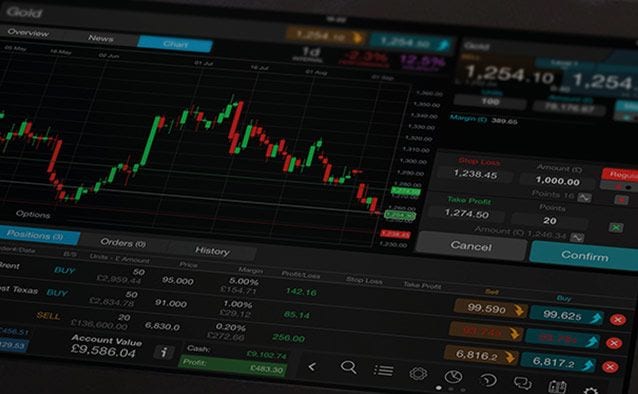 Sunday Night and Holiday Trading This Weekend While Canadian exchanges and ETFs are closed Monday for the Thanksgiving Day holiday, markets in the US and most other countries remain open. As such, 24 hour and international trading with CMC Markets in many indices, commodities and FX will be open their normal trading hours over the long weekend. With the US budget crisis potentially coming to a head and with Chinese trade plus inflation data due over the weekend, trading in markets around the world could be active to start the week. Note though that even if a budget deal is reached, the delayed economic releases likely won't come out on Monday as US government offices would usually be closed anyway for Columbus Day. Trading in many 24 hour markets resumes approximately 5:00 pm EDT / 2:00 pm PDT on Sunday afternoon and carries right through Monday. The loonie has caught a big tailwind this morning from this month's Canadian jobs report. A drop back from last month's very high 59K increase had been widely expected but the retrenchment was not as bad as feared with the economy adding 12K jobs, which beat the 10K street estimate. More importantly, full-time jobs increased by 23K, more than offsetting an 11K decline in part-time jobs. A surprise drop in the unemployment rate to 6.9% from 7.1% added icing to this cake. In Europe today, the
FTSE
is rallying, outpacing a mixed performance from its continental counterparts. Although not part of the index yet, the Royal Mail IPO has been a big success so far, climbing 33% on its first trading day and rekindling interest in UK stocks. Hopes that progress could be made on the US budget crisis propelled a big catch up rally in Asia Pacific markets overnight, but this has not carried through into European or North American trading where US indices have been consolidating yesterday's gains but have struggled to advance much further. Questions remain over whether a deal on the debt ceiling will also allow the federal government to reopen or not or if possible restrictions on the US Treasury to act could scuttle the deal. This situation is far from settled and the potential for big developments over the sidelines could inspire some profit taking today. That being said, gold and silver have gone into free fall today, dropping 2.2% and 3.5% today and JPY has underperformed other majors suggesting that political risk fears continue to recede at the moment. Capital in
currency markets
has moved more into risk currencies overnight, particularly NOK, SEK and NZD. Remember even if a short-term deal is reached, it may just put off the big decisions for a few week dragging on the situation rather than resolving it. Uncertainty over what may happen on the political could keep markets active in both directions and creating opportunities for trading for some time to come.
Corporate News
Potash Corp Profit Warning!!! Expects EPS $0.41 for Q3 down from July guidance of $0.54-$0.60, blames potash market uncertainty for sales shortfall JPMorgan Revenues $23.1B vs street $24.0B, EPS loss on big items Wells Fargo EPS $0.99 vs street $0.97, revenues $20.4B vs street $21.0B Significant economic announcements released yesterday afternoon and overnight include: Canada jobs change street 10K vs previous 59K Canada unemployment rate street 7.1% Canada full time jobs previous 17K Canada part time jobs previous 41K Germany consumer prices 1.4% as expected Spain consumer prices 0.3% as expected Italy consumer prices 0.9% as expected UK construction output 4.0% vs street 3.9% India industrial production 0.6% vs street 2.0% Economic reports due later today include: 9:55 am EDT U of Michigan consumer conf street 75.7
CMC Markets Canada Inc. is a member of the Investment Industry Regulatory Organization of Canada and Member-Canadian Investor Protection Fund / Membre-Fonds canadien de protection des épargnants. CFDs are distributed in Canada by CMC Markets Canada Inc. dealer and agent of CMC Markets UK plc. Trading CFDs and FX involves a high degree of risk and investors should be prepared for the risk of losing their entire investment and losing further amounts. CMC Markets is an execution only dealer and does not provide investment advice or recommendations regarding the purchase or sale of any securities. CFD and FX trading is available in jurisdictions in which CMC is registered or exempt from registration, and in Alberta is available to Accredited Investors only.