Since creeping above 500p back in 2016, the BT share price has been steadily dropping ever since – its value has decreased by more than 50% over the last five years.
BT shares are currently trading around 160p, and following another expected earnings dip in its last quarterly report at the start of this month, investors will be questioning whether the BT share price can ever regain the levels seen in 2016.
The wider telecoms sector has had a disappointing performance recently. There are only two big UK-listed telecom companies, BT and Vodafone, but they make up a large section of the market. The Vodafone share price has also had a tough time, sliding more than 14% in the last 12 months. Both BT and Vodafone have underperformed the wider market.
BT and Vodafone total return vs FTSE 100 in the last five years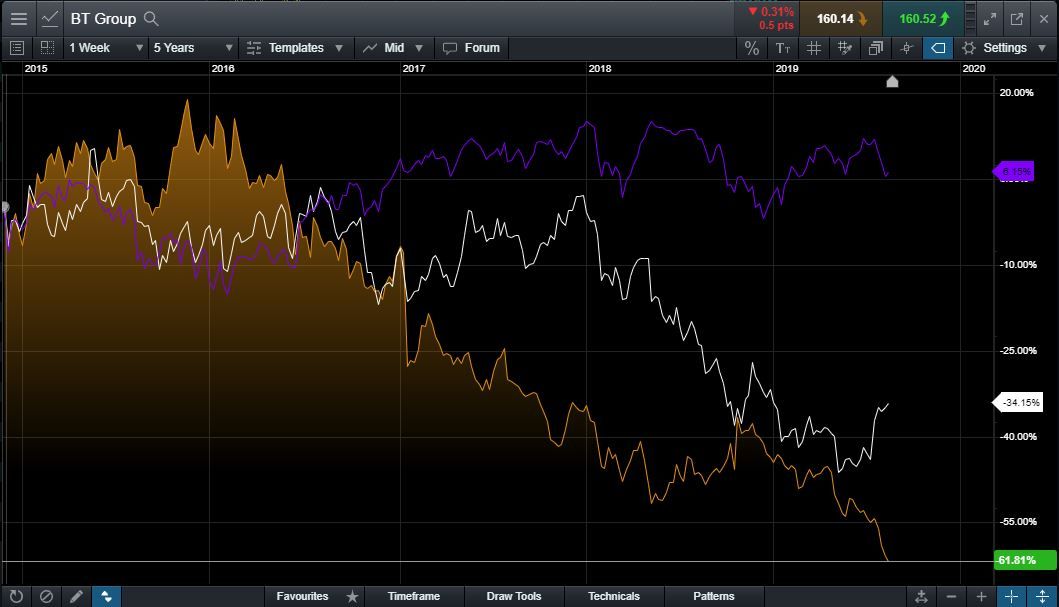 Source: CMC Markets
Purple - UK 100, Yellow - BT Group, White - Vodafone
Telecoms struggle to rein in spending
There are few companies that have to spend as much on their asset bases as telecom companies do. It's generally well known that the industry has a harder time keeping costs down compared to other sectors.
Hargreaves Lansdown equity analyst George Salmon asserts that on average, BT and Vodafone have "spent about 15% of revenues on capital expenditure" over the last five years, whereas "the average for the FTSE 350, excluding REITs and investment trusts, is around 7-8%".
The main problem is that while the companies are spending heavily, they are only really keeping their heads above water. Both have seen their depreciation and repayment expenditures surpass capital spend, which has impacted on the Vodafone and BT share price.
Competition and pension deficit squeezes BT 
The mobile market is also facing ever increasing competition. In the UK, mobile coverage is generally very good, meaning the only real choice to make when selecting a mobile network centres on price. With BT having to continually cut prices to retain customers, this makes it harder for them to grow margins.
New to trading? Practise trading on BT shares via our risk-free demo account
BT also has the issue of its final salary pension deficit to contend with. The company could be facing a multi-billion pound funding gap, and are having to use large amounts of cash to try and rectify the problem. Following the news that a new funding package was agreed last year, BT will have until 2021 to set side £2bn into the pension scheme.
How have dividends been affected?
The dividend prospects for BT and Vodafone have both been affected by high capital spend and squeezed margins. Vodafone has cut its dividend from €0.15 per share to €0.09. This means a current prospective yield of 5.9%.
BT hasn't yet cut its dividend of 15.4p a share, which is an encouraging sign in the short term. However, it has been hinted that a dividend cut may be an option over the next few years, to allow the company to free up funds. The current prospective yield for BT is 6.9%.
Disappointing Q1 results hit BT share price
BT released its first-quarter results on Friday 2 August. Profit-before tax for the three months to the end of June came in at £642m, down from £704m year-on-year. Adjusted EBITDA was also down, at £1.96bn. Yet it's worth noting that both sets of numbers were ahead of analysts' expectations. Capital expenditure also saw an increase of 11%, as the company has started to roll out 5G networks.
With the BT share price down more than 25% over the last 12 months, investors will be hoping that the company can take measures to address the problems facing the wider telecoms sector.
Can telecoms recover?
As the Vodafone and BT share price has been driven down over the last few years, both companies are looking at ways they can turn things around. The two companies each have a new chief executive, and are looking at consolidating their TV, mobile and internet packages.
While Vodafone is focusing on tapping into the European market, BT is looking to expand its UK audience. New CEO Philip Kansen believes the company can return to growth, and BT's future strategy is looking to focus on cost-cutting and money-raising – it's already sold its central London office for £210m. 
The company's acquisition of EE in 2016 has also yet to be fully exploited, and it is now the only UK firm with access to both landline and mobile networks. Furthermore, BT plans to continue the introduction of fibre broadband, with the government eager for BT to help the UK on its path to becoming a fibre nation. A possible deal could therefore be reached between the government and BT's Openreach.
Disclaimer:
CMC Markets is an execution-only service provider. The material (whether or not it states any opinions) is for general information purposes only, and does not take into account your personal circumstances or objectives. Nothing in this material is (or should be considered to be) financial, investment or other advice on which reliance should be placed. No opinion given in the material constitutes a recommendation by CMC Markets or the author that any particular investment security, transaction or investment strategy is suitable for any specific person. The material has not been prepared in accordance with legal requirements designed to promote the independence of investment research. Although we are not specifically prevented from dealing before providing this material, we do not seek to take advantage of the material prior to its dissemination.