Brexit polls and Sterling
Risk aversion has taken hold in markets following a series of polls suggesting the British public supports Britain leaving the EU in the coming referendum. There had been a tendency for online polls to favour 'leaving', while phone polls support 'remaining', but even that gap has narrowed.
There are obviously still other factors at play in moving markets, especially central bank decisions on interest rates, but the uncertainty around Brexit is adding to the volatility.
Polls are shaping markets expectations for the outcome of the vote because there is little else to go on. Having polls can also prevent the kind of "shock" that destabilises markets and causes dramatic prices changes by preparing investors for the likelihood of an event.
However, recent elections have not been a good advert for the ability of polls to predict the result. Notably polls completely misread the Conservative Party victory in the last UK general election. The risk then, is that polls are getting it wrong again and markets will have to dramatically readjust when the opposite result occurs.
The polls have been swaying movements in markets over the past few months, most prominently in the British pound. GBP/USD is primarily driven by relative UK /US interest rates and the relative health of the British and American economies. Britain's exit from the European Union has caused investors to price in the risk of deterioration in the UK economy and/or a longer delay in the Bank of England raising UK interest rates.
As we get closer we get to the date, there are more polls and the impact they are having is getting greater. The following graphic shows the impact of some of the polls and other events have had on Sterling in the last half-a-year.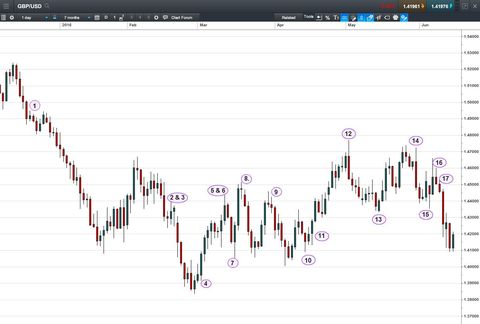 Source: CMC Markets, 15/6/2016
1. December 18 – Cameron targets EU renegotiation deal in February. The implication of a deal done in February was that it would enable a Summer referendum.
2. February 20 – Cameron officially announced June 23 referendum date. Reality sinks in for investors.
3. February 21 – Former Mayor of London Boris Johnson announces will campaign for Britain to 'Leave' the EU.
4. March 2 – YouGov poll shows Remain 40 : Leave 35. Markets began to assume a leave vote wasn't likely.
5. March 10 – ECB announce buying corporate debt – causes massive FX market turbulance
6. March 14 – ORB poll shows Leave 49 : Remain 47. One of the first big polls to show a shift towards favouring Brexit.
7. March 16 – Federal Reserve meeting. FOMC leaves rates on hold despite many expecting a hike so the dollar drops and sterling jumps.
8. March 21 – Brussels terror attack. Dollar safe-haven demand means pound weakness.
9. April 1 – Opinium poll shows Leave 43 : Remain 39
10. April 14 – YouGov poll shows Remain 40 : Leave 39
11. April 18 – Ipsos Mori poll shows Remain 49 : Leave 39. This was a major swing to the "In" camp.
12. May 3 – "Sell in May" market plunge. UK manufacturing data saw a surprise contraction in April for the first time in three years.
13. May 16 – Ipsos Mori poll shows Remain 48 : Leave 35
14. May 31 – YouGov poll shows Leave 41 : Remain 41. The two campaigns are neck and neck.
15. June 6 – YouGov poll shows Remain 43 : Leave 42
16. June 9 – ORB poll shows Leave 55 : Remain 45. 'Leave' campaign moves into the lead
17. June 10 – YouGov poll shows Leave 44 : Remain 42
CMC Markets is an execution only provider. The material (whether or not it states any opinions) is for general information purposes only, and does not take into account your personal circumstances or objectives. Nothing in this material is (or should be considered to be) financial, investment or other advice on which reliance should be placed. No opinion given in the material constitutes a recommendation by CMC Markets or the author that any particular investment, security, transaction or investment strategy is suitable for any specific person.