Most people tend to be brought up with the qualities of hard work, thrift and saving, values that most people consider as virtues, and which have stayed with me throughout my life.
Yet for most of the last ten years, the saving part of this equation has required a lot more creativity than at any other time in recent history, and last week that equation got much tougher, not only for savers, but pension funds as well.
It appears to be a sad new reality that saving is now being actively discouraged not only by central banks but by governments as well, as shown by the continued cutting of tax relief on pension saving.
As well as cutting interest rates and adding to QE last week the Bank of England decided to implement a new term funding scheme, which bears similarities with the ECB's TLTRO scheme.
The TLTRO program was designed to deal with the negative interest rate problem for Europe's banks and the potential damage to their interest rate margins while at the same time encouraging them to lend.
Given the events unfolding right now in Europe and its banking system the success of the TLTRO program seems questionable to say the least, given that it is demand for credit that appears to be the problem rather than the availability of it.
As concerns about the prospect of negative rates grows the Bank of England Governor went to great lengths last week to assure us that while interest rates had the scope to fall further, he ruled out the prospect of negative rates.
While there is no reason to doubt the governor's sincerity on this subject, despite his frequent U-turns on various issues, the direction of the yield curve suggests negative yields are only a matter of time.
Furthermore I have no such faith in other members of the MPC. In September last year Andrew Haldane gave a speech which talked about negative rates and the abolition of cash, and the Banks Chief economist is not alone in being a fan of this type of monetary experimentation, or voodoo economics as I prefer to call it.
New MPC member Gertjan Vlieghe has also suggested that interest rates could fall below the zero bound, while yesterday's comments from Ian McCafferty merely serve to reinforce this narrative.
This would suggest that while policymakers assure us that interest rates won't go negative now, they could well in the future.
We are already seeing the unwelcoming side effects of this dangerous policy as the yield curve continues to flatten out, posing not only more problems for bank interest margins, but also pension fund liabilities, which have continued to widen.
Already this year we've seen the spread differentials between 2 year and 5 year yields narrow from 69 basis points to a mere 4 points.
Earlier this year Mr Carney warned of the effects that too low interest rates could cause the price of credit increase. Has he changed his mind? Does he not care, or does he calculate the damage to long term saving is outweighed by the short term risks of an economic shock?
As things stand the spread between 2 year and 10 year gilts is 43 basis points, however in 2013 it was a much healthier 2.5%.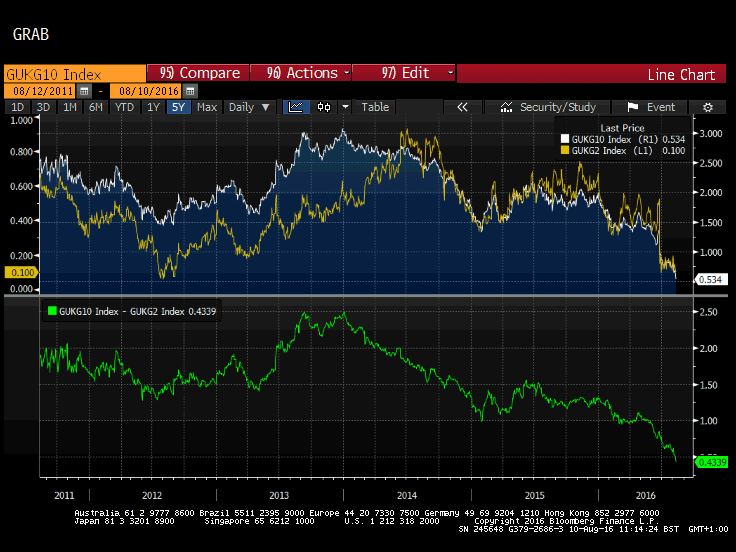 With this in mind given the current direction of the trend it is hard to see how interest rates won't go negative, despite assertions to the contrary.
If you doubt that consider this, Bank of Japan governor Kuroda assured markets that policymakers in Japan had no intention of cutting rates into negative territory three days before actually doing so.
If the financial crisis of the last few years has taught us anything it is this, central bankers ultimately end up doing the very things they say they won't do, which is probably why the feeling continues to grow that they are running out of ammunition.  
The material (whether or not it states any opinions) is for general information purposes only, and does not take into account your personal circumstances or objectives. Nothing in this material is (or should be considered to be) financial, investment or other advice on which reliance should be placed. No opinion given in the material constitutes a recommendation by CMC Markets or the author that any particular investment, security, transaction or investment strategy is suitable for any specific person.