While 2015 was a disappointing year for the FTSE100, finishing down 6% due to the lag effect of the heavy weighting to mining, oil and gas and banking stocks which caused underperform, the last twelve months have painted a much better picture due to a recovery in all three of the aforementioned sectors in the back part of this year.
2016 got off to a difficult start with a sharp selloff in commodity prices, which in turn fuelled concerns of a deflationary shock which were then exacerbated by the Bank of Japan unexpectedly cutting rates into negative territory a few days after stating they weren't even being considered. Throw in some concerns about multiple Fed rate rises and a meltdown in Chinese stock markets and the first six months of 2016 were a byword for volatility.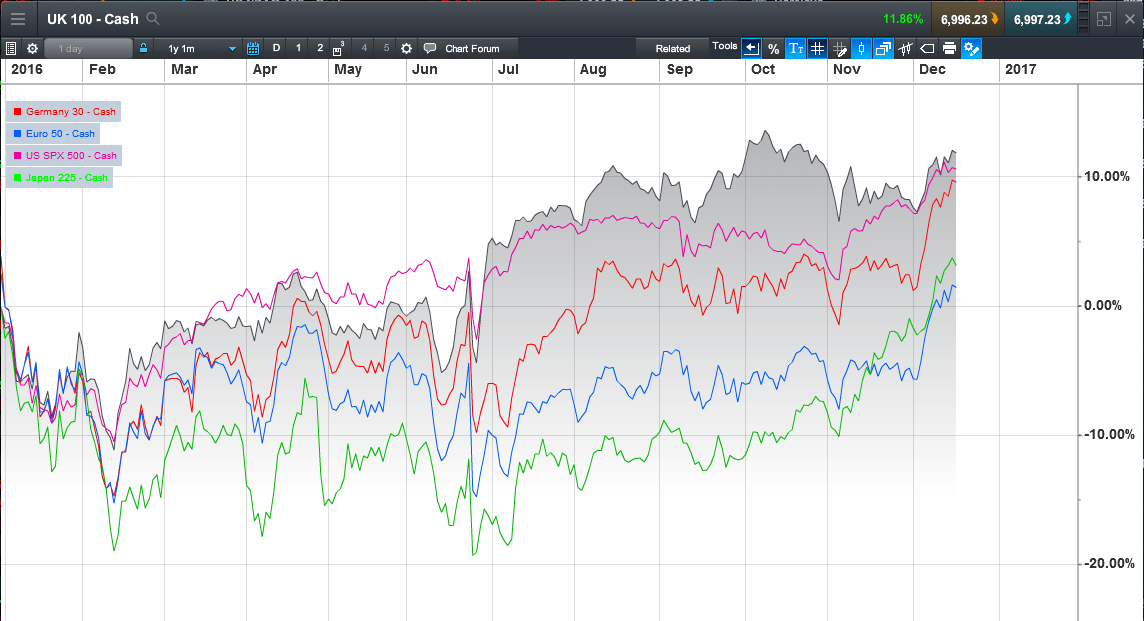 As can be seen from the graph above the first six months of this year were eminently difficult with markets sharply lower over increasing concerns of a deflationary shock.
In response to this and the Bank of Japan's surprise negative rate decision, the ECB ramped up its bond buying program in March by another €20bn to €80bn a month in response to these concerns even though there was evidence that we were getting the first stirrings of some inflation as commodity prices started to show signs of a base in mid-February.
In currency terms the S&P500 has clearly outperformed this year, up over 10%, despite a strong US dollar, while the FTSE100 and DAX have also performed well in their own currency terms, a good proportion of these gains have come about as a result of a weaker currency, with the pound down 16% year to date and the euro down nearly 5%.
Against this backdrop the Federal Reserve started to exhibit a lot more caution about the prospect of raising rates which appeared to put a base on the downside for stock markets this year, and in the process helped commodity prices find a floor.
There was also the fact that a panicking OPEC started to realise that a $20 oil price could have the potential to not only bankrupt them, but also put further strain on bank balance sheets as loans to oil producers started to go bad. With bank profitability already creaking as a result of the low rate environment, this could well send more banks to the wall, at a time when concern about the viability of one of Germany's biggest banks was the hot topic of conversation.
As a consequence we started to hear more serious noises about production curbs in Doha in March which ultimately culminated in the recent November deal in Vienna.
The Fed also started to step back which helped risk appetite recover along with a slow realisation that inflation was starting to reassert itself which in turn was starting to prompt a change in bond markets and a rise in the yield curve.
This slide in bond markets gained traction in November with the unexpected election of Donald Trump to the US Presidency and his pledge to cut back on taxes, regulation and generate a fiscal boost for the US economy.
While this has seen money flow into the US dollar it has accelerated the move of money out of bond markets into stock markets as investor's price in the prospect of higher inflation.
Inevitably this has boosted the more cyclical bombed out sectors of the past few years and could well be the catalyst for further gains as we head into 2017.
A word of caution is needed though, markets have risen on a promise of stimulus and higher inflationary expectations, but the reality could be somewhat different.
The move's higher in the DAX, FTSE100 and Nikkei has coincided with a sharp deterioration in the respective currencies of these indexes against the US dollar which is at 14 year highs.
The strength of the US dollar in itself is going to act as an inflation dampener on the US economy, as well as a brake on US competitiveness at a time when the economy is starting to accelerate. This could limit the upside for US markets if the US dollar continues to rise.
At the moment US markets are rising to new records on the prospect of lower regulation, a possible new Homeland Investment Act, and an infrastructure bonanza. These are high expectations which may not be delivered.
The best performing sectors this year have been mining, energy producers, which have enjoyed an overdue respite from years of declines, while if you believe that yields are about to rise financials could also enjoy a boost given that in Q4 they have performed particularly well, up 20%.
A word of warning though given that the problems in Europe's banking sector remain unresolved and there is also the small matter of political risk with elections in the Netherlands, France and Germany, while Italy and Greece's problems remain far from resolved. The UK could also start the timetable of its exit from the EU by triggering Article 50.
While we've seen a decent rebound in Q4, US markets could struggle in 2017 if Donald Trump doesn't deliver, while European markets might do better if the economy continues to recover and we get some benign outcomes from next year's political calendar.
To conclude the outlook for stocks is likely to remain fairly uncertain in 2017, which means that investors will need to continue to remain nimble as well as looking for value in sectors that are likely to remain fairly robust in an increasingly low growth world.
Dividend yields in some places are also starting to look a little high, relative to the dividend covers, and may not be sustainable in a rising rate world, assuming inflation continues to push higher. That will depend on awful lot on whether divergent monetary policy continues into 2017, and whether the Fed is able to follow through on its plans to raise rates three times next year.
Open a live account
Unlock our full range of products and trading tools with a live account.
Losses can exceed your deposits.
Free demo account
Practise trading risk-free with virtual funds on our Next Generation platform.
The material (whether or not it states any opinions) is for general information purposes only, and does not take into account your personal circumstances or objectives. Nothing in this material is (or should be considered to be) financial, investment or other advice on which reliance should be placed. No opinion given in the material constitutes a recommendation by CMC Markets or the author that any particular investment, security, transaction or investment strategy is suitable for any specific person.