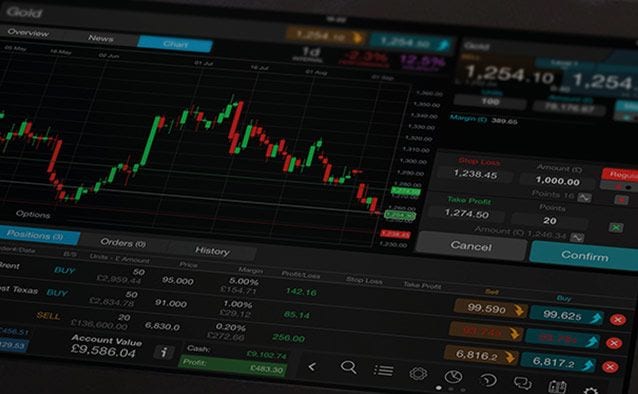 The CMC Markets team kicks off the reporting season as we take a close up look at corporate results. Companies and anticipated results that have the potential to move share prices and the broader market are in the spotlight.
17-08-2018
News of new trade talks between China and the US and an easing of emerging market fears brought markets back to life overnight. Shares in Europe and the US rallied, and base metals bounced back from recent losses. Qatari assistance helped stabilise the Turkish Lira, although Turkish stocks continued their tumble.The easing of concerns may see a surprisingly strong turn around today.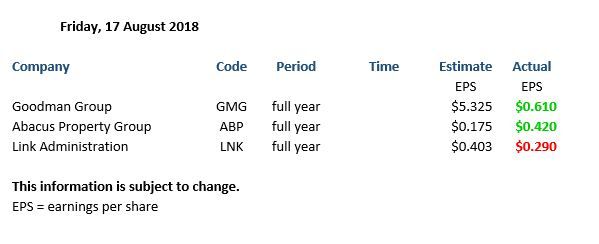 16-08-2018
Australian jobs numbers today are expected to show an increase of 15,000 positions in July. Market reactions are hard to predict given the notorious volatility of the data. Another mixed report card for corporate Australia could also flavour trading. Sonic Healthcare is a stand out, and Telstra and Treasury Wine Estates also beat forecasts. However these results are somewhat offset by misses from Estia, GWA and Downer EDI.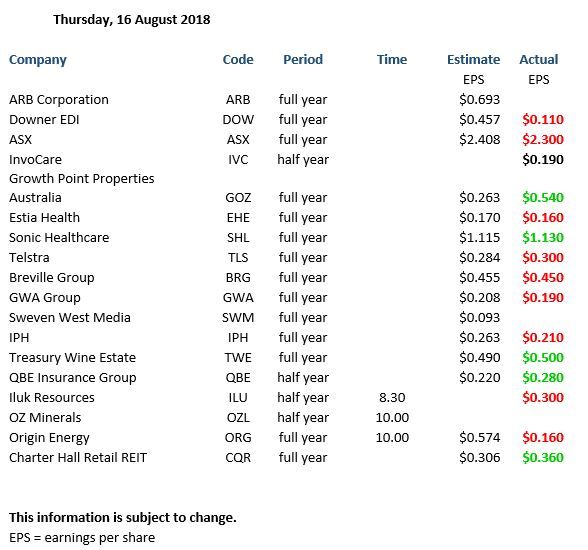 15-08-2018
The release of Australian wages data this morning could drive market action. Wages growth is the missing ingredient in the inflation pie. Any deviation from the forecast 2.1% annual growth rate will raise speculation around interest rates. Company reports this morning are mixed. Fairfax swung to a loss on further write downs, CSL and Woodside Petroleum came in just above estimate.
14-08-2018
Here are the reports so far this morning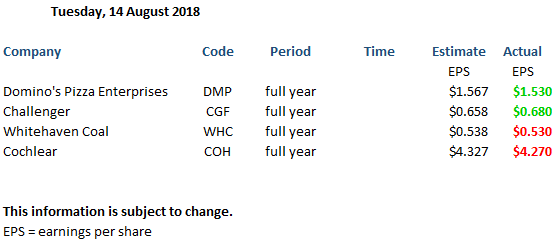 9-08-2018
Reports so far this morning from AGL, Mirvac, Orora and Suncorp are broadly positive and above consensus estimates. This may see the Australia 200 index outperform the region and test the ten year highs around 6,300.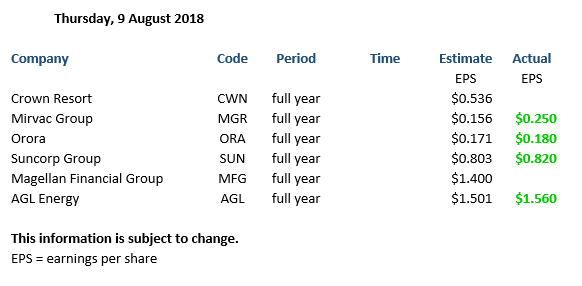 8-08-2018
The financial sector may see a larger correction as AMP announced a drop in underlying profit, and the Commonwealth Bank reported lower actual Earnings Per Share.

7-08-2018
US reporting overnight continued the positive pattern of the season. Overall earnings growth of 25% is supporting US stocks at elevated levels. Australian corporates delivering results today include Transurban, Shopping Centres Australia and Lynas Group – please see the table below.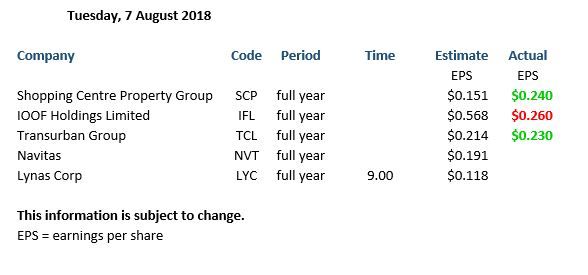 3-08-2018
The US reporting season remains a bright spot for global markets. However a number of indicators suggest all is not well with the outlook.
Apple became the first company in history to top the US $1 trillion mark after a positive investor response to its quarterly result. This pushed the Nasdaq composite index up by more than 1%, and it is now within a day's trading range of its all-time high. If the current investor mania for tech and growth moderates a correction may strike.
2-08-2018
Rio Tinto reported overnight, and despite lifting underlying profitability by 12% its shares dropped 4%. The weakness comes despite a stronger US reporting season. With little data due and no Australian companies reporting today there may be little to countermand the negative sentiment.
1-08-2018
The Australian corporate reporting season starts today with Rio's aftermarket release a feature. Over the month we'll detail the expected releases for the day, with a consensus earnings estimate. Investors should take care, as the information provided is uncertain and subject to change.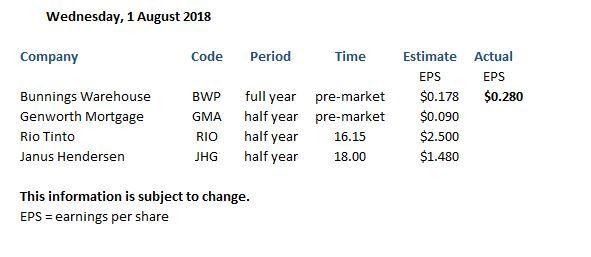 31-07-2018
US investors are falling away from the tech sector after a string of disappointing quarterly statements. While macro-economic data remains broadly positive the re-adjustment to a more realistic assessment of the tech outlook is weighing on stocks.
Facebook's share price plunge as the social media giant missed revenue estimates for the first time in three years and the CFO guided growth expectations lower. The pressure on Facebook and other tech stocks meant the tech-heavy Nasdaq reported loss.
30-07-2018
In Australia Rio Tinto is the first major company to report earnings. On consensus analyst are looking for earnings of around US $2.50 per share. Resmed and Janus Hendersen will also release numbers ahead of the first full week of annual and semi-annul reports starting Monday.