Mixed European data and stronger US retail sales triggered a global bond market sell off overnight. US ten year bonds broke through an important level, the US dollar jumped and gold slipped below US $1300. Although the selling of safe haven assets reflects improving growth prospects, shares fell as investors focused on the potential for sharply higher interest rates.
European numbers balanced out. German GDP came in below forecast, but French inflation is hotter than expected. However it was the upward revision of March retail sales in the US that sparked the sell-off that pushed ten year yields up 8 basis points to break through the 3.05%, signalling a bear market for bonds:
US Ten Year Bond (Yield) – weekly, 2013-present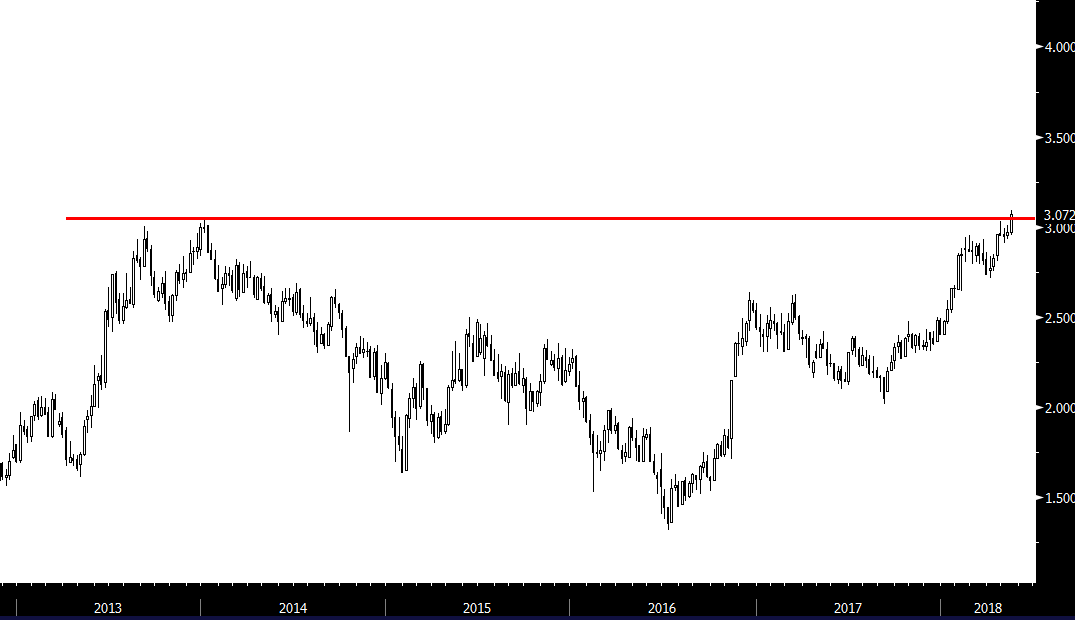 Steady European share trading gave way to a US rout. Futures market are pointing to opening losses across the Asia pacific region. However the severity of downward pressure could be mitigated by the impact of lower regional currencies.
Australian investors will look to today's wages data as a harbinger of potential RBA action. Salary growth for the first quarter is estimated at 2.1% pa. A higher reading would exacerbate pressure on local bonds. A2 Milk this morning gave guidance for the full year. The range of NZ $900-$920 million is below the consensus forecast closer to $950 million, and the shares have shed 20% in early New Zealand trading.